Hard to imagine – but Sam Hunt's album Southside, which has been released on 3rd April 2020, is just his second studio album at all. The first single has even been released in 2017 – so there seem to be quite some interesting stories about it. I was looking forward to review his first long-player after more than five years.
Sam Hunt – About The Artist
Sam Hunt was born on 8th December 1984 in Cedartown, a small town West of Atlanta, in Georgia. His intiial career has nothing to do with country music – up until College level, he was a very good quarterback in College Football, lining up for the Middle Tennessee State University as well as the University of Alabama at Birmingham. After training, he taught himself to play the guitar. When a tryout at the Kansas City Chiefs did not work out as expected, Hunt decided to go for the music career and moved to Nashville.
His first major steps were as a songwriter. For example he co-wrote Come Over by Kenny Chesney (2012) and Cop Car by Keith Urban. Based on that, he also signed a record deal and released his first EP, X2C, which made it up to the fifth position in the US country charts. Just some two months later, in October 2014, he published his debut album Montevallo, which was a huge success. It topped the US country charts and made it to the Top 3 of the (overall) charts in the USA and Canada. There were also Top 100 placements in Italy, the Netherlands and the UK. Three songs taken from this album, Leave the Night On, Take Your Time and House Party topped the US Country Charts as well as the US Country Airplay.
While singles taken from Montevallo were published until 2016 and even two EPs were published until then, Body Like a Back Road was likely Sam Hunt's biggest hit so far. Published in 2017, it is the first single of the Southside album.
Sam Hunt – Southside – Track by Track
The twelve song album lasts 39 minutes.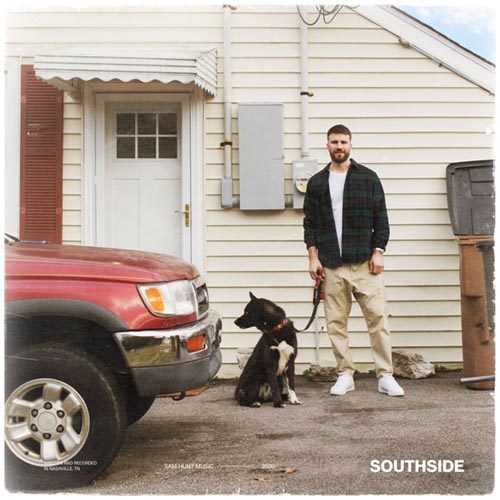 1. 2016
Sam Hunt prefers the slow way of starting his Southside. A beautiful love song, really nice and atmospheric.
2. Hard to Forget
Hard To Forget has been released a week before the album. At the intro, I was tempted to shake my notebook or blaming Amazon – but after some half a minute, the song is back to Sam Hunt's country pop sound. Freezing in Germany, snow in Finland – but this track has some summer touch. Not bad at all.
3. Kinfolks
Sam Hunt wants to introduce us to his Kinfolks (family and surrounding) – and this is just what this track is about. The song was released some half a year before the album and definitely a nice one. Melodic, rhythmic, typical Sam Hunt party-style.
4. Young Once
We were young once
We were gung-ho, singing in the sun once
Backroads in the wild, on the run once
Cheap thrills, doing things in the wheat fields
We were young, we were young, we were young once
We were young once
The song has a similar structure like many Sam Hunt songs – I just have to say that it does not touch me. Neither the story nor the arrangement has something special. Slips through my hands.
5. Body Like a Backroad
I am split about this song. First of all: it is a great one. But people were already singing to it while I was at the Red White and Boom Festival in Lexington, Kentucky… Which was in 2017. Album with a best of touch? Hard to imagine that Sam Hunt is that limited in creativity.
6. That Ain't Beautiful
A song full of bitterness, in which the chorus somehow feels a bit too for away from the verses. Partially like a hip hop song. Hmm, I would at most call this an average one.
7. Let It Down
Let It Down is much closer to why I like (some of) Sam Hunt's songs. A very classic country music arrangement, upgraded with rhythm and the feeling of a pop song. That's a song, which can bring people closer to country music – at least in general, I struggle with the song itself here and there.
8. Downtown's Dead
19th July 2018 – that's the release date of Downtown's Dead – so in case this one feels new to you, you are either not too much in Sam Hunt's music – or you have simply forgotten the track. A very characteristic arrangement for that artist, but far away from his best songs like Body Like A Back Road. 
9. Nothing Lasts Forever
A slow song with a bit of rhythm, decent backing melody and even some strings. Glad that this song does not last forever. It does have a certain touch, but does not exceed the average level by too much.
10. Sinning With You
The intimate atmopshere Sinning With You is one of the best songs of the album to me. Good!
11. Breaking Up Was Easy in the 90s
I'm tired of gettin' drunk
Tired of being free
Tired of seeing pictures I don't wanna see
Girl you're everywhere
Everywhere but behind me
I bet breaking up was easy in the 90's
I won't comment on Sam Hunts age even at the end of the 1990's and the US alcohol laws. Early teenager experience maybe. I still like that song, it is my definite favorite on the album regarding the really new songs.
12. Drinkin' Too Much
Regarding the storytelling, this is maybe my favorite song of the album. Drinkin' Too Much is a song about the love of Sam Hunt and his wife Hannah Lee Fowler. Interesting plot, the song and the whole album finishes with some piano tunes.
Sam Hunt – Southside – Spotify
Here is the Spotify widget for Southside:
Sam Hunt – Southside – My View
In my point of view, the best song on the album (by far) is Body Like A Back Road – but if you have any kind of favor for it, you already had some three years to satisfy your melodic needs and buy that track. There are two, three songs on the album which have a nice touch – the rest is in my view at most average (some even below that). Really sad to say that, as I expected much more of this musical trip to the Southside.
Flyctory.com Country Music Reviews
Here are reviews of all country music albums and EPs I reviewed earlier on the website: