There are various reasons why I select music for review. I did not have Drake White's EP Stars on my list, when I made my planning for the releases of Friday 24th April 2020 – but the editor of a befriended country music magazine just urged me and told me I had to do it. Okay, he is right, this one is quite above average.
Drake White – About The Artist
William Drake White was born on 3rd October 1983 in Hokes Bluff, Alabama, where he also went to High School. He started writing songs at the age of 14. After graduating at Auburn University, he moved to Nashville, where he first worked as a contractor before focusing on his musical career. His first steps were mainly done together with his band, The Big Fire, with whom he opened for Eric Church, Luke Bryan and other big names of the business. In 2013, his debut single Simple Lifealready made it to a Top 40 Country Airplay charts. Another record deal made it to the 2016 album Spark, which was his debut release apart from a 2011 self-released long-player. The album also spun off three additional singles, especially Livin' the Dream, which went up to the twelfth spot in the Airplay charts. Stars is Drake White's fourth EP – the last extended plays were the May 2018 Pieces and a live-recorded EP later the same year.
Drake White – Stars – Track by Track
The five track EP lasts 16 minutes.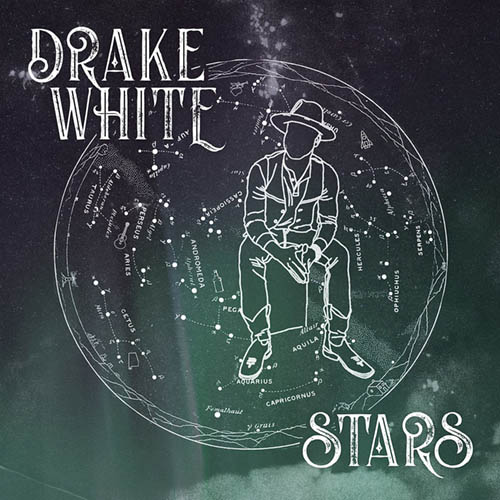 1. Luckiest Man
The EP starts with Luckiest Man, which feels like summer, reggae, swaying and – for many country fans – a cold beer in the sun. Extremely catching genre-mix, great opener for this five song festival.
2. Mix 'Em With Whiskey
I thought about a back porch party during Luckiest Man – and Mix 'em With Whiskey would also be a nice fit for that occasion. Very summer-alike song as well, though it also has a touch of blues to me – the guitars give some nice power as well.
3. Ear, Drink & Dream
Third song, third great one: the verses are very rhythmic, the chorus pushes Stars back to crystal-clear country rock. Cool! Where is my beer?
4. My Favorite Band
My Favorite Band touches the reggae rhythm again, but overall, Drake White just produced a(nother) lovely modern country track. If your back porch party hasn't reached the climax yet if you play this tune, you might alter the list of attendees next time, I guess.
5. All Would Be Right With The World
Finally, Drake White offers us the complete complete party package: a slower country track, which can be a nice sing-a-long as well as just a nice soundtrack when your evening tends to run into the romantic side. Well done!
Drake White – Stars – Spotify
Here is the Spotify widget to pre-listen to Stars:
Drake White – Stars – My View
Thank you Drake White (and thank you cntry.de 😉 ) – this EP is definitely a lovely treat. If was a bit longer than just five songs and 16 minutes, this would be close to the perfect country weekend party package. Any of the five songs deserves to be called your favorite, just five strong ones which lead to an easy Top Pick! rating. Awesome!
Flyctory.com Country Music Concert Coverages
Here is a list of all concerts I covered, limited to Country Music:
Flyctory.com Pictured Stories
The key contents of Flyctory.com Pictured Stories are the picture, not the text: