The place is so tiny and mousy that there is a huge potential to miss it: if you are exploring London in the Strand area in the heart of the Theater District, you may pass by the UK capital's oldest tea room: the Twinings factory store is a place of pilgrimage for tea lovers. I had a look inside.
Twinings Tea Room – Location
You can very easily miss the small Twinning Tea Room, which is at the Strand in the Temple area. The address is 216 Strand.
You likely travel through London by Underground. The next station to Twinings is Temple, but depending on which line you are just traveling, Chancery Lane and Covent Garden are also just very short walks. The store is open 09:30 to 19:30 Monday to Friday, 11:00 to 18:00 Saturday and Sunday.
Twinings Tea Room – History
Thomas Twining is the founder of the company, he opened the 216 Strand Tea Room in 1706. This is the first known of its kind. Twinings is very traditional, the logo, for example, has not changed since 1787. Some stories tell tat Twining was the inventor of Earl Grey tea. There is, however, no scientific proof for it. Nowadays, the company is part of Associated British Foods, it is producing most of its tea in China and Poland. The original factory in Andover, Hampshire, is running on reduced capacities as well. Twinings closed their location in Belfast in 2008.
Twinings Tea Room – The Store
Twinings Tea Room is not as small as it looks from outside, as the store is comparably long. It is majorly designed to sell Twinings products, of course. When you enter the store, you first run into the products you likely know, produced in tea bags. There are, however, some special editions. The store also allows you to make your own selection of tea bags, which may be a nice taster. In the rear of the room, the store becomes a bit wider. This part features more exclusive brands (which is very competitive quality) and also loose tea. Here and there, you also find nice tea accessories like tableware. Despite being such a traditional spot, you are encouraged to take pictures in the store – there is even a designated photo spot.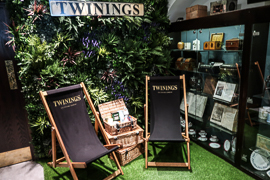 The rear of the store also features a limited historical collection of Twinings items.
Twinings Tea Room – My View
The Twinings Tea Room / Flagship Store is a hidden gem. I love browsing through it and explore all the different flavors they offer. The quality of tea may not be as good as at my tea favorite, TWG Tea from Singapore, but it is one of the best value for money I know. If you are around, you should definitely take a look and also step back a bit into tea history.
Flyctory.com on Eating & Drinking
Flyctory.com is not a culinary blog. Nevertheless, here are all posts dealing with Eating and Drinking:
Postings about London
Here are all postings related to the UK Capital: