After I made you familiar with Swingers, the "Crazy Golf" provider in the heart of London recently, I just felt to explore how their peer is like. Puttshack has three locations currently in the Greater London area, I visited their outlet in White City on a Friday late afternoon in January 2023. Here is my review of a very special way of playing mini golf / adventure golf., which is combining socializing, hanging out with friends and having some drinks… with (hopefully) some holea in one.
Puttshack White City – Location & Admission
Puttshack White City is located at the Northwest edge of the Westfield London shopping mall. The location is quite ideal, as you are just across the road from Wood Lane bus station which features several connections and from Wood Lane Underground, which is serviced by the Hammersmith & City Line and the Circle Line. Central Line station White City is also just a short walk away. Westfield London does also feature a lot of parking opportunities. The location is outside London's Congestion Charge Zone.
The opening times of Puttshack White City vary by day. From Monday to Friday, the open at noon, Saturday and Sunday at 10:00 already. Doors close 22:00 Sunday to Wednesday, 23:00 Thursday and midnight Friday and Saturday. If you are visiting in peak times, especially with a larger party, I would recommend to reserve slots online beforehand. Off-Preak time is Monday to Friday until 17:30. If you pre-book online, one adult game at that time is 10 GBP, two rounds are 15 GBP. A peak-time online game is 12.50 GBP if you order online, 14 GBP at the venue.
Puttshack White City – Atmosphere
The place feels to be very modern – but also a bit of nerdy. You can check in at machines, there are a lot of light effects in and around the courses – and at some situations, there is even a siren for an especially shot here and there. Despite it was Friday late afternoon and the place became busier during the time I stayed there, I felt it had a very cozy, relaxed atmosphere.
Puttshack White City – The Courses
The place is a beauty and full of light. There is a large bar close to the reception, where you can also book your game on machines (if you haven't done online before). Overall, there are four courses, which have certain similarities. For that reason, I introduce you to two of them below. You play with a personalized and chipped ball, so that at the beginning of the course, the equipment is able to identify you (even though it expects that you play in a certain order). It also counts your strokes automatically, which is very handy. The winner of the game is the one with the highest score, not with the lowest number of strokes (they are measured as well, though). The less hits you need, the more points you receive. There are also bonus point opportunities. At the end of the game, you receive your scorecard by e-mail automatically. This may not be a dream for mini golf traditionalists, but is actually a lot of fun – and a good match to the general concept of combining hanging out with friends and a bit of mini golf.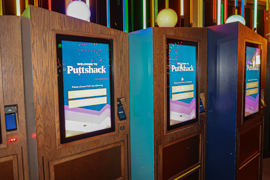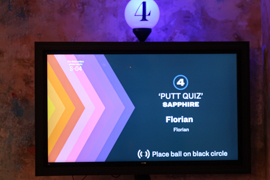 Sapphire Course
The first round I played was at the Sapphire Course. Interestingly, this set of nine holes featured quite a range of different grounds, from artificial turf to Tartan, like you have it at track and field arenas. While the first  hole could have been found at other adventure golf courses as well (you play up a hill and have to make the ball roll down on the other side), the "half pipe" on Hole 2 was already very innovative. Both lanes offered the chance for bonus points – or also point deductions, like hitting the borders in the middle of the half pipe. A nice lane to illustrate the ideas behind Puttshack is the third hole, which takes you to a bowling alley. Depending on which hole you hit (they are right in front of the pins), you get more or less bonus points – and a better position for the next hit, which is then towards the taget on an area right below – very cool!
The next two lanes were a lot of fun as well. At Truth or False, the display is showing you a statement which is either right or wrong – depending on what you think is correct you have to play the left or the right line. With the first hit on the next course, you determine a price you might possibly win… if you hit a hole in one thereafter – which I did and thus had a free pizza. The following courses feature pinball and beer pong and are also a lot of fun.
The courses as such might not be that challenging – but as you also aim to gain a lot of bonus points and hole in ones, there is indeed quite some skill necessary to have a great score. After a pool-inspired course, the last lane is a one-time hit. In contrast to the weird final hole at the Angry Birds Mini Golf in New Jersey, the concept fits to Puttshark – depending how well you hit you receive an additional number of points and thus have your final score.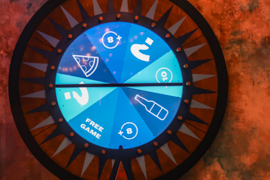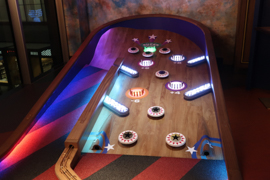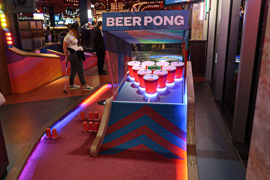 Ruby Course
Due to two large parties of some eight to ten people in front of me, I started this course at the third hole, played until the eighth one (you lose your ball on the final hole) and then waited at the first and second hole for the bigger parties again, which was quite quick. This was also recommended by the lovely staff – the scoring system also works very well and recognizes that you are playing in adverse order.
The pictures and my review reflect the right order, though. The first hole was some sort of high curve, which had a couple of hole which you should or should not hit. The second lane is inspired by the game of roulette. That was honestly the only lane where I did not fully get how to go for the big bonuses. Even though I failed at the third hole, I loved it. You are starting at an elevated stand – and ideally the ball hits a couple of drums before you do the final putt.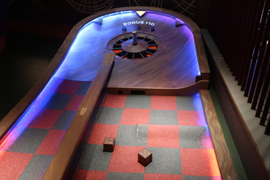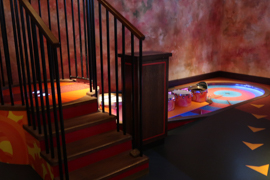 Overall, I liked the branding of the ruby course, even though the sapphire one felt more fun to me. Apart from the Truth or False lane and the spinning wheel (no pizza this time…), there were some nice fun fair branding. Especially in this area, some of the lane were a bit of narrow, so that I had to change the side on which I am playing the ball. After having to hit the ball through a ring to reach the target, the next lane even came with a moving target for the Supertube hit. The last lane leading to the final points reminded me a bit of the skee ball fun fair classic and has been a cool way to finish my experience at Puttshack.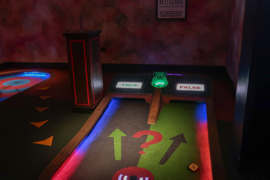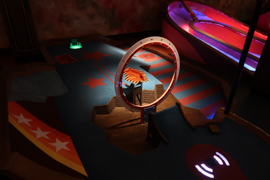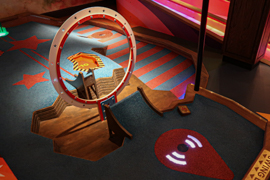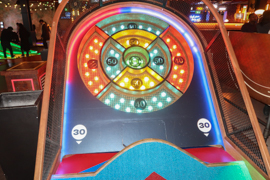 Puttshack White City – Food & Drink
Winning a flatbread pizza on my first round of Puttshack mini golf, I had an unexpectedly cheap chance to check out Puttshack's catering at White City.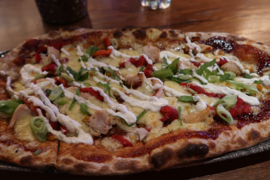 Puttshack White City – Services
The staff at Puttshack was amazing. You felt that they are very motivated, happy to assist. Some even went above my expectation. I really loved that. You can order food by WiFi, but I unfortunately missed to check that out, due to my free food voucher. Similar to their peer, Puttshark drives a free-to-use cloakroom, which is very handy during your visit.
Puttshack White City- My View
Long review short: I love it! Yeah, if you want to count your hits only, this is not the place to be. The lanes are not the most challenging ones out there. But: the way Puttshack put minigolf up turns it into a very special and fun experience. In contrast to the peer, the interactive stuff and the automatic score count turns it into a place for kids as well. Puttshack invested a lot of thoughts and love into this place – and their staff is just what makes it really special. The lanes are not that different from each other. Thus, it might not make sense to play them all.
Mini Golf / Adventure Golf:
Here are all postings related to mini golf & adventure golf:
Postings about Shopping
Here are all postings related to Shopping: