As the RMS Titanic and her sister vessel, the RMS Olympic, were too large to call directly at the harbor of Cherbourg, France, tender ships were necessary to board and unboard the ships. Nowadays, the SS Nomadic is the only still existing ship of the White Star Line. Since 2012, it is completely restored and in display in a dry dock in Titanic Quarter, Belfast. It is included in your ticket when you visit the Titanic Belfast exhibition.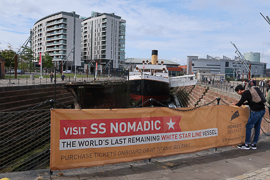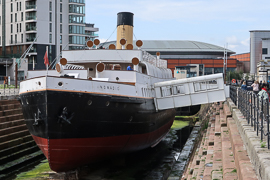 SS Nomadic Belfast – Location & Admission
SS Nomadic is located in Titanic Quarter of Belfast, just a short walk away from the Titanic Belfast exhibition. In the review of the major museum, I wrote about different options to reach Titanic Quarter. I finally went for a taxi from my Hampton by Hilton Belfast City Centre due to the convenience.
When you visit SS Nomadic, you likely have visited Titanic Belfast before – the Nomadic visit will be included in most tickets. However, it is also possible to visit ship only. The adult admission is roughly 7 GBP.
SS Nomadic Belfast – Below Deck
When you enter the ship, you start being below deck. On two levels, you can first of all explore the nicely restored ship. In addition, there are a lot of interesting displays. The two key topics are the history of SS Nomadic, which even served as a Seine cruise ship in Paris, and life during the transfers on board.  For example, you can see the captain's cabin and some crew rests, but you also see the different classes of travelling and how it influences the comfort. Some exhibits also illustrate why the SS Nomadic was necessary so that the RMS Titanic and the Olympic could operate from the French harbour.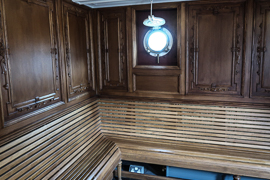 Below, you see a lot of pictures of the numerous exhibits about life onboard the ship.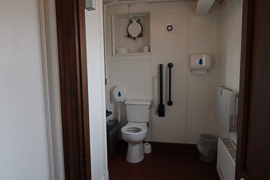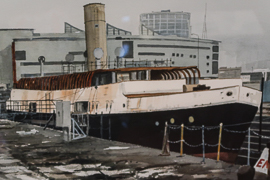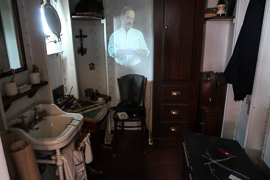 SS Nomadic Belfast – On Deck
It may not be overwhelming from a historic perspective, but going on deck of the ship was definitely a highlight to me. You have a nice view of the area. Unfortunately, the steering wheel is not original, but was takan from another vessel.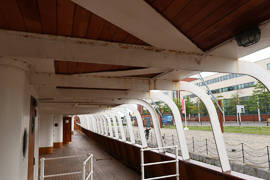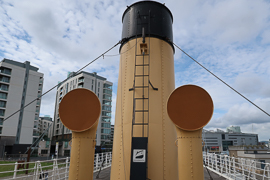 SS Nomadic Belfast – My View
The SS Nomadic may "just" be an old vessel from your initial perspective, but there is so much to see and to learn that I would even say that I enjoyed my time there more than at Titanic Belfast. The exhibitions are very illustrative and just being on board of an intact boat of that age is simply amazing. I absolutely recommend to at least not skip the Nomadic when you visit other exhibitions around anyway. Would miss a piece of Belfast – Top Pick!, of course.
Technical Museums – Other Postings
Here are all other Flyctory.com postings dealing with technical museums and exhibitions:
Flyctory.com in Belfast
Here are all Flyctory.com postings about the Northern Irish Capital: