The last entry of my (multi-day) trip reports is typically a bit of boring. Getting to the airport, flying back to Germany, being a bit of exhausted, that kind of stuff. However, I had underestimated that the travel time from New Bedford to New York City and JFK Airport is quite a distance to travel. My favorite option was to take the ferry from New London, CT, and drive alongside Long Island. I did that a couple of years ago and it is a real beauty. However, that option highly depended on whether I would wake up in time and get my Flyctory.com stuff done.
| Date | Flight | from | to |
| --- | --- | --- | --- |
| 30.4.2022 | AA 100 | New York (JFK) | London (LHR) (+1) |
| 1.5.2022 | AA 6596 | London (LHR) | Dusseldorf (DUS) |
Exhausted after Tourchasing and Blogging
My original thought was to take the ferry crossing from New London CT to Long Island (or Orient Point, NY). However, this would have required me to leave the hotel not later than 7:00hrs. No chance. Even though I just had some 3:30 hours sleep after Day 5, I had to go for the route straight through Rhode Island, Connecticut to New York State. The breakfast at the Hampton Inn New Bedford / Fairhaven was nice. I left the hotel at around 8:00 hrs, having a some four hours drive without congestion ahead of me.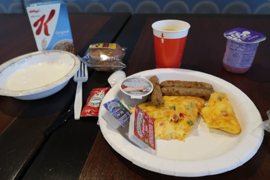 A rather ordinary trip to New York City
In a trip report posting of 2019, I introduced you to the wording of Kilometer fressen (munching miles, just driving on) in German. Same thing this time. Driving along I-95 went rather smooth until New Haven, CT. En route, I passed a couple of places which I drove through during my 2019 Weird Al & Grass Court Tennis trip. Then New York traffic started more and more and I had the first delay due to congestion. Another German term: the traffic jam was due to Gaffern – people slowing down to watch the action on the road in the opposite direction after an accident. I initially felt about heading to Coney Island and enjoy the nice weather. But some New York City traffic made me feel just to enjoy myself differently.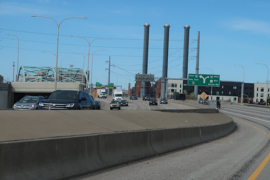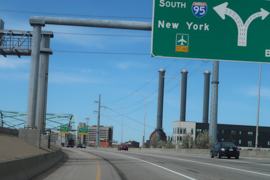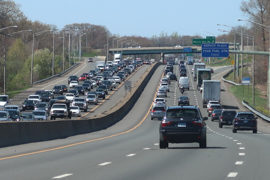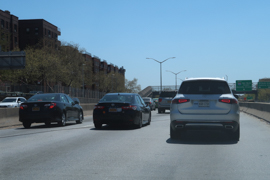 Music and Streaming to Change the Emotions
Maybe also due to being so tired, I was really emotional that day. I know I will miss the tour the next weeks heavily. Luckily, I will be at my favorite musical Rock of Ages in Crawley, South of London, the following weekend. I turned on the soundtrack of the musical instead of my Weird Al playlist (see below). That gave some nice distraction. Look forward to see the lovely Gabrielle Williams as female main role Sherrie for the first time.
Later, I was surprised that you were able to stream German radio. I was able to listen to the German Soccer Bundesliga radio live coverage. Sorry, Connecticut! My home town favorite team 1. FC Cologne had a great victory abroad, which significantly increased the chances for some European Cup appearance next season. Any Cologne goal had some… Significant… Celebration. People might have thought I am mad.
Good Old D&B – and waiting at JFK
I finally decided to the shopping mall Gateway Center, which is actually not too far away from JFK Airport. I just felt it is cool to spent some time at Dave & Buster's there before going to the airport. I introduced you to the gaming and sports bar concept (I just did some games this time) in this posting.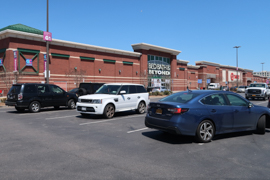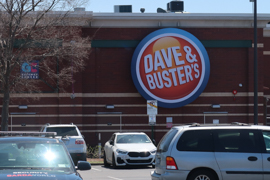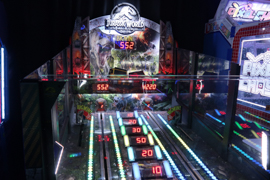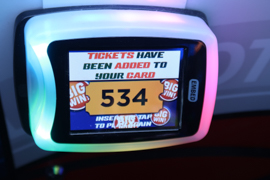 The rental car return and the other stuff at JFK went very smooth. Thus, I had some three hours of work time before boarding at the lovely American Airlines Flagship Lounge. In contrast to my review linked, they had quite some trouble. The lounge was really packed, so that they regularly ran out of plates, cups, cutlery and similar things. Still, a really nice place… And some good bubbly one as well.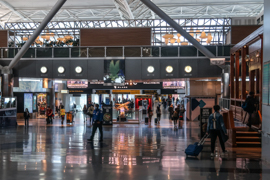 New York – London – Dusseldorf
In general, I like the American Airlines Premium Economy service – but again, there were some issues on the flight, which lead to struggle here and there. After the dinner service  was finally done, I had a really good sleep until about an hour before landing, when there was a breakfast snack – which was finally much better than the dinner. I spent a some three hours at the British Airways First Class Lounge at Heathrow to wait for my connection to Dusseldorf – and had some Full English Breakfast there.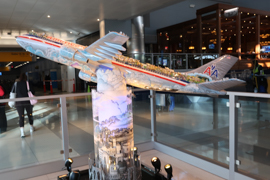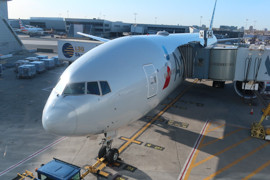 After spending some time in the lounge, just a short economy class hopper to Dusseldorf. British Airways feels to have a lot of trouble nowadays with quite some services cancelled. Thus, I have been happy that my flight has not been affected. After passing the customs checks in Dusseldorf (the German customs officer now knows Weird Al as well… 🙂 ), I even had time to check out my wife's soccer match at a nice, sunny afternoon.
Some Thoughts About the Weird Al 2022 Tour
I loved the concept of the 2018 tour, where Weird Al Yankovic used the Ridiculously self-indulgent concept the first time: (hardly) no covers, just originals, new lists of songs every time. The 2022 tour has a shorter list of song candidates to improve the quality of the individual performances. But more than that, I feel that Al is allowing his band members to show much more of their musical quality. Listen to Stephen Jay's new album Vita Beata or keep in that Jim Kimo West's More Guitar Stories is a Grammy winner. I feel that the instrumentalists have a stronger focus – and that makes the concerts even better. I will miss that experience the next five months. But adding concerts to my travel list would lead to massive costs, unfortunately. If you have the chance, watch that tour – I got the tour dates in my tour date overview.
Weird Al Yankovic 2022 Tour Kick-Off – Day by Day
Here are the episodes of my 2022 Weird Al Yankovic tour kick-off trip report
Day 6/7, 30.4./1.5.2022 – Back Home
Weird Al Yankovic 2022 Tour – Flyctory.com Playlist
At the morning of Day 2 of the trip, I decided to create a playlist with all the originals (and very few covers). Just when you need a warm-up soundtrack:
Postings about Concerts
All postings about concerts I visited:
Flyctory.com about US Aviation
Here are all Airports & Airlines postings related to the USA: