On my trip to Nashville in May 2019, I was lucky to receive an operational upgrade on BA 217 from London-Heathrow to Washington-Dulles airport on 31st May 2019, flewn by a Boeing 747-400 aircraft. Instead of flying their Premium Economy product, World Traveller Plus, I was assigned to the Business Class Club World cabin. A good opportunity to review their services. I also added some experience of previous British Airways Club World experiences. They mainly reflect the flights to Florida in December 2018. I also had a British Airways Business Class Experience in the exclusive BA 1 flight from London-City Airport to New York JFK.
BA Club World B747-400 – At the Airport
As I am British Airways Executive Club Gold member, I am profiting to opt for the First Class check-in regardless of the class. The biggest difference is the First Class check-in in Heathrow, which is very exclusive and directly leads into the First Class Lounge. As a Club World passenger, you are allowed to use the Business Class facilities. This means you may check-in at the (likely) faster check-in counters and make use of the Business Class lounges.
BA Club World B747-400 – The Cabin
British Airways has Club World seating on both decks of the "Jumbo Jet". I was assigned to the front of the Lower Deck, right behind the First Class cabin. It has a bit of a Swiss Airlines "Stübli" atmosphere. However, the seating comfort is significantly lower.
British Airways squeezed a 2-4-2 seating in this flying legend. This means, there are two seats each at the windows and four in the middle. In order to manage this packing, the seats face each other. The aisle seat face forward, while the middle and window seats face rear. This has the funny effect that you see your neighbor at take off  – there is a divider during flight. To me it was quite surprising that the dividers stayed up during landing. I feel that was different on previous flights. I felt it to be annoying because you cannot see through the window how close you are to landing. The upper deck is a 2-2 Club World configuration. There is reverse seating as well.
Aisle Access on All Seats
On the positive side, the configuration of seats also means that any seat somehow has aisle access. If you, however, sit in the middle, you have to climb over the ottoman of the aisle passenger, which can be quite annoying. The positive point about the middle seats is more privacy. I prefer the reverse seats right at the rear bulkhead, because they do not feature the "Ottoman Challenge". My original seat assignment, 14F, was one of these seats, but I agreed to switch to 14D to have a family sitting together. British Airways was one of the first airlines who give basic mattresses in Business Class.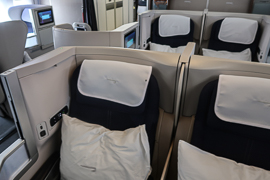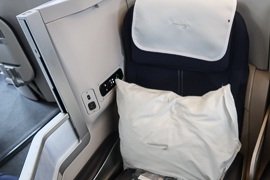 Seatguru.com gives the seat width with 20 inches. This is equivalent to Lufthansa and slightly less than at the SWISS A330 Business Class. However, due to the configuration of the seats, the leg area is getting quite narrow already. Compared to other Business Class seats, this is a rather unfortunate design. You do have a power socket and a separate USB port was well as a retractable table. The USB port as well as the remote control for the entertainment are quite unfortunately located, though. There is a drawer at the ground for your belongings. If you are in lie-flat, it is below your seat and practically useless. That's it – even the storage for the magazines are very thin. I love to have storage for my items during the flight – BA is not giving me too much here.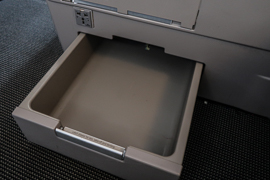 The Inflight Entertainment screen feels rather small. You fold it out of the wall separating you and your neighbor. However, there is a quite nice selection of movies, shows and audio. There are no special services in the bathroom. The amenity kit features the basic needs.
BA Club World B747-400 – Food
There was a welcome drink on the ground (water or champagne) and a pre-lunch drink from the bar, accompanied with a nice selection of (cold) nuts. I went for a gin and ginger ale there. Lunch was a three course one. I started with a lovely Scottish smoked salmon. Other options were goat cheese, fresh salad and a carrot soup.
For the main dish, I chose a corn-fed chicken with Red Thai Curry sauce. The sauce was not too tasty and I also did not expect to have one piece of chicken breast. Hard to eat this one on a plane without being full of curry thereafter. There was also vegetarian tortelloni and beef fillet. There was a wide selection of items for desert or a cheese board. I went for the warm mixed nut and dulce de lece flan, which was some sort of cake to my surprise. There was also the option for some fruit or other cake-alike dishes.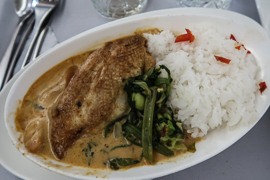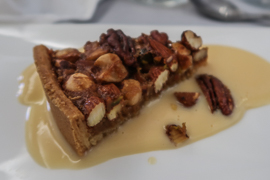 I was looking forward to the service before landing, as British Airways serves afternoon tea before arrival in the afternoon. I love scones, so I really enjoyed the fruit scone with clotted cream and strawberry jam, coming with some sandwiches and a chocolate tiffin slice.
BA Club World B747-400 – Cabin Crew & Service
I had rather mixed experience with British Airways Business Class cabin crew in the past – but the crew on the flight from Heathrow to Washington was really attentive. They were very present, cared for your needs throughout the whole flight and gave an overall great service. I felt very welcome – and happy – flying British Airways on that leg.
BA Club World B747-400 – My View
My flight to Washington was definitely one of my most enjoyable British Airways experiences. The crew was attentive and gave good service. The seats are definitely on the bad side. Food could be better, though the Afternoon Tea service is really lovely. I am looking forward to test the American Airlines Business Class cabin, which might be the better oneworld alternative for Transatlantic flights.
Flyctory.com about Business Class & More
Here are all articles related to Business Class and First Class travel:
Postings about the United Kingdom
These are all postings dealing with United Kingdom topics: