On most of my travels, I am rather a chain hotel nerd. Branches of Accor Hotels or Hilton Hotels guarantee me a certain standard and I am a bit pampered due to my status in their frequent stays programs. However, you sometimes miss something: character. You just know beforehand how a Novotel bed is looking like, a Hampton Inn breakfast is almost the same between East Coast and Alaska. The more I was looking forward to a very traditional stay when I watched Rock of Ages in the lovely town of Oxford: the Cotswold Lodge Hotel may be a bit traditional, but the four star accomodation in almost central location had excellent reviews. Here is mine.
Cotswold Lodge Hotel – Location
Cotswold Lodge Hotel is located North of the core of Oxford city center. You just cannot miss it, the key attractions are a some ten minutes walk away. It may be a bit bothering to catch a taxi in Oxford, but there is a bus stop, Park Town, right in front of the hotel, where you typically just have to wait a few minutes for the short ride.
The area is rather a living area. However, on the route from center, you will pass numerous institutes of Oxford University. Two well-rated Oxford attractions, the Oxford University Museum of Natural History and the Pitt Rivers Museum, are in very close proximity to Cotswold Lodge Hotel.
Cotswold Lodge Hotel – Room
I went for the lowest single room category at Cotswold Lodge Hotel, which was 150 GBP for two weekend nights, breakfast included. The room was located in an annex of the building – the way way fully covered and heated, though, as it lead through a winter garden-alike way. You had to take a small staircase (no elevator) as well. The room, which was the lowest category of the hotel, was small, but very nice, though. A very traditional design, but well maintained. I loved the small balcony in front of the room.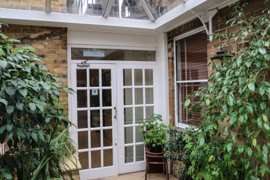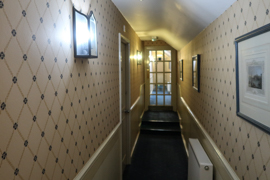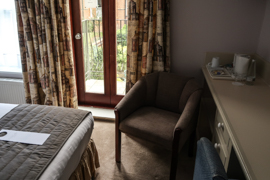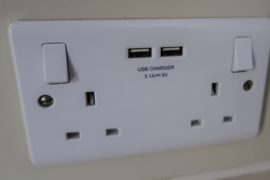 The bathroom was comparably spacious. All necessary amenities were provided. I just struggled with the electric (?) shower. The water pressure on cold water seemed to be quite limited – so that it was very hard to choose between "just a little bit of warm water" and "good pressure, but boiling hot".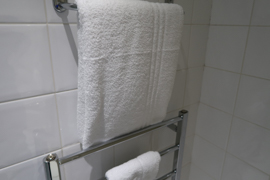 Cotswold Lodge Hotel – Breakfast / Food
Though I generally prefer buffet breakfast, I loved to be pampered by the hotel in the morning hours. Pastries, juices and smoothies, fruit and cereals are offered on a small buffet, drinks and hot dishes from the menu are made fresh to order. The restaurant room, in which the breakfast is offered, is just beautiful. Interesting fact: while the in-room breakfast menu offers bread rolls, they are not part of the breakfast buffet. The quality of my Eggs Benedict was very nice, the service was friendly. The items on the breakfast buffet were also very fine. However, when I finished my toast, I haven't been offered additional one (in contrast to other tables).
The restaurant offers lunch and dinner as well. The menu looked nice, the place seems to be very popular for eating as well. Across the corridor is the hotel bar, which also serves Afternoon Tea.
Cotswold Lodge Hotel – Services
Not just at check-in, staff was very friendly and dealt great with any request. I had a problem with the heating, which was handled quickly, for example. The staff at breakfast might have some additional potential on the attention side, though.
Your gym at the Cotswold Lodge Hotel is the daily walk to city center and back. No chance for a sweat apart from the quite warm showers. The WiFi was unfortunately at the "traditional" side as well. At least the complimentary hotel internet connection was too slow, there were also massive lags. I did not opt for the premium internet for a daily charge, though. If I was at Oxford for sports photography, I had to switch hotels due to that.
Cotswold Lodge Hotel – My View
A really nice and reliable place and a good value for money – the Cotswold Lodge Hotel was really a good choice for my Oxford visit. There were some weak spots, especially the shower and the WiFi, did not make it a very good stay. It is a very tough task to run such a beautiful and traditional house and still stay up to date on the important modern trends. You will definitely have a good time, when you stay at the Cotswold!
All Hotel Reviews
Here are all postings about hotels and other accomondation:
Postings about the United Kingdom
These are all postings dealing with United Kingdom topics: