Manchester is the busiest non-London UK airport. As I travel Manchester for several reasons, also for transferring, I decided to do a more detailed review of the airport. The review majorly covers Terminals 1 and 3. The key reason is that I am not having too frequent Terminal 2 connections . In addition, the quite outdated Terminal 2 is currently renovated. There is an additional posting about the Runway Visitors Park of Manchester Airport, which also allows to visit a Concorde airplane.
Manchester Airport – Destinations and Airlines
Manchester Airport is really operating worldwide. If you visit the destination guide on their website, you see that almost all regions are covered. Numerous airlines give frequent connections to North America, but there is also a significant range of Asian ones. The most distant flight from Manchester currently is Singapore, serviced by Singapore Airlines. The coverage of European destinations is excellent, despite there are (of course) frequent flights to Heathrow, from where you might be able to connect on.
There is no real logic behind the assignment of airlines to terminals, like you can roughly see that in Heathrow or Frankfurt airport. If you for example take Star Alliance, their major European carrier, Lufthansa Group, is based at Terminal 1. They are joined by Aegean, SAS, TAP and own low-coster Eurowings. On the other hand, Air Canada, United and Singapore Airways depart from T2. T3 is the home of Adria Airways. Home carrier British Airways joins Iberia in T3. Emirates also uses the A380 for connections to Dubai.
The Terminals are separate buildings, but connected. There is a walkway from Terminal 1 to Terminal 3 and a covered skyway from Terminal 1 to Terminal 2 and the bus area. There is no direct connection between Terminals 2 and 3- the signposted route transfers in Terminal 1.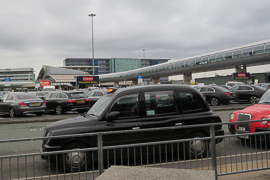 Manchester Airport – Location and Transport
The airport is located in Ringway in the very South of Manchester city.
The airport is very well connected to public transport. The tram and rail station are next to each other, located closeby Terminal 2. The same area called The Station also covers bus connections. The tram connection is the cheapest one – therefore, it is comparably lame and takes some 50 minutes to Deansgate. Even when I went to Hilton Manchester Deansgate, the ride felt to take like ages.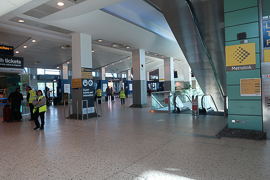 By car, Manchester Airport is closeby the motorway. The Rental Car Center is outside the terminal area, you are connecting there by a shuttle bus. If you return the car, I would recommend you to follow "Terminal 3" signage – for some time after leaving the M56, you will not see a Rental Car Return sign, which I felt to be very annoying.
Manchester Airport – Arriving at Terminal 1
You just cannot argue differently – arriving at Manchester Airport is definitely not what you like to explore at such a major destination. The carousel area is old-fashioned and by far too small. Especially in holiday season, you may wait for up to one hour after arrival for your luggage (did that twice already). The landside arrival area is packed with people catching their beloved ones. There are also some stores around, including a Spar supermarket.
Manchester Airport – Departing at Terminal 1
The check-in area feels to be quite outdated as well. Jet2 has an own check-in area as well as Lufthansa and most Star Alliance airlines as well as Finnair. However, after security and passing , Manchester Terminal 1 airside turns into a shopping paradise. Most of the waiting area is nicely renovated and feature a load of different shops and restaurants.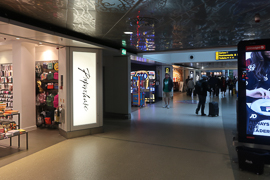 The airport lounges are upstairs. Lufthansa and Eurowings are both contracted with the Aspire Lounge. The lounge is a really nice place to relax and offers nice views over the airport. There is a sufficient selection of food and a bar. The view over the airport is absolutely nice.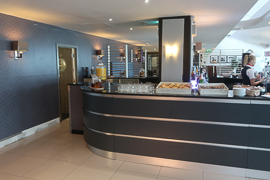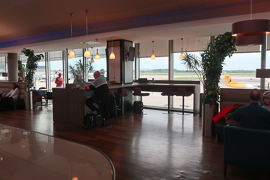 The gate area, however, has not been renovated as is as charming as it is in most UK airports.
Manchester Airport – Arriving at Terminal 3
I arrived Terminal 3 Domestic from Heathrow when I checked out the airport. That part of the luggage claim area was even worse than Terminal 1. Conveyor belt 3 in one room, 1 and 2 in the one nextby. Not worth than one more photo.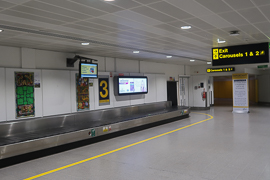 Getting away from Terminal 3 after landing is quite a mess: as mentioned above, walking from Terminal 3 to the Stadion passes Terminal 1 arrivals. The signs show a distance of ten minutes – which has been nearly double the time, majorly caused by massive quees in that area. You need to change from ground floor to 5th floor to reach the skyway. Unfortunately, the only way to do that is using one of three elevators. All of them are huge and easily hold 20 people, but in case of crowded times, it still takes significant time to pass through.
Manchester Airport – Departing at Terminal 3
The first impression of Terminal 3 departures is definitely better than Terminal 1. Though there is similar technical equipment in operation, the check-in area looks more modern than in the closeby terminal. On departure level, there are not too many stores and despite having not too many check-in counters, there are three areas to check-in. This shows how limited the space for expansion at Manchester Airport is.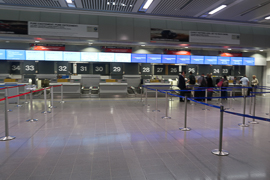 I did not like the security control too much, despite my overall experience that they are much more efficient in the UK than in Germany. After security, you follow a quite long path and end up more or less in the gate area already. The boarding area is nice, but very cozy (avoiding the word "small"). The highlight is definitely a nice plaza with a pub-alike bar in the middle and some stores and restaurants around. However, all the area is just tiny compared to the Terminal 1 facilities.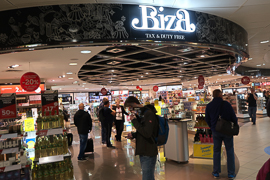 I had British Airways from Terminal 3, so that I went to the British Airways Terrace Lounge, which is a real value in that airport. It is located above the plaza, so that you can look down at the crowds. The services are more limited than in Heathrow, but regarding there are just a couple of Heathrow and some City flights a day, it is a real beauty. It was also very nice and quiet there for my Sunday morning flight back home. The internet connections in Terminal 3 were quite messy, though.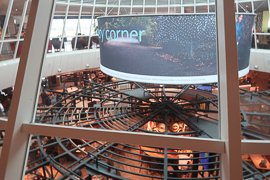 Manchester Airport – Transferring
Transferring flights in the UK is always a bit challenging, as you typically have to pass the fully security control again. I just had limited transfer experience in Manchester Airport, but this was painful. Arriving just slightly delayed with Eurowings and transferring to United (this includes a Terminal transfer) just worked out despite a 90 minute transfer time. Terminal transfer is done by airport bus, but the processes are terribly lame and the busses infrequent.
Manchester Airport – Terminal 2 Renovation 2023
After this review, Manchester Airport started upgrade works. In early 2023, I introduced you to the upgrades of Terminal 2. They have not been reflected in the rating.
Nice Upgrades to Manchester Airport (MAN) Terminal 2 (Pictured Story)
Manchester Airport – My View
With 27 million passengers, it is larger than Germany's third largest airport Dusseldorf. Unfortunately, the separated Terminals and the inefficient commuting between them just makes Manchester painful – I can hardly imagine that more "traditional" services like a bus service between The Station and the terminals, especially Terminal 3, would be less efficient. The airport is investing currently and there are thoughts to link it to the high speed rail system. It will be interesting to see if the airport can solve its problems and turn it into a modern and efficient travel hub. If you see that they even haven't signposted the rental car return, they are still working at the basics. As long as they do this, travelling through Manchester is somehow painful. The medium rating is just based on the amazing shopping experience in Terminal 1 and the two really nice lounges.
Aviation in the United Kingdom
Here are all my Airports & Airlines postings related to the United Kingdom:
20 Worst Hotel Reviews so far
Here are the 20 Hotel & Accommodation reviews with the lowest rating so far: