Watching Mike & the Mechanics in the lovely City Hall was the event which made me travel to Sheffield. The city has a couple of interesting sights. The National Videogame Museum was a lovely place to me, I also loved to visit the National Emergency Service Museum. The Winter Garden is some sort of heart of the city center. I just loved to stay there and finally decided to add a posting about this place. Here is my review about the Sheffield Winter Garden.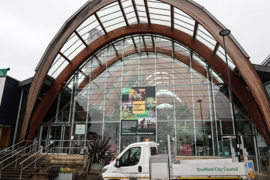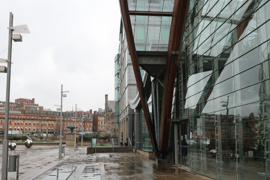 Sheffield Winter Garden – Location
The Winter Garden is located in the heart of Sheffield. One exit faces right to the famous Crucible Theatre, the Sheffield Town Hall with the Peace Gardens is just a very short walk. There are two Accor Hotels next to the Winter Gardens. I had a mixed stay in Novotel Sheffield Centre, which is just a minute away. There is a Mercure which is right adjacent to the Winter Garden. There is no admission charge. The park is open from 8:00 to 20:00 hrs, 18:00hrs Sundays.
About Sheffield Winter Garden
Queen Elizabeth II. opened the Sheffield Winter Garden in 2003. It is the largest tempered glass house built in the UK between 1900 and that time, featuring 2,500 plants. You may access the Winter Garden from two sides, either from St. Paul's Place or Surrey Street. The reason of opening the Winter Garden was majorly to improve Sheffield City Centre. It is 70 meters long and 21 meters high. Its design won several awards.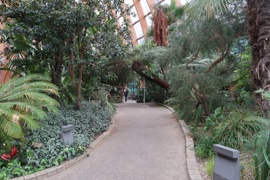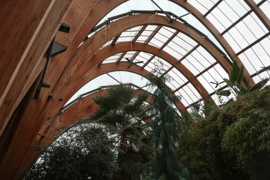 What makes the Winter Gardens special is that it is more than a Botanical Garden, but also a very recreational place. There are several shops in the area. For example, you can have some tea and a sandwich at a cafe. There are a lot of benches to relax – one of it is even marked as "communicative", meaning that you want to chat with other people when you sit on it.
There are even some animals in here. Just plastic figures, but at least, they made me smile.
Sheffield Winter Garden – Some Plants
Just felt like adding some pictures of the real superstars of this place, the plants and flowers. I am not at all an expert in this subject, so please excuse me that I cannot name the species.
Sheffield Winter Garden – My View
The Sheffield Winter Garden was the biggest surprise to me during my visit of the city. It does not feel too large, but it is a very inspiring and relaxing place. I just loved to be in this very special place of Sheffield and absolutely recommend it. Top Pick!
Postings about the United Kingdom
These are all postings dealing with United Kingdom topics:
Other Top Picks
Here are all other reviews which I rated as excellent and assigned the Top Pick! Award: