I could not react any more when finally the C2C Country to Country in London 2020 had been cancelled. Thus, I still had valid flight tickets and bookings, pre-paid – so that I decided to take it. My stay was the Novotel Canary Wharf, which I – of course – also selected based on its connection to The O2 Arena and the airports I used. No country music, but some other interesting experience this weekend – and also an interesting stay. Here is my review.
Novotel London Canary Wharf – Location
The hotel is located on the Southern part of the Canary Wharf area. It is connected to the "main island" by several bridges, which also allow you to connect to the DLR or the Jubilee Line. However, some of the (more direct) connections were blocked by roadworks during my visit.
The area offers quite a nice infrastructure for a touist. The mall around the Canary Wharf Underground station offers all kinds of shopping, there are numerous restaurants and street-food carts around. The Docklands are also worth a stroll. The architecture is of course dominated by business buildings. I would recommend to use the Heron Square or South Quay DLR station if you arrive with luggage rather than the Underground.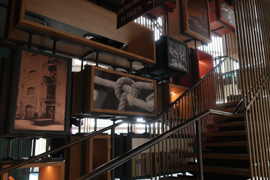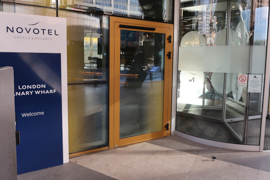 Novotel London Canary Wharf – Rooms
My three night (Friday to Monday) stay was at a pre-paid rate of 406.60 GBP. It included breakfast and was booked to the Superior Room category already. Due to my Accor Gold status, the hotel upgraded me to a City View room on the Executive Floor. The view from the room was lovely – an unrestricted view to the River Thames. You could also spot sights like The Shard or watch the Thames Clippers River Boat services passing.
The room itself was not super-large, but absolutely fine in size. In addition, I liked the design. A nice feature of the Executive Room was the free minibar, which was refilled every day (including some snacks like crisps and chocolate. There was also a Nespresso machine. The work desk was also very comfortable, so that I enjoyed having more time in the room than expected due to the cancelled festival.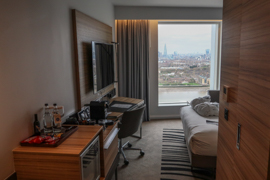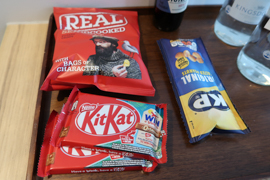 AS you can see in the pictures above, the bathroom was separated from the living and sleeping area just by a glass window a button in the bathroom allowed you to restrict the view. The hotel offered all amenities you would expect of a Novotel class hotel.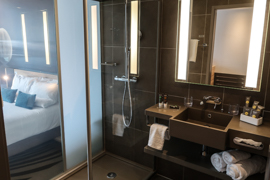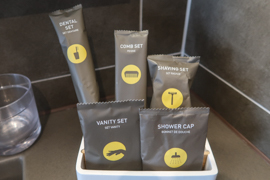 Because the view was simply too lovely, here are some more daytime and night views taken directly from my hotel room window.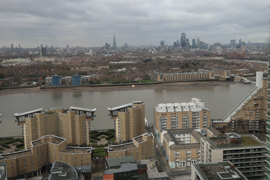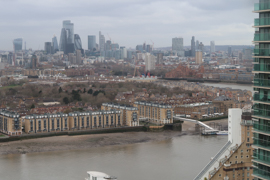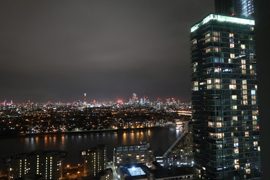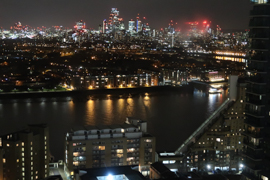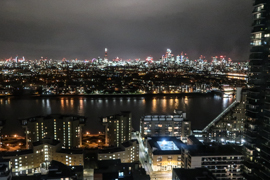 Novotel London Canary Wharf – Breakfast / Food
The building is really tall – while my room was already on 30th floor, breakfast has been served in the Bökan restaurant on the 37th and 38th floor. A lovely saloon-alike and bar atmosphere – and of course again a lovely view over the British capital. The breakfast buffet had a nice selection of items, ranging from warm dishes to juices and fruit. Thus breakfast in the sky was a really lovely start of the day.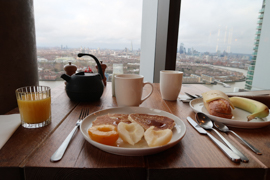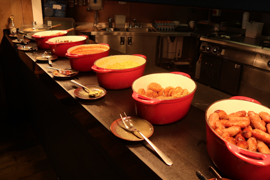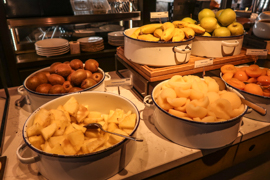 The lower floor of the restaurant area was also very popular as a bar in the evening times. On top of that, the hotel offers a cafe at entrance / lobby level.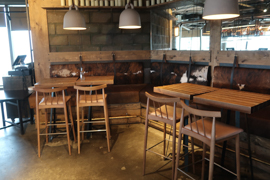 Novotel London Canary Wharf – Services
Due to the quite limited base area, but tall height of the hotel, the space for the gym was rather limited as well – but Novotel London Canary Wharf did a really good job here and offered a nice and versatile fitness facility. They even had a boxing bag and fresh fruit for the sportsman.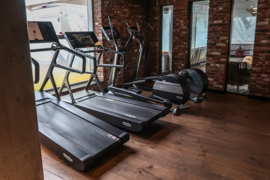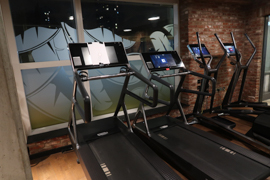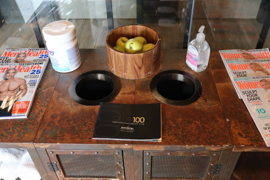 The hotel also offers a pool area with a sauna facility. I really enjoyed to relax there – I guess it may feel a pit of packed in there at peak times, though.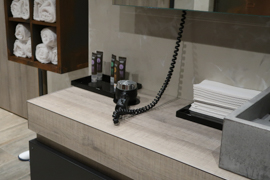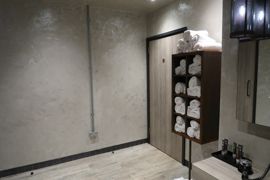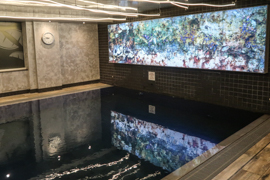 Apart from the fire alarm situation (below), I was quite pleased with the other services in the hotel. The staff was nice, house-keeping was lacking some precision in cleaning, but was overall acceptable. I did not have any internet issues – but as said, there were not too many guests around during my visit. Right above the lobby area, the hotel also has a nice lounge, which is nice forn informal chat, a game of pool or just in order to relax.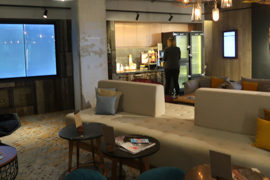 Novotel London Canary Wharf – Fire Alarm
The review of the hotel would have been over at that point at 99 per cents of visits and it would straightly lead to great review and my Top Pick! reward for excellent experiences. But it adds up in upper average due to the absolutely unacceptable handling of the situation right before my check-out.
Due to the beginning Covid-19 situation, I have been rebooked multiple times and finally ended up with a 9:20 hrs flight to Dusseldorf, so that I had a 5:30 driver. I was already awake doing some Flyctory.com stuff when the fire alarm rang. Being at the 30th floor, I rang the reception and asked if it is a real or false alarm, trying to avoid a 30 level staircase walk in lounge wear. The reception confirmed that it is a false alarm so that I did not care too much. I also did not care too much when the alarm went some 20 to 30 minutes later again, prepared my stuff and went down to the lobby (by elevator, of course) at around 5:15.
Being in a Firefighter Operation at Check-Out
I was shocked to see quite a bunch of other guests in their sleepwear, in addition to half a dozen of fire fighters cars in front of the building. You have to state that at this point in time:
Due to Covid-19, the hotel was already quite empty and maybe had some thirty guests
The hotel obviously did not make any kind of check if all guests have been evacuated
I explicitly made myself known by calling them beforehand.
The hotel manager in duty at that time was obviously completely overchallenged by the situation and also seemed to be quite confused seeing me, asking for a checkout and clearly stating that I absolutely disagree to his current behavior. In my Lake Constance trip experience blog post about Covid-19 handling, for example, I clearly stated that chain hotels like this Accor Hotel ones might be in favor as they can develop processes for odd situations centrally – but in this case at Novotel Canary Wharf, it completely failed. Luckily, the incident did not feel to be too serious, the firefighters left right before my shuttle to Heathrow arrived.
Novotel London Canary Wharf – My View
You will read a lot of great reviews of this hotel – and of course, regarding the people's stays at the hotel, they are likely all right and well-deserved. Mine would have been great as well if I checked out one day earlier. But I didn't. So my hotel review, my snapshot of the performance of Novotel London Canary Wharf, includes a very unfortunate event. The more I learned about safety rules, especially also when I was trained for flight emergency situations, the more I get picky for these kind of things. Novotel London Canary Wharf at that day was not prepared for the handling of a fire alarm. This is not acceptable in the way I rate hotels. I cannot recommend this place, but, of course, due to all the positive experience I had there as well, I still feel that a sinificant downgrading is reasonable.
Accor Hotels Reviews
Here are all postings related to Accor Hotels:
Postings about London
Here are all postings related to the UK Capital: