One more Food I had onboard until I have a full set of ten postings. Hope you also enjoy reading and watching my ninth one, featuring flights from mid May 2023 until June 2023. Despite the posting is just composed by two trips, I feel that it has quite an interesting range of bites and drinks.
1

7th May 2023, Iberia IB 8711 (operated by Air Nostrum), Frankfurt (FRA) – Madrid (MAD), Business Class

This posting starts with a rather intense weekend, as I was on a mileage run on Ascension Day weekend. The first step into a bunch of British Airways Executive Club tier points was a flight with Iberia from Germany's largest airport, Frankfurt (FRA) to the counterpart in Spain, Madrid (MAD). Quite surprisingly for me, the Spanish airline is using their regional carrier for this connection since a few years. I love Air Nostrum – and even though the Canadair CRJ-1000 does not allow me to unfold the table and I had to balance the table on my lap, I really enjoyed the flight.
You could choose between two mains. I went with the recommendation by the crew and opted for the lovely pasta, which came with some antipasti and fruit as well as bread (of course…). Really nice service again – Iberia is to me one of the best airlines in Europe in regards of their business class food.
1

8th May 2023, Iberia IB 3108, Madrid (MAD) – Lisbon (LIS), Business Class

The next morning, I took another Iberia flight, heading on to Lisbon (LIS). This time the flight was operated by the mainline in an A321neo. The breakfast was a cheese omelette with some spinach. I really liked the Greek-style yogurt. On top of that, there was a bread roll and a croissant – an absolutely fine starter of the day, served by a kind crew.
1

8th May 2023, Finnair AY 1740, Lisbon (LIS) – Helsinki (HEL), Business Class

The main element of my mileage run were three of the long European connections by Finnair, which count as long haul flights (and thus earn 140 TP) at British Airways. The first one was an afternoon flight from Lisbon (LIS) to the Finnish capital. The crew was really nice, there were sufficient drinks as well. The dinner service was a bit of slow maybe. However, the food was nice, with some roastbeef with potato salad and mayo, followed by Cajun-style chicken. The plastic-sealed muffin was nice, but somehow did not feel appropriate for a business class meal.
1

9th May 2023, Finnair AY 1675, Helsinki /HEL) – Malaga (AGP), Business Class

Helsinki (HEL) to Malaga (AGP) forth and back – a Finnair rebooking gave me a die-hard direct turnaround. Despite landing around midnight, the outbound leg felt like a daytime flight. The food? The meatball pasta was surprisingly spicy and thus quite in line with the chicken the day before. The starter, a bit of fish with mayo, felt to be a bit of poor. Oh yeah, and there was the muffin, I knew this guy already. My plan to concentrate on sleeping on that leg did not work out at all. The crew was really nice, though.
2

0th May 2023, Finnair AY 1676, Malaga (AGP) – Helsinki (HEL), Business Class

The good thing about a direct turnaround is that you are the weird guy. And the crew somehow loves you. Two very charming and attentive ladies cared for the people, who – like I – felt to love to pay a bit more to sit in the front of an A320. And to get breakfast less than half an hour after take off (they were really quick – I appreciate that!). Maybe I should have called this category Food and Breakfast I had onboard – breakfast just feels to be the most non-thrilling dish you get between 30,000 and 40,000 feet above the ground. Eggs, some potato, spinach, beans – the fruit was nice, but overall not a bummer. This flight was also obviously made for people with connections – how should I prevent starving after this early bite?
2

0th May 2023, Finnair AY 951, Helsinki (HEL) – Copenhagen (CPH), Business Class

The last leg of my trip in May with Iberia and Finnair lead me to the Dansih capital. The flight is about 90 minutes. Compared to previous experiences, I was rather surprised that I got a full breakfast on that flight again. The setup was exactly the same as on the leg before – just the cold cut side missing. I nonetheless enjoyed the service, which again came with a great and charming service.
2

3rd June 2023, British Airways BA 935, Dusseldorf (DUS) – London (LHR), Business Class

These British Airways morning services to Heathrow (LHR) have a certain repetitive touch in my Food I Had Onboard category, I guess. The alternative to the Full English was the vegetarian fritata. I went traditional this time. The scrambled eggs were terribly salty. Nonetheless, I was very happy – there were thunderstorms the evening before and I was unsure for quite a while whether the flight would operate at all.
2

3rd June 2023, Great Western Railroad, London-Paddington – Swansea, First Class

There are not too many reasons why you would prefer British rail over the better ones in Central European countries. One of them is that quite some of them serve complimentary food in First Class. Heading towards the last Rock of Ages shows, I spend almost six hours in Great Western Railroad between Paddington and Swansea and back. I initially have been quite angry as other passengers were loaded with crisps, nuts and cake, while I just got a drink. However, the catering crew offered some sandwiches and salads later. Taboule salad is not on the top of my list, but a healthy snack on a long day, together with a soda, were a nice welcome (after some platform trouble before).
2

5th June 2023, Great Western Railroad, Swansea – London-Paddington, First Class

The early morning service did hot feature sandwiches or salads, but the catering was very attentive and friendly. I had a few drinks and snacks. A very nice way to stand the long trip (which was a bit longer than usual due to rail works).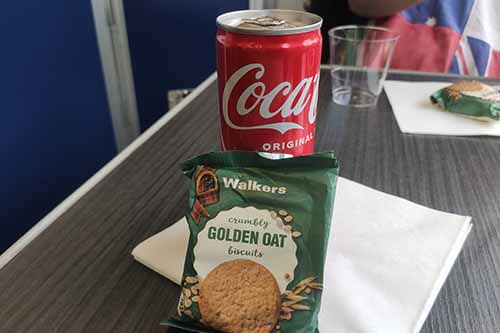 2

5th June 2023, British Airways BA 946, London (LHR) – Dusseldorf (DUS), Business Class

A slightly delayed flight to Dusseldorf (DUS) was the last stage of my trip. The crew was nice in service. However, they had some quite loud discussions among each other before landing, which I never had before. British Airways served two options, as usual. Instead of the vegetarian salad, I went for the salmon blinis, which were a real treat. The chocolate mousse had been a really nice closing of the meal.
British Airways & Iberia
Here are all my postings related to British Airways, Iberia and IAG Airlines:
(Greater) Miami
Here are my postings about (Greater) Miami, including West Palm Beach, Fort Lauderdale etc.: