I assue that there is hardly any travel guide for London, which is mentioning the Namco Funscape as an important part of your sightseeing. To me, however, this place is one of my favorites in the British capital – and apart from that, it is quite conveniently located for tourists. Instead of doing a review of the arcade, I decided to go for a pictured story with major size pictures in the posting.
Namco Funscape London – Location & Times
The arcade is located inside the County Hall, right at the East end of Westminster Bridge. There are numerous attractions in close proximity, all driven by the Merlin Group. They include the London Eye, Sea Life London, Shrek's Adventure and the London Dungeon. London Eye / Westminster Pier is connected by some river cruises and the Thames Clippers / Thames River Services. For Underground connections, you either head to Waterloo or cross the Thames and enter a train at Westminster. 
The admission to the Namco Funscape is free. All games are charged with a reasonable fee. Pool and table tennis is 25p per minute. The times are 12:00 to 20:00 hrs, Monday to Thursday, 12:00 to 23:00 hrs on Fridays, 10:00 to 23:00 hrs on Saturdays and 10:00 to 22:00 hrs on Sundays.
Namco Funscape London – Gaming
Namco Funscape in London offers a lot of arcade machines, from classic fun fair ability skill ones to modern machines like Guitar Hero or Virtual Reality games. Coin dispensers are well available. Some of the games release tickets, which you can exchange against prices at the reception desk. The arcade is also offering bowling, pool and table tennis facilities. They had a really lousy time in the past, where especially the basic bowling lanes almost all had severe technical issues. In the meantime, they however did invest in their equipment, making these games very enjoyable. In the center circle of the main gaming area, you may also go for a bumper car ride.
The arcade has three levels: you enter Namco Funscape from the top. The main area is located on the mezzanine level. The sports bar (see below), more bowling lanes, some more arcades and the toilets are on the lowest floor. During my last visit, they had installed a very good and clear hygienic concept with a lot of one-way routes and barriers.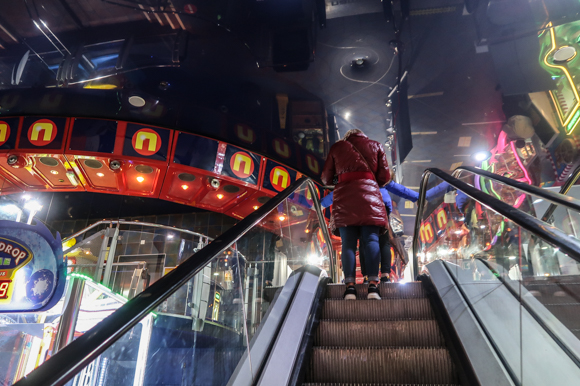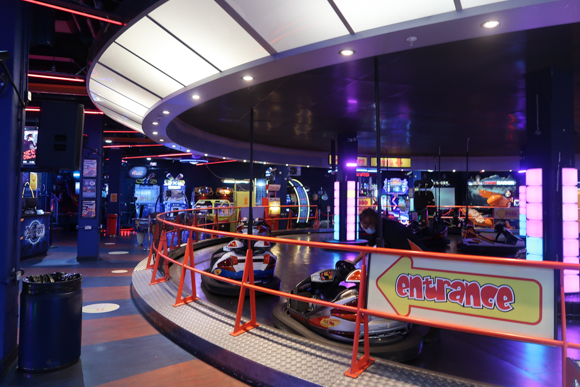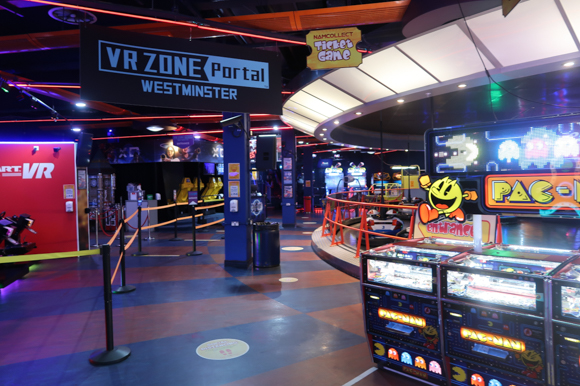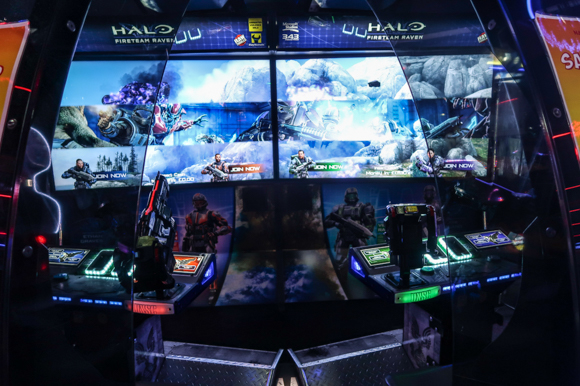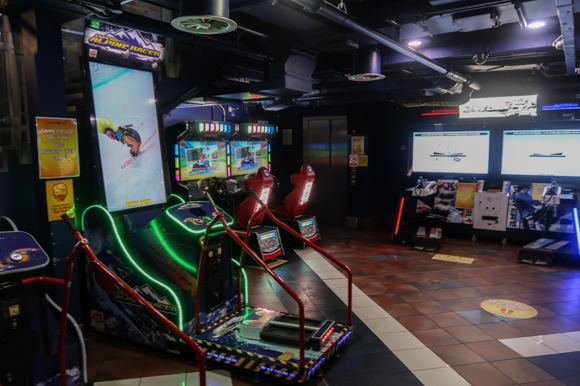 Namco Funscape London – Bar
On the lower level, Namco Funscape is driving a classic sports bar with large television screens, drinks and simple snacks.
Gaming & Arcades on Flyctory.com
Video Games and Arcades used to be my passion – and I still like them. Here are all related postings:
Travel Postings about London
Here are all travel related postings about London: