Quite some hectic a few weeks before I actually visited my favorite musical Rock of Ages again. After the show has been absent for about half a year, I was able to see it in Crawley, South of London, in early May 2022. Two local options close to the theater closed down for the period of the show so that I finally ended up in the Premier Inn London Gatwick South, much closer to the airport. Here is my review of the another stay at the Premier Inn brand.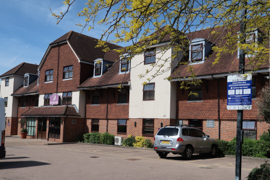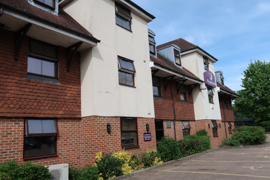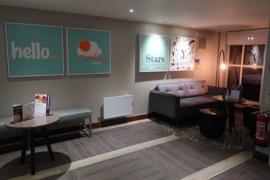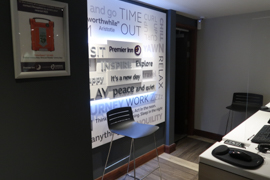 Premier Inn Gatwick South – Location
The hotel is located South of Gatwick Airport on the Northern edge of Crawley. This also means that you have to drive around the airport a bit to reach one of its terminals. The hotel is having a major car park, which also feels to be used for shuttle parking. It is not only one of the nicest Premier Inn buildings regarding its architecture I had so far – it is also a bit of hidden from the main road, so that you rather hear departing or landing planes here and then than car traffic. There is also a pub next to the hotel.
The Premier Inn is only an option if you travel by car. I tested the Hertz 24/7 car sharing service on my trip for the first time. The hotel can only be accessed if you drive the A23 / London Road Southbound. There are a couple of shops, including an Aldi and an M&S Food, nearby, which is of course very handy. Parking at the hotel premises is free. You however have to register your car at a panel in the hotel – otherwise, you will be subject to parking fees. The parking situation was a bit of difficult (but I found a spot) on Saturday night.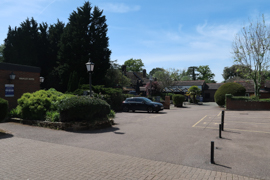 Premier Inn Gatwick South – The Room
I booked a room for two nights in early May 2022, Friday to Sunday. The semi-flex rate with immediate payment and three days before arrival cancellation (and refund) option was 153 GBP, which splits into 64 GBP per night plus 10.50 GBP per night for breakfast. I finally received a room in the second floor of the building. The aisles of the building are quite narrow, which is especially problematic when house keeping is active, but the room was really great and spacious. The equipment is typical Premier Inn style, with water kettles, but no fridge or similar facilities. I loved the large sofa, though.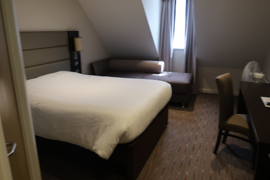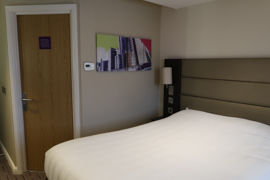 The bathroom even featured a bathtub and was absolutely fit for purpose as well. I had sufficient towels and everything has been really clean. In line with the typical Premier Inn policies, the room had bathroom amenities in dispensers, which I feel to be more sensible anyway. One thing I deeply missed, though, was a toilet brush. The reception stated that this was Premier Inn policy. I don't give you details, I am sure you guess right.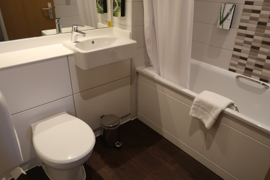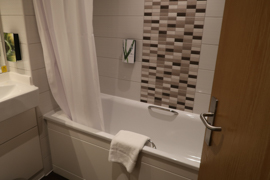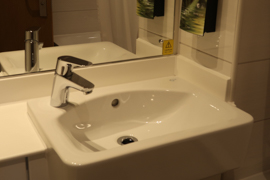 Premier Inn Gatwick South – Breakfast
When I approached the breakfast room at the first morning, I was surprised how tiny the room and especially the buffet area was. However, in regards of selection of items, I did not feel a difference to major outlets of Premier Inn and their major breakfast buffets. The atmosphere was very relaxed as well, which I really appreciated. Really loved my start of the day there.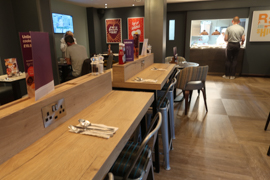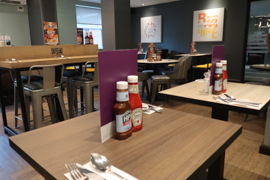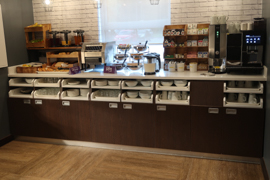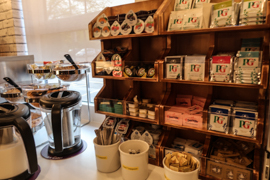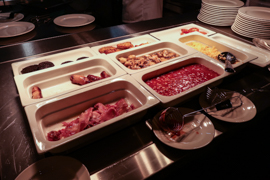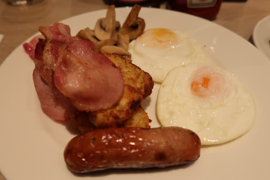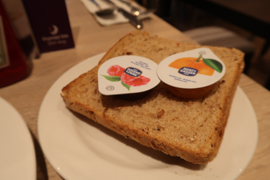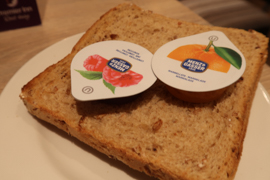 Premier Inn Gatwick South – Services
I received an e-mail before my stay that services might be limited – but I did not feel anything like that during my stay. The staff was very friendly and attentive. The breakfast staff was great as well. The only thing which you should mentally add to the hotel price is a five Euro upgrade to the Premier Inn Unlimited WiFi – the standard one is ridiculously slow and cannot be used for more than very basic browsing, e-mails and similar things. There are some vending machines close to the reception, including one for amenities and one with ice cream. You may buy a "flatrate" for hot drinks for some 4 GBP.
Premier Inn Gatwick South – My View
The Premier Inn has indeed been a good stay. I loved the location, the staff was great. I don't think it is sensible any more to cash the visitors for WiFi, but that does not change too much about that this place is a great value for money. I would definitely come back to it.
London Hotels at Flyctory.com:
Here are more hotels I reviewed in London:
"Rides on Rail" Postings
Here is everything about trains, trams and other rail vehicles: