With the introduction of Elizabeth Line, there is now a third option to get from Heathrow Airport (LHR) to the heart of London by a rail driven mass transport. However, most people still regard the Heathrow Express to be the best option for the trip. I know all three options, including the Piccadilly Line Underground, quite well and felt to share a review of Heathrow Express with you. Furthermore, as this is the only option with a First Class option, I have a look whether this one is really worth it.
Heathrow Express – Network & Tariff
Within the Heathrow Airport (LHR) grounds, Elizabeth Line and Heathrow Express share the same tracks. This also means that Heathrow Express is not serving Terminal 4. You first have to transfer to Terminal 2&3 station (by Piccadilly Line). In practice, city-bound Heathrow Express trains typically depart a few minutes before an Elizabeth Line train on its non-stop journey to London Paddington, so that it is not blocked. Heathrow Express typically operates every 15 minutes and thus twice as frequent as the Elizabeth Line. The trip from Paddington to Heathrow Terminal 2&3 lasts roughly 15 minutes, while the full trip to Terminal 5 lasts 21 minutes.
Heathrow Express has limited dynamic pricing. There are saver rates if you book well in advance. Thereby, the ticket is fixed to a certain date, not to a certain connection. In addition, you can buy carnets / muti-usage tickets. The nominal ticket price for Heathrow Express, though, is 25 GBP one-way / 37 GBP return in Express Standard Class and 32 GBP / 55 GBP in Business First. The cheapest early-bird rate at the time of writing (Standard Class only) is 5.50 GBP and requires you to do your booking well in advance. There are some promotions which allow you to travel Business First on a standard ticket, typically if you have a high status level at one of the major airlines operating from London's largest airport.
Heathrow Express – Rolling Stock & Station Experience
Heathrow Express is driven by British Rail 387 Electrostar trains. They have originally been used by Great Western Railways. There are twelve of these trains, each consisting of four carriages Each of them has a length of roughly 20 meters. The 1.68 MW Bombardier engines allow a maximum speed of 110 mph / 177  km/h. These are the third generation of Heathrow Express trains.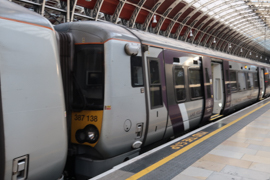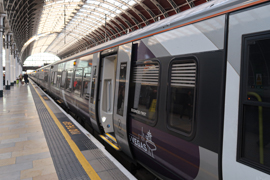 The two stations at Heathrow Airport (LHR) share tracks and facilities for both peers, Elizabeth Line and Heathrow Express. This is very convenient for the customer, which may also do a late choice between the two kinds of transports, depending on the current schedule. All stations feature ticket machines for the Heathrow Express and staff assisting you. At Paddington, there is no easy choice between the two options, as Elizabeth Line is now fully taking the underground route, continuing on to Tottenham Court Road or Liverpool Street Station. Heathrow Express runs two exclusive platforms at Paddington with own facilities and good directions given.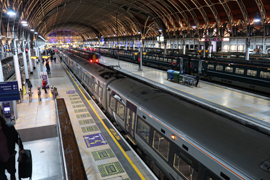 Heathrow Express – Express Class Experience
The Express Class (or standard class) of the Heathrow Express is quite in line with typical British regional trains. It comes with a 2-2 seating, i.e. two seats at each side of the isle, and individual seats, which cannot recline. There are power sockets at the outside of the train and small tables. Some of the seats are two pairs of seats facing each other. Especially if you regard the short travel time of the service, it is absolutely reasonable. Close to the doors, you frequently find luggage racks for your suitcases.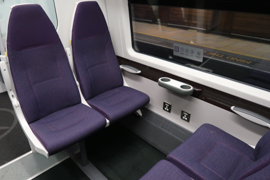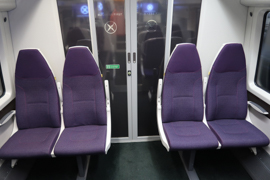 Heathrow Express – Business First Class
There is a relatively small Business First Section in each train. There are two obvious advantages compared to the standard travel. First of all, Heathrow Express offers a 2-1 configuration, the seats are even recliners and a bit more comfortable. The second advantage is that this part of the train is typically very relaxed and only a few passengers  That's it. There are no drinks, magazines or some other advantages. The tables for seats facing each other also feel a bit more posh than the one for "ordinary travelers".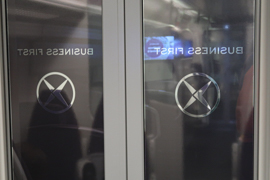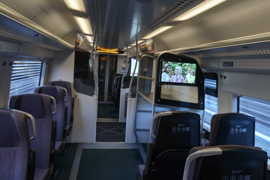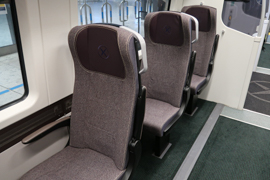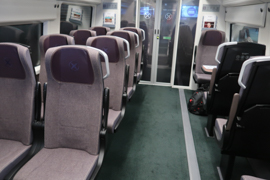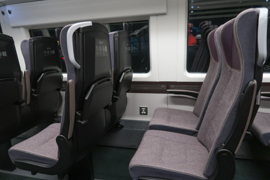 Heathrow Express – Service
Of all three rail options to make it to Central London, Heathrow Express is the only one which is offering two key touristic services onboard: WiFI and toilets. The internet connection is working reasonably – if you have ever trad my reviews of British rail experiences, you know that you should not expect Central European (ICE or TGV) connection quality. The toilet is really a nice feature, especially in regards of the rather short travel distance. The staff is friendly and helpful.
Heathrow Express – My View
Heathrow Express Express Class has one big issue: it is damned expansive. The two peers you can use with a London Transport ticket, Piccadilly Line and Elizabeth Line are definitely less comfortable. WiFi and toilets are a nice feature. The Elizabeth Line might even be competitively quick if you want to the West End or other London places, as it might avoid a transfer at Paddington. Overall, I feel that the Heathrow Express is still a good option if you book well in advance and don't pay the full price. On top of that, you need to see if Paddington Station is a good starting point for your London trip.
And Business First? There are only two reasons why I feel you might go for this one: the most obvious one is that you are a frequent traveler and get the upgrade for free. The other option: it is really, really crowded that day so that you simply enjoy the comfort and quietness of the section. The upgrade in comfort for the short ride does not reflect the upgraded price you pay.
Airport Rail Systems
Here are all my Rides on Rail postings, which are also related to airports:
Airport Hotels
Here are all hotels with a good airport connection: