Flying back from the Write Like A Girl event in London, I had the opportunity to fly Sun-Air of Scandinavia for the first time. Operating under British Airways livery and flight numbers, they market their flights with offering "First Class Service for everyone". In an aviation world which is more and more dominated by low-cost airlines and service reductions, I was very curious, how first class I would feel on their flights.
Sun-Air of Scandinavia – Network and Fleet
Sun-Air had some very exotic plane types in the past, which made them very popular among aviation nerds. Nowadays, they only operate Dornier 328-JET airplanes, which are also named Fairchild 328-JET.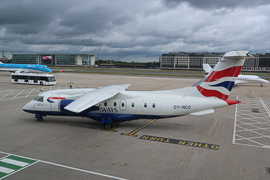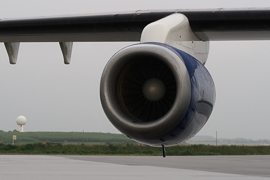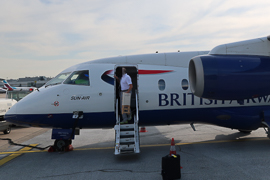 Sun-Air is based at Billund Airport, Denmark. However, there are some non-Scandinavian services like flights from Dusseldorf to Friedrichshafen or Bremen to Toulouse.
On 14th June 2019, I had a morning service from London-City to Billund, from where I transferred to Dusseldorf after a five hour stopover. In the meantime, I worked on the website and explored Billund Airport (BLL).
Sun-Air of Scandinavia – Luggage & Co.
It is important to state that there are British Airways flight numbers and certain British Airways amenities. But in general, Sun-Air operates as an independent airline. One most obvious impact is the luggage. Your hand luggage allowance is a 45 cm x 36 x 20cm item (which may be put into the hold) plus a smaller bag like a laptop bag, which you can definitely bring onboard. On the cheked luggage side, the good news is that there are no hand luggage only tickets – the downside is that you do not have any additional luggage as a BA status member. The standard allowance is one piece, 23kg. Only if Sun-Air is doing transfer for you for a British Airways flight, the BA rules will apply, excluding potential status additional allowances.
However, you do collect tier points and Avios on these flights in the British Airways Executive Club.
Sun-Air of Scandinavia – At the Airport
I checked in at London City, where the check-in handling is done by British Airways. At Billund Airport, there are British Airways / Sun Air desks as well. In Billund, the boarding pass entitled to Fast Track security (which was quite useless, though, as there was not too much traffic around). The ticket also gives you access to selected lounges, including the one at Billund Airport, which I will review separately.
Sun-Air of Scandinavia – Dornier 328 JET Cabin
The Dornier / Fairchild 328 JET has a 1-2 configuration, one seat to the left and two seats to the right, with a total of 32 seats. Entrance is via the front door, toilets and galley are in the rear. I had a single emergency exit seat on both flights, 2A at the front from London City Airport to Billund and 9A from Billund to Dusseldorf. While the seat pitch looked quite nice on the "ordinary" seats, it was massive on both seats I chose. 9A was even more spacious – therefore, the window was not located ideally. If you like to enjoy the view of out the window, the rows in between are unfortunate, as the engines are blocking the view.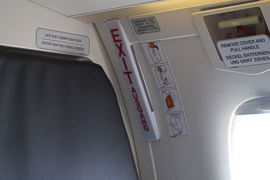 Compared to other small regional jets, the lavatory in the rear of the cabin is rather comfortable and spacious. The stricter hand luggage restrictions become obvious, of course, when you board the cabin: overhead bin are just available on the right hand side and have a significantly smaller size compared to the ones of Airbus or Boeing mid-range jets.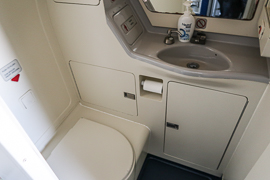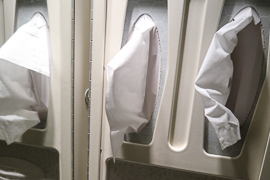 Sun-Air of Scandinavia – Service
Just to start with a negative message: there is no inflight WiFi. Full stop, that's it about the negative things. The breakfast service on the morning service to Billund was already exceeding the one of the competitors. A large roll, cheese (more cheese is even underneath the roll), fruit, crackers, strawberry preserve – really good quality and taste stuff. I absolutely enjoyed it.
The afternoon service to from Billund to Dusseldorf was then a culinary feast. The meal was a delicious cold cuts platter, again served with bread (not in the picture), cheese and crackers. Before that, there were already nice pretzels coming with a full drink service. Just when I finished with that, the lovely flight attendant Margareth (which serviced both of my flights) came with a try of shots and liqueurs. To make a great service even more memorable, there was ice cream thereafter as well. This all on a roughly one hour service. Wow!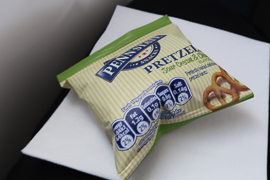 Sun-Air of Scandinavia – My View
In an aviation environment, which more and more promotes low cost – and low service – flights, it was a huge pleasure to fly Sun-Air of Scandinavia. Flight attendent was outstanding on both flights, which had exceptional service and very nice comfort. Yeah, it might be something for the very nerdy people to do a flight from London to Dusseldorf via Billund – but I absolutely enjoyed it. Glad that Sun-Air seems to be very accepted and established on the market – the last time I had so much fun on a European flight was with at the memorable VLM flight from Cologne to Antwerp, where the airline ceased operation just some days later.
Below are some views taken during the flight.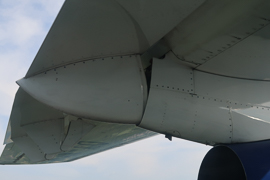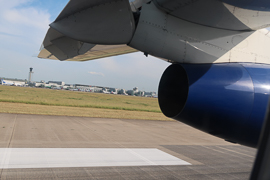 Aviation on Flyctory.com
Here are all postings about Airports & Airlines:
Postings about London
Here are all postings related to the UK Capital:
Route map: Screenprint of airline website.