The last legs of the 2023 Weird Al Yankovic European Tour, Rock of Ages shows, the Pittsburgh Penguins and many more…. The beginning of 2023 was full of interesting events… and travel. I already introduced you to parts of my trips from the culinary side in Food I Had Onboard VI, but there are plenty of experience left for this post.
24th February 2023, Lufthansa LH 13, Hamburg (HAM) – Frankfurt (FRA), Business Class
In line with the sixth edition of my Food I Had Onboard postings, I again start with a Lufthansa Business Class flight. The flight was the first leg bringing me from the first ever Weird Al Yankovic show in Hamburg to Rock of Ages in Blackpool. There was a some 25 minute flight delay by a medical incident, very professionally handled by the crew, which was overall very friendly. The dish was crab salad, which was surprisingly spicy. The desert was nice. There was just one go of drinks – which is fine regarding the flight time and the fact that you got a small bottle of water after boarding. Overall, a quite nice experience.
24th February 2023, Lufthansa LH 938, Frankfurt (FRA) – Manchester (MAN), Business Class
I am currently working on strategies, how to gradually move from Lufthansa / Star Alliance to Air France-KLM / Skyteam in regards of my status. If you need a reason for this, this flight got it all. The crew was just doing the bare minimum – I still don't exactly know which kind of meat I ate there. Regarding the tiny size of the Lufthansa glasses, one round of drinks is just ridiculous for a Business Class flight. I have never been asked if I want something more, if the food was fine or whatever. I would even say that this leg is one of the worst Lufthansa cabin and food experience I had in their continental service.
26th February 2023, Eurowings EW 9345, Manchester (MAN) – Dusseldorf (DUS), Business
This flight back from the Rock of Ages shows was really weird. The purser felt to be very, very nervous on the slightly delayed flight. Unfortunately, my primary choice, a vegan sandwich was not available ("We are just catered with one of them for the whole day" – really?), so he offered me sandwiches with "ham" or "cheese". I went for the "ham", which was really nice, but turned out to be a chicken sandwich. My seat neighbor asked for a vegetarian sandwich and the reply was that they don't have any. Hmm, I have just been offered a cheese one before and did not take it… Strange communication and service on that one – but the food was in fact rather nice.

3rd March 2023, Deutsche Bahn / German Rail ICE 206, Solingen Hbf. – Hamburg Hbf., First Class
Deutsche Bahn / German Rail does not offer complimentary food, but at least service at your seat in First Class. After they introduced it in January 2023 as party of the Veganuary campaign, I was just too curious about the vegan Currywurst (German style sausage in spicy tomato-curry sauce… A German classic…). I have to say: it is not bad at all. Of course, one rational for that is that quite a bit of the taste comes from the sauce, not the sausage. The sausage, including fries, was 9.50 EUR – I have free drink vouchers, which allowed me to have a gin and tonic to it. Very kind service, indeed.
8th March 2023, British Airways BA 935, Dusseldorf (DUS) – London (LHR), Business
Due to all the traveling and stress before, I decided to upgrade my outbound flight to New York to Business Class, which also turned this Economy Class / Euro Traveler booking into a Club World / Business Class leg. Nice move by BA that they always upgrade all flights in one direction. This flight has really been a mess. Leaving Dusseldorf (DUS) with one hour delay, due to snow and change in the direction the airport operated, was out of British Airways' responsibility. But the crew was very slow, I also did not feel that the not-at-all-spicy Sri Lankan shakshuka I had (the last time I ate that meal this one hasn't been called like that…) was really heated up, despite it took them by far too long to serve it. No bread with the breakfast as well, I got a croissant after the flight attendant had cleared my tray already. Waiting on the ground for some 20 to 30 minutes for a free gate positions almost risked the "safe" connection to JFK.
8th March 2023, British Airways BA 175, London (LHR) – New York (JFK), Business Class
Finally, I made it much more easy than I expected to my connection. One rationale might be that the plane, which was at the gate position, obviously had engine issues and was under maintenance – so there was likely an equipment change. The first time flying the B777 British Airways Club Suites was definitely a treat – and the culinary section was part of it. The pre-flight champagne cooled me down as well as the Johnnie Ginger cocktail I had with nuts before the meal. For the starter, I went for the carrot and ginger soup (other options: smoked salmon with asparagus or smoky aubergine and chickpea with potato hummus). Soup is regarded to be difficult as onboard food, but this one was lovely. The arrangement with bread and some salad was really nice as well.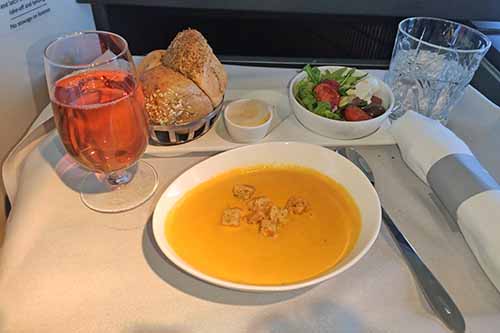 My main, a braised Welsh leg of lamb with potato au gratin, beans and peas, was amazing. Very tender – a great one. Alternatives would have been roasted British chicken supreme or a mozzarella mezzaluna. I had to take a tough decision and took the cheeseboard over fruit, banana chocolate mousse or apricot souffle. I feel that the Somerset Brie was missing, but having some port to it made me not care too much about it. The service was lovely and attentive. Additionally, they were really quick and the whole meal was completed some 1:40hrs after departure – which I highly appreciate.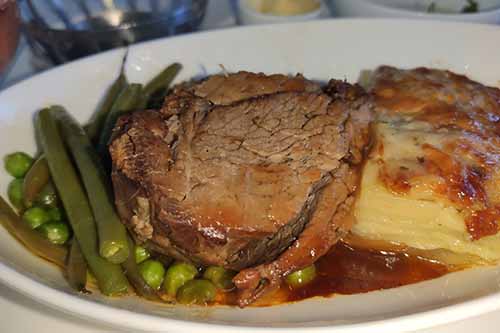 8th March 2023, American Airlines AA 4660 (operated by Republic Airways), New York (JFK) – Pittsburgh (PIT), Domestic First
You shouldn't expect anything from a Domestic First flight within the US (if it is not coast-to-coast, at least). A drink and a selection of snacks, that's all. The service was nice, though.
12th March 2023, American Airlines AA 6110 (operated by Piedmont Airlines), Philadelphia (PHL) – Toronto (YYZ)
Some seven hours before my outbound flight from Pittsburgh (PIT) to Toronto (YYZ), Air Canada cancelled my service due to staff shortage. Luckily, I managed to get an American Airlines service via Philadelphia in the morning. While I slept the first leg more or less completely, at least had a drink and a snack at the second flight of the day, finally bringing me to Canada. My very first flight with Piedmont, by the way. Overall, a nice service.
13th March 2023, Air Canada AC 8923 (operated by Jazz Aviation), Toronto (YYZ) – Pittsburgh (PIT), Main Cabin
The inbound flight to Pittsburgh (PIT) more or less worked out (apart from some weather issues and some weird flight operations. While the plane waited for about an hour on the ground, it got terribly hot in it and I was really happy that you could at least get a drink (and a bag of pretzels) later during the sold-out CRJ-200 flight.
15th March 2023, American Airlines AA 4659 (operated by Republic Airways), Pittsburgh (PIT) – New York (JFK), Domestic First
On the flight from JFK Airport to Pittsburgh (same airline, same carrier, same class), I had a pre-flight drink, an in-flight one and a candy… Not too much, but that's exactly what you expect in Domestic First. On this flight I had no food. Therefor, I had one of the rudest flight attendants ever. You should bear in mind that I am German, so that what many US-American feel to be rude is still. The male part of the two person cabin crew operated the front door and was absolutely disgusting. No welcome at all, just a grumpy face (one one the constants of this flight). Whenever he talked, he was complaining. What can you expect? We are in Pittsburgh! and – even worse What you can you expect? They are from Pittsburgh (like half of the passengers, likely) were some of the literal complaints he had about ground handling.
There were some more "highlights" of his "service" before departure. I hate when people are making jokes about other people in their back / right outside their presence. But doing it as a flight attendant about a passenger is not acceptable. The person asked why he had to check in his second piece of hand luggage to final destination Tel Aviv, even though the Embraer had sufficient space. You should not discuss that inside the plane… But the question was absolutely valid, especially as the plane had several flight crew people on board who had massive luggage with them. A side note is that the flight attendant did not stop the passenger who left the boarding plane thereafter and came back – a clear safety issue, which even the grumpy FA shouted through the Domestic First cabin. The last climax of a terrible show was that the crew interrupted the safety briefing and both stood around a guy in row 1 who was on a phone call. Yeah, it is against the rules, but you may handle these situations differently.
At that point, I decided that I will refuse any service by the flight attendant. But I did not have to. Even though I haven't said a single word about his "performance", he ignored me (as far as I reconcile: as the only premium cabin passenger). No drink for me… There was no snack service anyway. Not a big loss, but an absolute shame. Terrible performance by Republic Airways in here. I complained about this flight already. Unfortunately, there has been no reply from them yet.
15th March 2023, British Airways BA 116, New York (JFK) – London (LHR), Premium Economy
I haven't been too happy with this World Traveler Plus flight. The mess started with me waiting for over three hours in the First Class Check-in, finding out that BA had opened the economy desk already. Having a pre-meal drink and then a selection of three main's was nice. But on the other side, it was the second time (after my Singapore Airlines Premium Economy experience) that the flight attendant stated to dinner You want still water? There is still water on the plate. I am not dumb – but BA does not provide me any other kind of water at my seat. As the vast majority of passengers, I used that bottle for later. It is a shame that airlines stop providing water bottles in Premium Economy. To be, this is a must for a longer-haul flight on this cabin class.
The red quinoa salad was a bit of weird. I went for a grilled chicken breast with pistou vegetables and rosemary mashed potatoes. No rosemary touch at all, I was also not too happy with the vegetables, but the chicken breast was very tender and amazing. Alternatives have been beef meatballs with rigatoni and tomato sauce or ricotta ravioli. The chocolate mousse parfait (which was served in a plastic bowl to standard economy passengers was really nice. Before landing, there was the choice of a egg and cheese muffin and a turkey ham one. A touch of McDonald's – but actually not bad at all. Some more service issues during the flight rather lead to a rating below average for this flight.
.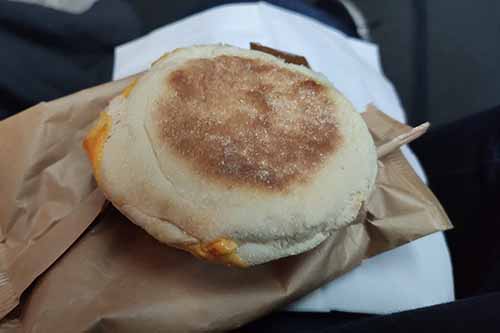 16th March 2023, British Airways BA 938, London (LHR) – Dusseldorf (DUS), Economy
"Just" an economy flight, but actually really kind service on the short hop to Dusseldorf. I love that you get a bottle of water (unlike World Traveler Plus…) in the coach class and some pretzels. The crew was really kind.
17th March 2023, Lufthansa LH 940, Frankfurt (FRA) – Manchester (MAN), Economy Class
Another late notice rebooking: waiting in New York for my flight to Germany, I already heard of the strikes at Dusseldorf Airport (DUS) the Friday thereafter and had to go for this early morning service from Frankfurt (FRA) instead. The Lufthansa service in Economy is as limited as in many other airlines, but I highly appreciated to have a bottl of water.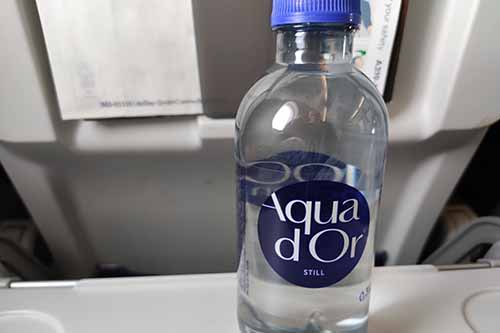 19th March 2023, Eurowings EW 9345, Manchester (MAN) – Dusseldorf (DUS), Business Class
No lounge service Manchester (MAN) Terminal 2 at that time – thus I really enjoyed the Eurowings sandwich on the way back to Germany. The crew was really nice even though the flight started delayed due to technical issues and also felt to face some organizational problems. Nonetheless, I really enjoyed that trip.
Rides on Rail / Germany
Here are all my Rides on Rail postings related to Germany:
Flyctory.com on Eating & Drinking
Flyctory.com is not a culinary blog. Nevertheless, here are all posts dealing with Eating and Drinking: