Flying back home from a Rock of Ages show weekend in Inverness in the Scottish Highlands, I was really amazed that Inverness Airport (INV) in fact offers an Aspire Lounge. As they are contracted to British Airways, I could have a look inside this service. Here is the review of my stay.
Aspire Lounge Inverness (INV) – Location & Access
I received access to the Aspire lounge as a British Airways status customer and / or holder of a business class ticket. It may be that the Aspire Lounge is also partnered with KLM and a few other airlines. Some lounge passes are accepted. Alternatively, you may buy in to the lounge. When I did a price check online, the price per person and stay was 23,99 GBP.
The lounge is typically opening in line with the plane schedule, which means that the scheduled times are 5:00 to 17:30 hrs daily. On Saturdays, the lounge is already closing at 13:30 hrs.
Aspire Lounge Inverness (INV) – Atmosphere
Aspire Loungee Inverness Airport (INV) is likely the smallest airport lounge I have ever been to. I am not good in guessing room sizes, but if you exclude the reception desk, I would imagine that the lounge is smaller than 50 square meters at a capacity of at most 20 people. Due to that, the lounge surely feels a bit of packed, but it is also somehow a very warm-hearted and nice place. Thus, it is a nice fit for Inverness Airport (INV).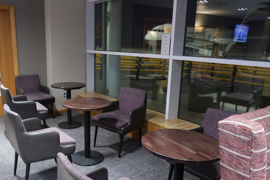 Aspire Lounge Inverness (INV) – Eat & Drink
The place is limited – and so is the food. You don't have pots of warm food in here. As my flight was very early, I had breakfast service, which consisted of some bread with condiments, cereals and, of course, some drinks. The lounge also offers some basic snacks. However, the do make good use of the space they have with all the food being presented in the middle of the room.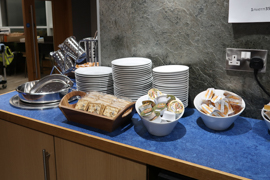 Aspire Lounge Inverness (INV) – Services
There was one reason, why this place is absolutely special: the male person driving the lounge was just an amazing heart, who absolutely wanted to deliver wonderful Scottish service to his guests. Despite there were quite a number of passengers, he explained everything to the guests and insisten to bring them their first drink and first snack of the day. Outstanding! The WiFi was provided by the airport and worked well.
Aspire Lounge Inverness (INV) – My View
Aspire Lounge Inverness (INV) is obviously neither the most spacious nor the most comfortable lounge out there. It is charming. And it is driven by charming people. Finally, it is much nicer than you would expect an airport lounge at this place to be – if you even dare to expect a place like this there. Thus, the lounge definitely made me smile.
Aviation in the United Kingdom
Here are all my Airports & Airlines postings related to the United Kingdom:
Music – Folk Music Postings 2022
Here are all my Music & Media postings related to folk music in 2022: