The first entry of a trip report is typically full of stories about airports, airlines and flying. My trip to Weird Al Yankovic and classic tennis started in Luxembourg, from where the flgiht prices where significantly more sensible at time of booking.
Day 0 – The Prelude
In fact, the trip already started with a 200km trip from Cologne to Luxembourg, right after work.  No sightseeing or similar, just chasing down the motorway to the small neighborhood country. I stayed in the ibis Luxembourg Airport right next to my departure airport. There were some picturesque views on the 200km drive, but I decided to go straight and do not take too many pictures. In Echternach, I bought a couple of things you don't get too easy in Germany and then headed straight to the ibis at Luxembourg Airport. Not my favorite place ever, but fine for the night at a good price.
Easy Morning
Having a departure time of 11:35 gave me a quite relaxed morning (bearing in mind that I was in fact already at the airport). I finally had some time  to complete my German county music concert listing post (which outdated some one hour later when Ingrid Andress published her German tour dates). Then I headed to Luxemburg Airport, parked the car in the garage (felt too lazy to walk…), checked in an explored the airport. A small regional airport, not overwhelmingly charming, but very efficient. I also had some time in the lounge before boarding the A320. Economy Class this time, as I travel on a World Traveler Plus / Premium Economy ticket this trip.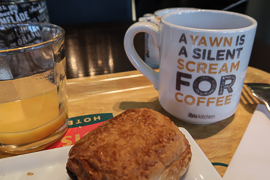 The Stubborn Queen & other Problems in London-Heathrow
My flight BA 417 from Luxembourg arrived too early at Heathrow Terminal 3. I had to transfer to Terminal 5. Transfers are done with buses and are quite bothering (the queue for the buses was quite long as well), but I had sufficient time and thus could stand the trip quite easily. I even had some short time at the Terminal 5B and grabbed some curry before the long-haul flight.
My flight to JFK, BA 115, was operated by a 22 year old Boeing 747-400, G-CIVM. Generally, I am not too much of a fan of British Airways' Premium Economy product (try more and more use American Airlines at oneworld, for example), but this plane was really odd for BA relations. For example, it featured 4:3 sized old LCD displays, no power plugs, run down tables and some obvious damages (at the end of the flight, one toilet broke out of the wall – bad luck I did not have a camera there). This one reminded me of the old days (when I was young…). In addtion, there was also a problem with getting the cargo into the plane. Some thirty minutes delay to solve it added up to over one hour – once you lost your departure slot in Heathrow, it may take some time for the next chance. This airport is just too close to its limits. Thus, I could just work until the notebook batteries faded. At least the food was fine.
Global Entry
We touched down at JFK with a some 40 minutes delay. However, JFK always gives you quite a time difference between "touching down" and arriving. In all my experience, I never landed at a place there which was close to the terminal you finally want to park the plane at. Saying it in a positive way, we had a nice tour of the airport before reaching Terminal 7. However, immigration was really efficient – and after I had to wait some time for my luggage, I could even do the Global Entry interview at arrival. Approved! Shorter queues next time. Need to add that the officer was really, really kind.
New York and Connecticut – Thunder-stuck!
From Terminal 7, it is not too far to the Rental Car Village by AirTrain and thus, I was quite quick in the Hertz rental car, ready to go to Preston, Connecticut. Some thirty minutes after I left the airport and got stuck in the usual New York City traffic, massive thunderstorms turned up. I cannot remember that I had something similar before in my life. On some places like the Whitestone Bridge to the Bronx, you had to stop on the Interstate, because the visibility was just zero. At least SiriusXM provided me The Highway, so that I had some country music. I got soaking wet grabbing a coffee at a service stop.

I finally made it along the I-95 and I-395, before heading to Preston, Connecticut. Right before the hotel, there was another Indian reservation driven by the Mohegan tribe. I followed the Foxwoods / Mashantucket signs until I reached my hotel. The trip to the Hilton Garden Inn Casino Area in Preston was intended to take some 2:30 hrs – the weather gave me a 80 minute addon, so that I was at the hotel short before midnight.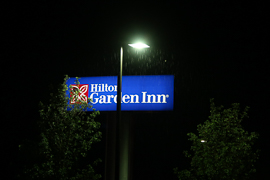 Weird Al & Tennis 2019 – Day by Day
Here are the links to the overview posting and daily entries of this trip report:
Day 1, 17.07.2019 – Luxembourg to Connecticut
Trip Reports
Here are all (other) Trip Report postings:
USA – All Postings
Here are all postings which deal with the USA: