During a weekend stay in Sheffield, where I had an overnight due to a Mike & The Mechanics concert, the National Videogame Museum (NVM) in the Southern Yorkshire town was one of the top-of-my-list attractions. Being a gamer since my early years and still owner of www.final-match-tennis.de, a website about the likely best tennis game ever, this was just a must-visit. Here is my review.
NVM Sheffield – Location / Admission
The National Videogames Museum is located in the heart of Sheffield. If you arrive from the outskirts of the city or do not feel like walking, the tram station Castle Square is more or less right in front of the entrance. The museum was some ten minutes away from Novotel Sheffield Centre, where I stayed in. The interesting National Emergency Service Museum is just some five minutes away.
The museum opens Friday, 12:00-17:00 hrs, Saturday and Sunday 10:00-17:00. There are extended opening time during school holidays and selected Friday nights. Admission for adults is 11 GBP. You receive a stamp on your hand so that you can leave the exhibition and come back at the same day.
NVM Sheffield – The Exhibition
The Museum is like a large hall. At the rear wall, there are a couple of arcade machines. I was especially surprised that Track & Field is still working (you have to massively push buttons in this Decathlon game). There are other classics like Street Fighter, Tetris, Virtua Tennis III and Sonic and Sega All Stars Racing. All machines were working.
Apart from the arcades, there are several group of video game consoles. Instead of the original machines, the museum sometimes uses emulators. Most games are grouped to topics. For example, one group was about designing video games in video games or Hammer Boy on four different platforms. There is also an Nintendo NES to play the shooter Duck Hunt and an area where you can play Rock Band. There is also an area with text adventures. For all games, there is a small description and manual.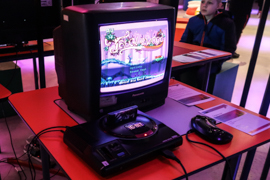 The most interesting – and challenging – area for me was the table with the most challenging video games ever. One game presented, for example, was the so simple, but tough Super Hexagon. I spent a lot of time with QWOP, in which you need to run 100 metres by explicitly moving the legs of a runner. Sounds easy? Try it on the game's website, it is a browser game (I made some 20 meters as my record).
Other areas show alternative games (like one where you need to "kill" enemy light on a long LED light beam – much better than it sounds. There is also a limited collection of video gaming memorabilia like the legendary Samba de Amigo for Sega Dreamcast. One of the showcases even has a collection of Furbies.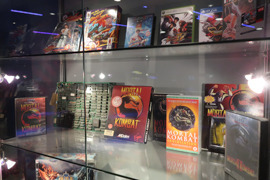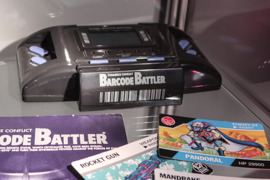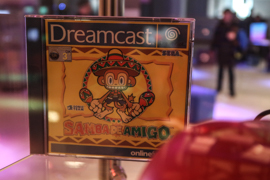 NVM Sheffield – Services
If you need a break from gaming, there is a small cafe which gives you a chance to rest. The bathrooms are quite fine, as well. Of course, you may spent your final money in the souvenir shop.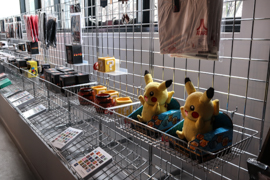 NVM Sheffield – My View
You might leave the place very quickly if you are not in gaming – you may end up with having seen a couple of consoles, emulators and arcade machine. If you like gaming, you will love to spent some time in the National Videogames Museum. It is not as posh as Hub Zero in Dubai, but therefore maybe more charming. To me, it is no Top Pick, though. It has a lot of museum character, but I just don't feel the necessary level of rarities. There is no PC Engine, no Vectrex – two consoles, which revolutionized the history of gaming. Even Pong is missing.
The space is limited, the museum shows some definite milestones, but they could do even better. Nevertheless, I had more than three enjoyable hours in their place, so it is definitely not a bad one!
Technical Museums – Other Postings
Here are all other Flyctory.com postings dealing with technical museums and exhibitions:
Gaming & Arcades on Flyctory.com
Video Games and Arcades used to be my passion – and I still like them. Here are all related postings: