Glasgow is becoming a more and more frequent destination for me. Very often, my visits are linked to music. For example, I saw the country music acts Midland and Catherine McGrath here. In late January 2019, I chose the Novotel Glasgow Centre as my home for a visit of my favorite musical, Rock of Ages and doing a tour at the Glasgow Rangers. Here is a review of the hotel.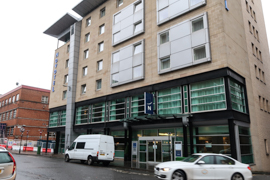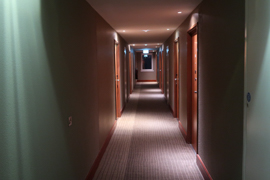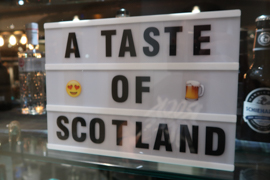 Novotel Glasgow Centre – Location
Apart from my status at Accor Hotels, I decided for the Novotel due to its close proximity of King's Theatre, where the musical was performed – it is just two blocks away. The Novotel is already comparably uphill. On the other hand, Sauchiehall Lane, which is good for shopping and dining, is closeby. There is a nice ibis hotel in the same block.
If you happen to arrive by express bus from Glasgow Airport, you should be aware of that Glasgow is very hilly. From the next express bus station, you have a short, but very steep walk uphill. With heavy luggage, this might be bothering.
Novotel Glasgow Centre – Rooms
As an Accor Gold member, I received a complimentary upgrade on my booking, from a standard room to an executive room. The non-refundable (sales) rate, including breakfast, was a bargain (67.50 GBP). However, the standard pricing in the hotel, if you book well in advance, is very reasonable.
The executive room was very spacious. I love the two-part workdesk in the Novotel rooms. The fridge was equipped with two complimentary bottles of water and a Nespresso machine. I just used the water cattle for some warming hot chocolate after the musical. The toilet was separate from the bathroom, which might be very convenient for obvious reasons on the one hand. On the other hand, you need to change your sanitary location if you long to wash your hands thereafter. The bathtub was very cozy as well. All kinds of typical amenities were available. I absolutely liked the room provided.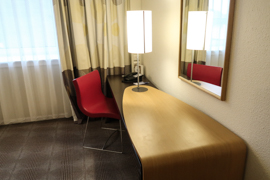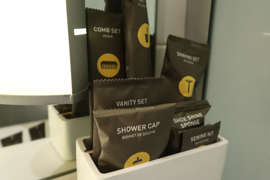 Novotel Glasgow Centre – Breakfast
Breakfast is served in the ground floor restaurant area. Breakfast times are 6:30 to 10:30 Monday to Friday, half an hour later on the weekend. When I had breakfast at 7:15 on Sunday morning, I was the only guest in the breakfast area.
The selection was very nice: some sorts of bread, a pancake machine, some cereal, hot breakfast, fruit, yogurt and some additional items. You may get bored if you stay in the hotel multiple days, but it is definitely a nice variety. The staff was very friendly as well.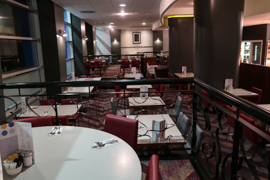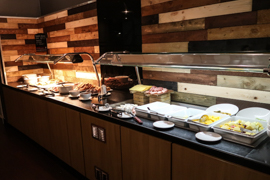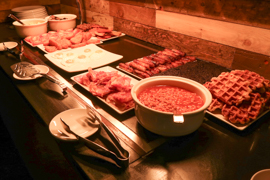 Novotel Glasgow Centre – Service
The check-in was very friendly. I could even check-in at some 12:30 already. The room was clean, the WiFi worked out very fine as well.
The hotel offers a nice bar area, where I took my complimentary drink. It is very cozy, even though it was quite crowded on a Saturday night. I did not have a look into the restaurant's menu, though.
The hotel offers a very nice fitness and spa area. The gym part looked a bit more compact, for example compared to Hotel Allegra in Kloten, Switzerland, which I visited the weekend before. But it had all kinds of machines, even a rowing trainer. On the other hand, Novotel Glasgow Centre offered a steam bath and a sauna next to the fitness room. Both facilities were, of course, rather small, but looked really nice. In order to enter the gym area, you need to sign a form with some questions on your physical health.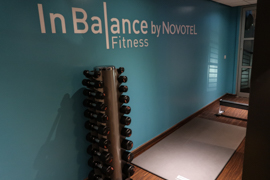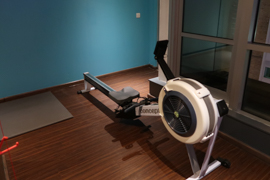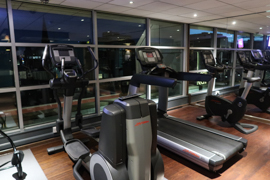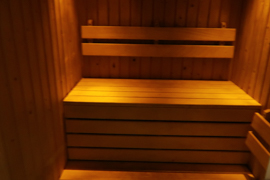 In the lobby area, there is also an X-Box and a playing table where you can have some family fun.
Novotel Glasgow Centre – My View
Novotel Glasgow Centre is not a five star place – but in its segment, offering not that basic and comfortable accommodation, the hotel does a great job. It might not be as posh as Novotel Al Barsha in Dubai, the last outlet of that branch I stayed in, but it gets its job done in a very good way in any category. No need for any complaint here. Thus, I feel, it is worth to assign it to the Top Pick! category.
Accor Hotels Reviews
Here are all postings related to Accor Hotels:
Flyctory.com in Glasgow
Music and more frequently brings me to Glasgow – here are all my postings: