Being able to have a look into the Courtyard by Marriott London City Airport was the cause of a rather unfortunate event. In mid-April 2022, my late Sunday flight from London City Airport (LCY) to Dusseldorf (DUS) with British Airways / BA Cityflyer had been cancelled and there were no other sensible options to get back home. The BA Cityflyer team did an excellent job and some 60 to 80 minutes after the cancellation, I already had a ticket for the following day and checked in at this airport hotel. A good opportunity to share some hotel experience with you.
Courtyard London City Airport – Location
The Courtyard by Marriott London City Airport is one of three hotels, which are located in walking distance to the airport. It is an about five minute, unobstructed walk away from the terminal, just along Hartmann Road. Overall, the area is rather commercial, there are a few simple restaurants around and the basic landside services provided by London City Airport (LCY).
There is a bus service in front of the hotel, but you likely just use it to travel towards the city (bus 473 to Stratford and 474 to Canning Town). The key public transport connection is, of course, the DLR, using London City Airport station. In case the Elizabeth Line would re-open previously existing Silvertown station, the hotel would be in very close proximity.
Courtyard London City Airport – Room
As British Airways had to pay for my hotel, I can't give you precise hotel price information. In mid-April 2022, a short-term booking at the Marriott Group place would have been around 100 GBP – a booking during a trade fair or other event at the ExCeL exhibition space is likely significantly more expansive. The room was really nice and spacious. It had a clear, warm design, a good work desk as well as a large bed and a sufficient space even to store major luggage. In addition, there were typical features like a tea/coffee kettle or a fridge. The room featured British and EU style power outlets.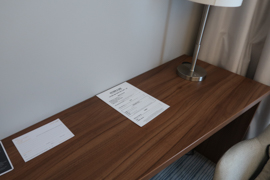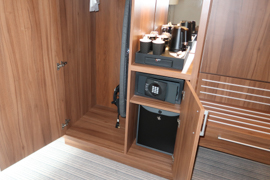 The shower bathroom was actually very nice as well and felt spacious. The most necessary amenities were provided in the room. The hotel is located close to the runway, so that you did hear the noise of landing and departing planes. However, the sound proof was overall fine (and, finally, it is an airport hotel…).
Courtyard London City Airport – Food
My (shifted) flight to Germany left on a Monday morning on 7:30 hrs. Nonetheless, I was not able to get breakfast in the hotel, as they start serving at 6:30. I was rather surprised by that late time, as the majority of their customers was going for an early London City Airport (LCY) flight. I read reviews stating a breakfast bag for early check-outs – but these have not been offered to me during my stay.
Thus, British Airways only provided dinner to me, which was a 20 GBP meal voucher (for food and drinks). The atmosphere of the restaurant in the lobby is really nice and relaxed, the staff was very friendly and the Indian style wrap with fries I had was a real treat. However, there were some billing issues thereafter (see below).
Courtyard London City Airport – Service
I am not sure whether it was because the at check-in the receptionist completely misspelled my surname (and did not want to change after I claimed it), but even though I explicitly asked for any open balance at check-out, the hotel deducted the price of the dinner from the deposit on my credit card. The issue could be solved later, but still was very unfortunate – finally they attempted to make me pay for something without an invoice. That was the only negative experience with the Courtyard staff – overall, they felt very friendly and efficient.
The hotel also has some nice cozy seats in the lobby for an informal meeting, a small kiosk-alike shop and a small, but nice gym.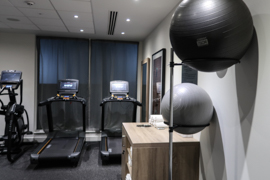 Courtyard London City Airport – My View
Overall, the stay at the Courtyard by Marriott London City Airport was excellent. Unfortunately, the billing issues, which felt to be a failure by multiple parties, decrease the rating of my review. Apart from that, the location is excellent, the rooms are very cozy. In a place like that, I would expect breakfast at least from 6:00 hrs, rather at 5:30 hrs, though.
Airport Hotels
Here are all hotels with a good airport connection:
Aviation Top Pick! Experiences
Here are all my Airports & Airlines reviews, which I rated in the Top Pick! range: