The ISTAF Indoor in Dusseldorf was truly an sports event I was looking forward to very much. First of all, I was glad to be back in athletics (after almost a decade – the last coverage has been with my predecessor website), but I especially was curious how the atmosphere at an indoor meeting like this one will be like. There was a really interesting schedule with world-class athletes in Dusseldorf on 29th January 2023.
This posting comes with a section of 678 major size pictures in the sports galleries.
PSD Bank Dome – The Venue
PSD Bank Dome is majorly known as home of Dusseldorf's local ice hockey club, Düsseldorfer EG. For ice hockey matches, the capacity of the venue is 14,282. For the ISTAF Indoor 2023, the capacity just exceeded 10,000 spectators. The multi-purpose arena is not too far away from Dusseldorf Airport (DUS) – its parking garage even serves as a parking lot for flying travelers. Tram line 701 connects PSD Bank Dome with the city center. You may also walk to one of the not that far away commuter rail stations.
ISTAF Indoor Dusseldorf 2023 – The Event
The ISTAF (which stands for Internationales Stadionfest – "International Stadium Fest") Berlin is a well-established athletics meeting in the German capital. It has been held under that name since 1921. Since 2014, there is also the ISTAF Indoor in Berlin, which is – obviously – held inside an arena. ISTAF Indoor Düsseldorf is a branch of this event and initially took place in 2021. Due to the limited space in the multi-purpose venue (see below), you are just able to do a few disciplines. In Dusseldorf 2023, Men and Women competed in the 60 meters sprint and the 60 meters hurdles each. In addition, there was women long-jump competition as well as a men's pole vault one. There were some junior races to warm up the crowds, which I could not yet cover. By the way, the 10th February 2023 Berlin edition of the ISTAF Indoor features the same disciplines.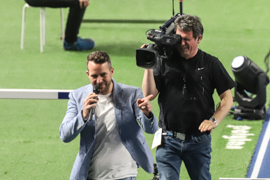 Pre-Events
Before the main events, the ISTAF held a wheelchair sprint race and the Talent Cup, during which Under 14 Boys and Girls competed in the 60m sprint. Another event held was a 10x50m relay – a nice way to showcase some potential future ISTAF Indoor athletes.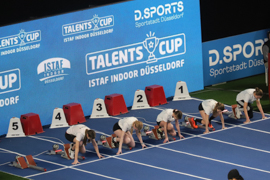 ISTAF Indoor Dusseldorf 2023 – The Competitions
I decided to sort my report by event, not in chronological order, starting with the technical disciplines.
Women Long Jump
Due to local hero Malaika Mihambo, this was definitely one of the ISTAF Indoor events in focus of the public. The German athlete and Tokyo 2020 Gold Medal winner struggled with the conditions, though. After five jumps, she had three voided attempts and a distance of 6.21m – 86 centimeters below her personal indoor best. However, she completely turned the story with a stunning final attempt – a bit of unlucky for British Jazmin Sawyers, who had a very good competition and finally had four of the six best jumps of the event. Overall, the ladies seemed to struggle in Dusseldorf. Only Swiss Annik Kälin (6.41m, 4th place) and last-placed Lea Halmans (Germany, 6.02m) were close to their best indoor performances.
| | | |
| --- | --- | --- |
| | Women Long Jump | Distance |
| 1st | Malaika MIHAMBO (GER) | 6.83m |
| 2nd | Jazmin SAWYERS (GBR) | 6.50m |
| 3rd | Milica GARDASEVIC (SRB) | 6.43m |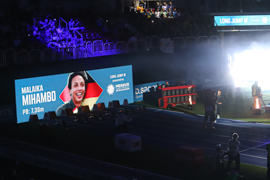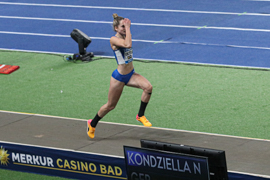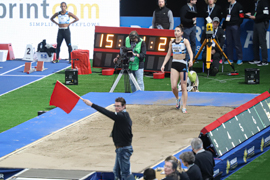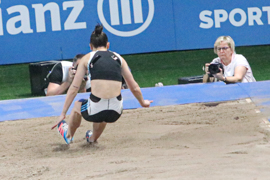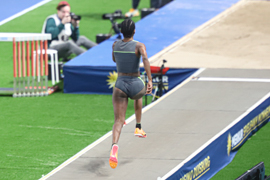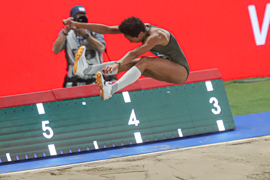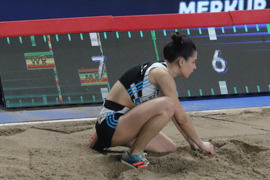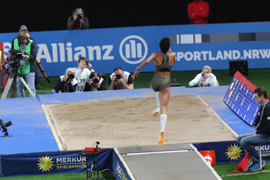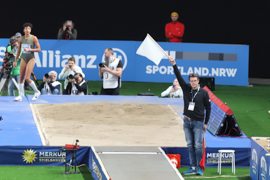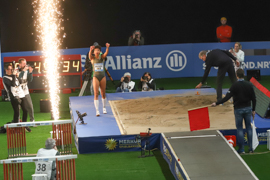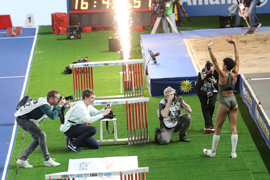 Men Pole Vault
The second technical discipline, the Men's Pole Vault, also featured a lot of trouble, especially for the German athletes. The crowd's favorite Bo Kanda Lita Baehre (Germany) already needed a second attempt in the initial height of 5.30m and finally left the competition as seventh placed with a height of 5.45m. Five athletes beat the 5.70m, but only US-American KC Lightfoot made the 5.76m. He finally failed attempting the world annual best height. Germans Torben Blech and Gillian Ladwig missed the podium as they both beat 5.70m in the second attempt only.
| | | |
| --- | --- | --- |
| | Pole Vault Men | Height |
| 1st | KC LIGHTFOOT (USA) | 5.76m |
| 2nd | Pal Haugen LILLFOSSE (NOR) | 5.70m |
| 3rd | Sam KENDRICKS (USA) | 5.70m |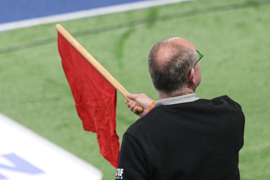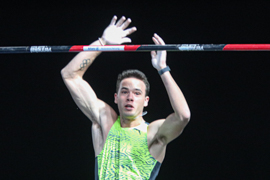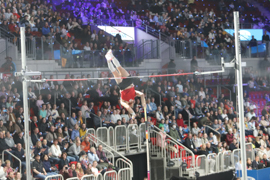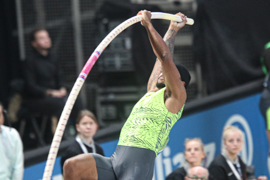 60m Hurdles
The blue track in the center of the arena was really fast and gave several good races. In all four track competitions, there were semifinals first, which lead to six qualified racers for the finals. The 60m Hurdles in Dusseldorf were a job for the Polish athletes on that day: Jakub Szymanski won the final head with a 0.01 second lead in front of US- American Eric Edwards. The star of the hurdles, however, was Pia Skrzyszowska, who tied the world annual best time of 7.84 sec in the final – absolutely needed as Finnish Reetta Hurske set up a national record twice, in the semifinals as well as in the final heat.
| | | |
| --- | --- | --- |
| | 60m Hurdles Women | Time |
| 1st | Pia SKRZYSZOWSKA (POL) | 7.84 sec |
| 2nd | Reetta HURSKE (FIN) | 7.86 sec |
| 3rd | Alaysha JOHNSON (USA) | 7.88 sec |
| | | |
| --- | --- | --- |
| | 60m Hurdles Men | Time |
| 1st | Jakub SZYMANSKI (POL) | 7.63 sec |
| 2nd | Eric EDWARDS (USA) | 7.64 sec |
| 3rd | Just KWAOU-MATEY (FRA) | 7.66 sec |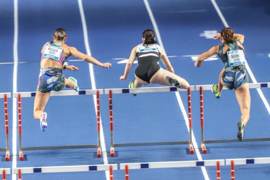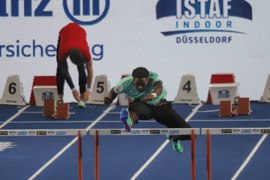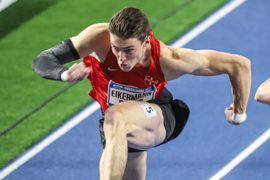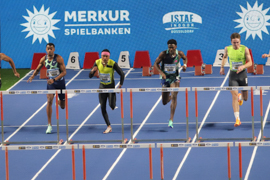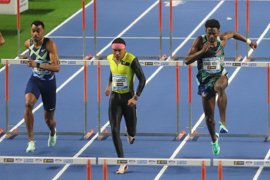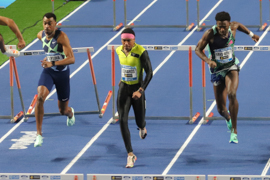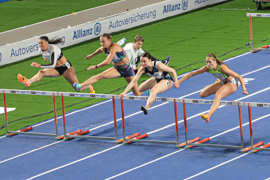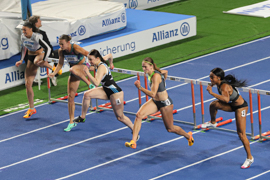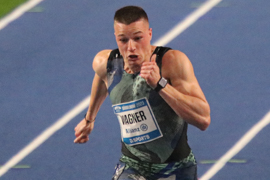 60m Sprint
The 60m spring race of the men was a rather clear win for Britain's Jeremiah Azu (in case you call five hundredth of a second a "clear distance", at least). Hamburg athlete Owen Ansah and Julian Wagner gave a proud feeling to their home fans, placing second and third in the finals. The women's race with Gina Lückenkemper was one of the key events of the afternoon and also the last track event featured in Dusseldorf. The German just could not beat Ewa Swoboda from Poland – the photo finish decided that the SCC Berlin athlete was beaten by dramatic two thousands of a second. Nonetheless, the 2022 two times European Championship Gold Medalist felt to be very happy with her races and thus smiles to the spectators after her race.
| | | |
| --- | --- | --- |
| | 60m Women | Time |
| 1st | Ewa SWOBODA (POL) | 7.18 sec |
| 2nd | Gina LÜCKENKEMPER (GER) | 7.18 sec |
| 3rd | Tristan EVELYN (BAR) | 7.21 sec |
| | | |
| --- | --- | --- |
| | 60m Men | Time |
| 1st | Jeremiah AZU (GBR) | 6.60 sec |
| 2nd | Owen ANSAH (GER) | 6.65 sec |
| 3rd | Julian WAGNER (GER) | 6.65 sec |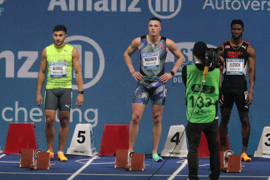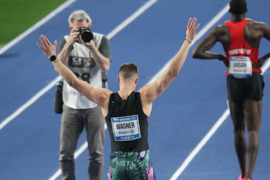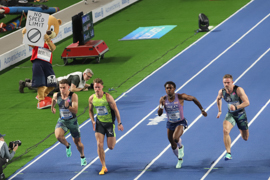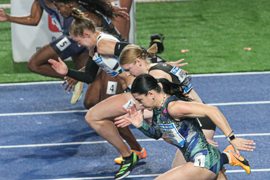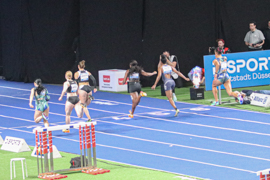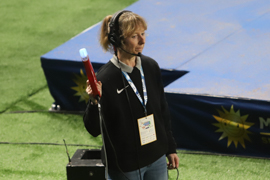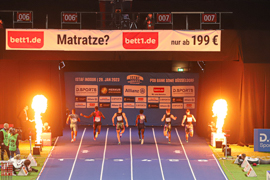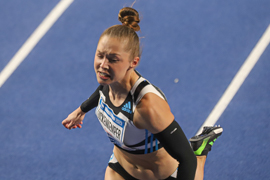 ISTAF Indoor Dusseldorf 2023 – My View of the Event
The ISTAF Indoor in Dusseldorf has been an amazing sports showcase and fantastic event. The some 6,000 spectators partied the local as well as the international athletes. Furthermore, there was some opportunity to get in touch with your idols. A really good event with some nice stories for the German athletics fans.
ISTAF Indoor Dusseldorf 2023 – Gallery
In the sports gallery, there is a designated major size picture gallery with 678 pictures of this event at
Flyctory.com Sports Reports
Here are the all Flyctory.com sports coverages:
Flyctory.com in Dusseldorf
Here are all my postings about Dusseldorf: