In 2019, I twice had flights to and from Newcastle Airport: the first time, I travelled to Sunderland in July 2017 to see my favorite musical, Rock of Ages. In October 2019, I flew into Newcastle upon Tyne to see Danielle Bradbery and others at the Introducing Nashville Concert in the Sage in Gateshead.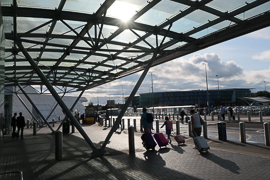 Newcastle Airport (NCL) – Location & Transport
Newcastle Airport majorly serves Newcastle, Gateshead, Sunderland and the Tyne & Wear region. It is located some 10 km Northwest of Newcastle City.
The easiest transport to the airport is the metro, which is directly connected to the terminal. A day ticket including all stops in the area is 5.20 GBP (or less, if you have a prepaid card). The trip to Newcastle is some 30 minutes and quite handy, the travel to Sunderland gets quite bothersome, though. Trains depart every 12 minutes weekdays, every 15 minutes weekend, during most of the daytime. This makes Newcastle likely one of the best connected airports in the United Kingdom.
Newcastle Airport (NCL) – Destinations
The graphics below may not be fully up to date, but gives a good overview. Some destinations like the canary islands or destinations in the Mediterranean are missing. The airport majorly serves UK/Irish and holiday destinations. There are some exceptions like the Eurowings service to Dusseldorf and some other European hub services. There are no intercontinental flights apart from North Africa and Turkey. For summer 2020, there are planned connections to Orlando / Sanford and Cancun. The airport majorly operates low-cost flights.
Arriving at Newcastle Airport
I just had domestic arrivals from Heathrow to Newcastle, so my view on that is limited. There was nothing special about the arrival facilities. The luggage area features two domestic belts before you reach the arrivals area. I was waiting for luggage a bit longer than expected, but still within reasonable time.
Departing from Newcastle Airport (NCL)
Most airlines open their check.in counter about two hours before the scheduled departure. There is not too much special about the terminal, which is quite compact and thus efficient. The only remarkable thing may be that the check-in and the gates are on one level, security and practically all of the shops are above. On my first flight from Newcastle, which was a combination of a British Airways and a Lufthansa flight, the BA staff refused to check my luggage to Frankfurt, so that I had to do a landside transfer.
British Airways check-in was very efficient and friendly, a fast track was offered (which was not necessary, though). Compared to other UK airports, the processing time at security was unpleasing – which still means that they were much more efficient than comparable German airports. However, they allowed one Jet2.com employee, which they obviously knew personally, to x-ray their luggage through one security line and then use a very other one to do the body scanning. Due to reasons of safety, leaving your baggage and increasing the risk of theft in the sensitive area by doing so, this is absolutely intolerable in my point of view. Of course, there is also some additional touch if safety measures are altered due to personal contacts.
Nice Shopping and Entertainment
The airport seems to have been renovated recently, so that especially the shopping and dining area was really nice. The duty-free was comparably large and offered the expected items. There are also some nice bars and a small arcade to enjoy yourself to go down to the gates.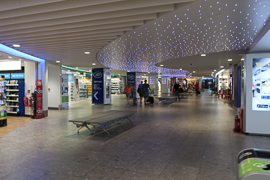 One interesting thing is that gates split up into two sections, domestic and international. At least you are told that you cannot change between the sections.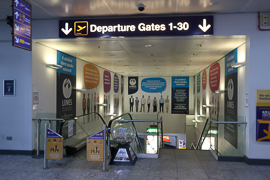 Newcastle Airport (NCL) – British Airways Lounge
Newcastle Airport features two lounges, one driven by Aspire and the British Airways one. While the Aspire Lounge is before the split of the routes to the gates mentioned above, the BA Lounge is on the domestic gate side, close to Gate 3, where the airline is typically operating. The lounge is like a large room, which they tried to design a bit to improve the feeling in there. The food and drinks offered were okay, there were even scones for the afternoon flight.
Newcastle Airport (NCL) – My View
Newcastle Airport is not a too bad place. The renovations make it very friendly – though that means that the routes after security are a bit longer. The security was remarkably less efficient than in other UK airports, but still fast. However, the safety issue described below reduces my rating by one notch.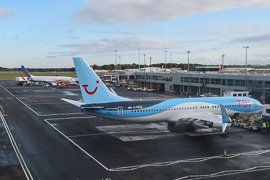 Airports on Flyctory.com
Here are all other airport-related postings:
Postings about the United Kingdom
These are all postings dealing with United Kingdom topics: