Right before the United Kingdom left the European Union, I headed to Jersey for a short mileage run. The Channel Island is one of the key factors in the unfortunate Brexit decision, due to its very special economic situation. There won't be too many postings about the islands based on this January 2020, but at least I had some time to explore Jersey Airport – here is my view of the British Airways Lounge, which is located in the small airport.
British Airways Lounge Jersey – Location & Access
The British Airways Lounge in Jersey is located in the gate area of the airport. As the gate area is strictly separated from the shopping and relax area of the airport, this means that you cannot go back to the duty free shop of Jersey Airport once you left the lounge.
As this is the only lounge at Jersey Airport, you may not only enter with a British Airways Business Class ticket or Oneworld Sapphire or Emerald status, but also with sufficiently expansive flybe tickets. The lounge also accepts a couple of lounge passes like the Priority Pass or Dragon Pass.
British Airways Lounge Jersey – Atmosphere & Services
Space is limited at Jersey Airport – so the lounge is a bit packed, especially right after reception in the main area. Nonetheless, the lounge management created a cozy atmosphere with different kinds of seating areas. There are also some work desks on elevated tables.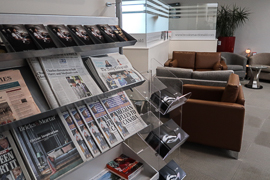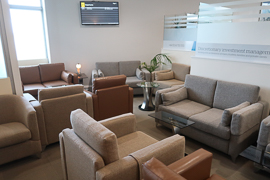 British Airways Lounge Jersey – Food & Drink
Regarding the small size of the buffet, the lounge had quite a selection of food. I have been there in the afternoon hours and had some sandwiches, soup, even some warm pasta, yogurt and a lot of cookies and sweet and salty treats. One of the very bad things about the catering of the lounge is that you can explore how delicious the Jersey Gin is alike… But have no chance to go back to the shopping area and turn that into revenue for the duty free shop. Apart from that, the catering of the lounge was much better than I expected.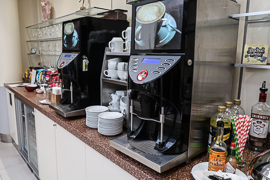 British Airways Lounge Jersey – My View
I guess that a lot of the locals have a quite good idea how long it will take them through check-in and security right through the gates. Bad luck – the lounge is really nice and a relaxing place before your flight. The customs situation which does not allow you to go back to the shops is a bit strange, but that does not impact you too much. Overall, it is really a nice and cozy place, which is well driven and gives you a great time.
Lounge Reviews on Flyctory.com
Tired of waiting? Here are all Lounge Reviews on Flyctory.com:
Special Flights at Flyctory.com
Here are all reports about flights, which are special in whatever way: