Time for another episode of Food I had onboard. Between September and November 2022, I had some really interesting experiences, inluding the Singapore Airlines Premium Economy flight to New York (JFK) and the amazing Brightline high speed rail services. But how was the food (and the service)? Hope you enjoy my view into the world of calories while traveling.
9th September 2022, Eurowings EW 9338, Dusseldorf (DUS) – Newcasle (NCL), Standard Class (Paid Meal)
I finally made – I wanted to try the Eurowings french fries so often, but most of the flights were simply too short to try them. I was really curious how tasteful this typical deep fry dish would be if prepared in the galley's oven – and if I have to say: they have been really nice. Far too much vegan mayo coming with it – and it could have been a bit more fries as well. The bite itself was 5.50 EUR from Eurowings' onboard menu. I went for a meal deal including a drink for 8 EUR.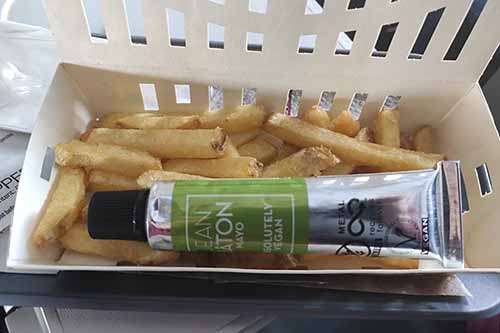 13th September 2022, Scandinavian Airlines SK 652 (operated by XFly Estonia), Hamburg (HAM) – Copenhagen (CPH), SAS Plus
Okay, I have to say that I hated this flight. Starting from very impollite (external) SAS check-in staff in Hamburg (HAM) and a weird organisation of the boarding process, the XFly crew just had a tough time with almost half of the ATR cabin booked in SAS Plus (the SAS European "Business Class"). No food, just the ordinary economy selection of drinks (tea or coffee) – even water was sparse.
13th September 2022, Scandinavian Airlines SK 1472, Copenhagen (CPH) – Oslo (OSL), SAS Plus
After the really poor experience, I did not expect too much from my connection on to Oslo (OSL) on my way to the Lillehammer Tennis Davis Cup tie. The crew was really friendly, though – and I liked to have a small bite with the pizza pocket pie thing. Quite tasty and a nice option.
18th September 2022, Scandinavian Airlines SK 818, Oslo (OSL) – Dusseldorf (DUS), SAS Plus
Three SAS flights, three very different experiences: after I had to fly from Hamburg (HAM) due to the Carly Pearce and Sarah Darling concert there before, I was able to head home directly to Dusseldorf (DUS). The meal was a typical cold dish by SAS – a beef dinner with some sealed crispy bread (not in the picture). Nice experience provided by the Nordic airline.
Furthermore, there were some chocolates – so SAS made me smile finally.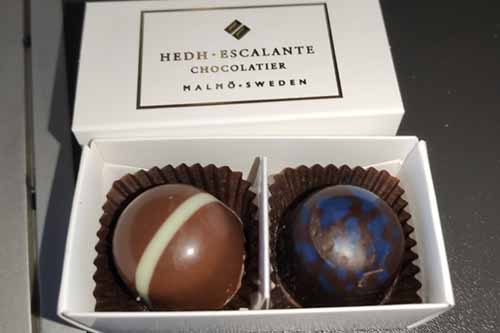 1st October 2022, Austrian Airlines OS 128, Frankfurt (FRA) – Vienna (VIE), Business Class
In early October, I headed to Cyprus (my first time visit in the country) with my wife. For the outbound from Frankfurt (FRA), we opted for Austrian Airlines – which also meant a stopover in Vienna (VIE). The crew was lovely and I liked the Do&Co breakfast dish. The scrambled egg and the large tomato lead to quite some liquid on the bowl, which was a bit of bothering, though. Austrian also features a really nice selection of bread. A farewell chocolate lead to a final smile.
1st October 2022, Austrian Airlines OS 831, Vienna (VIE) – Larnaca (LCA), Business Class
The second leg of that day took us directly to Larnaca (LCA). 24 people in the A321 Business Class – some of them had pre-ordered their meal, which I unfortunately had forgotten. So I was a bit of envy of the passengers enjoying their Wiener Schnitzel (Vienna-style breaded escalope) – but the chicken curry we had was nice overall nice – it could have profited from some more spices. What I was wondering about was that there were quite a lot of noodles in the chicken curry, in addition to the rice. The tiramisu was lovely (praise to Do&Co again!) – however, the meal had quite a lot of cream by that finally.
7th October 2022, Lufthansa LH 1293, Larnaca (LCA) – Frankfurt (FRA), Business Class
If you compare the two Lufthansa Group companies just based on this trip to Larnaca, Austrian did by far win on points against the mother airline. On the positive side, Lufthansa offered a selection of two main dishes on the 3:45 hrs net flight time service from Cyprus to Frankfurt (FRA). I liked the chicken breast with creamy white wine cabbage, mashed potatoes and parsley-raddish salad (whereever that was finally in the warmed up dish…). My wife went for the fried bred dumpling with mushroom ragout and chives – which somehow met her expectations. There were some nuts before the meals, which were salted and peppered. Thus, just having two rounds of drinks is just not enough when you think about the tiny glasses Lufthansa is using.
No idea about the starter and the desert. Neither the trout tartare nor the apricot and seminola strudel given in the menu card was finally what Lufthansa served in here. I guess this Tasting Heimat Munich meal had something like cold beef with (non-fried) bread dumplings and Obatzda cheese as a starter. The dessert was something like a mango cream tart which coconut sprinkles. Actually quite nice. Nice to close the meal with the typical Lufthansa apple – but overall, the Austrian Airlines service was much more hearty than this rather neutral performance by the cabin crew. On top of that, I absolutely missed the water bottle Austrian handed over on a significantly shorter flight.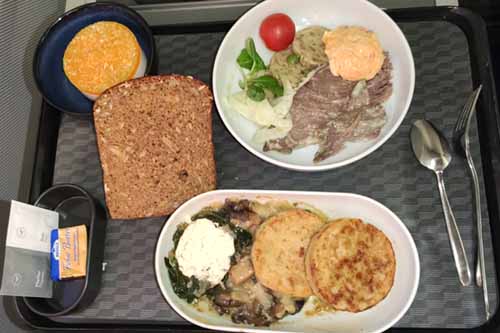 9th October 2022, Eurowings Discover 4Y 64, operated by Finnair, Frankfurt (FRA) – Tampa (TPA), Business Class
Even though operated by Finnair (as many Eurowings Discover intercontinental services), I was especially curious about the food Eurowings Discover is serving in their intercontinental business class. The menu was quite nice, having three options as a starter and three for the main dish. There were also two options for desert (cheese or sweet finish of the meal) and a light snack before landing.
The Finnair crew was amazingly nice – even though they were somehow a bit too polite to allow me to train my very limited amount of knowledge of their language. There was a drink service before the meal and drinks with every dish as well. The selection for a starter was a bit of chaotic, as they forgot to ask for your choice… and finally ran out of the rainbow trout option. Thus, I had to go for the South American-style sweet potato purree with corn salsa and semi-dried tomatoes, which was bit of ordinary, but not too bad. For the main dish, I went with my originally selected Jamaican-style jerk chicken with pineapple chutney, cocunut rice and (a few) beans, which was a real treat. I closed the main service with a cherry compote sour cream shortbread cake and a port.
During the flight, Eurowings Discover / Finnair served warm cookies, which I felt to be a nice alternative to the typical ice cream service. The light dinner was served some 1:40 hrs before landing, consisting of Spanish tapas (bell peppers, different cheese, marinated onions,…), potatoes "Papas Arrugadas" with Mojo sauce and a citrus fruit salad. Again, there were drink refills – and even that meal was better than many "premium airlines" ones (and it included two bread rolls again). Finally, having had three different Lufthansa companies in ten days after that flight, It is a shame for Lufthansa themselves how poorly they compared to their own companies.
13th October 2022, Brightline (Rail), West Palm Beach – Miami, Premium Class Class
I was so curious about Brightline's premium service. For that reason, I even positioned in the morning from Fort Lauderdale to West Palm Beach to have their current full route between West Palm Beach and Miami. The service in the higher of two train travel classes has been amazing. Apart from a breakfast box, there were two drink services, one before and one after the stop at Fort Lauderdale. You could even opt for the Aviator Gin. Superb staff and also in regards of eating and drinking lifting US rail travel to a very different level.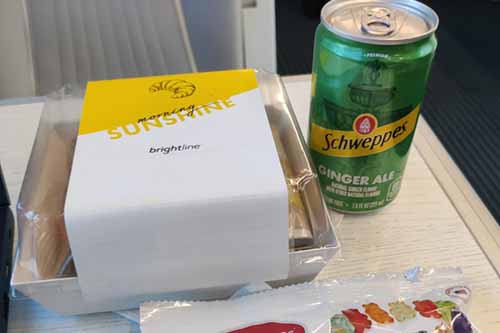 13th October 2022, Brightline (Rail), Miami – Fort Lauderdale, Premium Class Class
Even though the distance between the two rail stations is just about half an hour, Brightline gave me full service in the Premium Class. Apart from a drink (non-alcoholic for me this time), You could opt between two different afternoon snack boxes. I went for the one below, the other option would have been a more Mediterranean style option with olives and similar items (where the cups in the box make more sense as well). Again, lovely service by the rail company.
18th October 2022, Eurowings Discover 4Y 65, operated by Finnair, Tampa (TPA) – Frankfurt (FRA), Business Class
Nine days after the outbound, Eurowings Discover brought me back home – and (of course), it has been another Finnair flight, another Finnair crew. After a drink with some almonds, you had the choice between three starters (served with leaf lettuce with feta cheese) and three main courses. I went for the yellow beet Carpaccio with smoked salmon and cocktail sauce. Alternatives would have been Parma Ham with two kinds of melon and caramelized goat cheese. For main course, I went for beef tenderloin with potato gratin, green beans and peppercorn gravy. You could also have shrimp Cajun style or vegetarian pasta. Both dishes I had were really nice – the service by the Scandinavians was great as well. Dinner closed either with cheese or ice cream.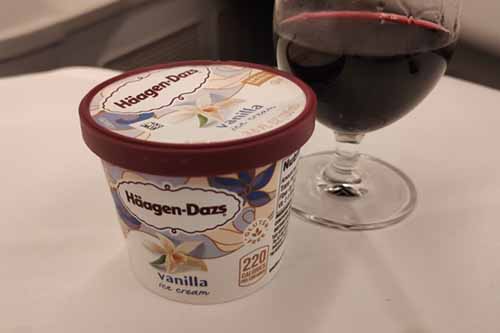 The "Light breakfast" before landing was in fact quite a nice selection. The large bowl below was a Greek yogurt with muesli, pineapple, orange and grapes. There was a bowl of smoked ham and cream cheese as well as scrambled eggs with chive, tomato and mushroom. Again, the Eurowings Discover food was a really good experience, served by very friendly staff.
28th October 2022, Singapore Airlines SQ 26, Frankfurt (FRA) – New York (JFK), Premium Economy
I finally made it. I might be one of the few Singapore Airlines Passengers, who has been checking out their First Class already – but neither made to their Business nor their Premium Economy. The service attitude at the Asian airlines is great, the staff was very attentive. No pre-flight drink in the Premium Eco, but therefor a welcome drink right in the air. Apart from water, orange juice and beer, there was even a first drink round of champagne (not: sparkling wine!).
A bit of strange to have lunch already some one hour on a 8:35 hrs in the morning scheduled flight, i.e. at some 10 a.m. German time, 4 a.m. New York City. The starter – German potato salad – and desert – vanilla ice cream – was fixed. For the main, there was a choice of three option. I went for the slow braised beef with creamy mushroom sauce, durum and vegetables. The dish was actually quite nice, especially if you compare to other economy class food. My wife had very nice (and spicy) marinated prawns with chili garlic sauce, stir-fried greens and steamed rice. Third option would have been a roasted chicken fillet, which also surprisingly means that there is no vegetarian option by default – you may of course pre-order (including some explicit meals)..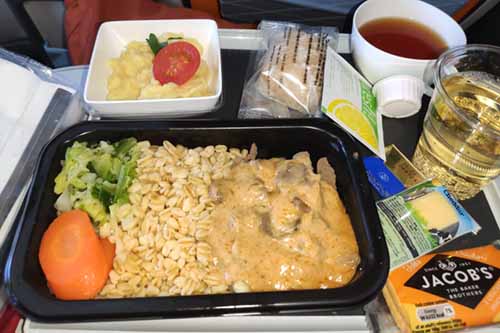 As a pre-landing snack, Singapore Airlines went for a flagueline bread with turkey salami or a pretzel sandwich with Edam cheese and rocket salad. The sandwich was slightly warmed up and did not really lead to a charming feeling.
1st November 2022, Singapore AIrlines SQ 25, New York (JFK) – Frankfurt (FRA), Premium Economy
To make it short: the flight back was even worse – and the service was just not what I expect when I fly Singapore Airlines (especially as they are also not that competitive in price). If you use Asian relations, the crew was rude. The service was at least rather quick (which is a big plus on these 6 1/2 hour flights to Germany), but that's about the positive part of the culinary experience. No champagne this time, no drink refill during lunch. I just don't like that they just ask you for "tea or coffee" for the meal, even though – of course – there are also soft drinks. My wife asked for still water and the male flight attendant refused to give it to her due to the bottle of water at her seat. Unacceptable – especially as I would see this bottle rather as an addition to the drink services during a flight than a substitute for drinks during meaĺs.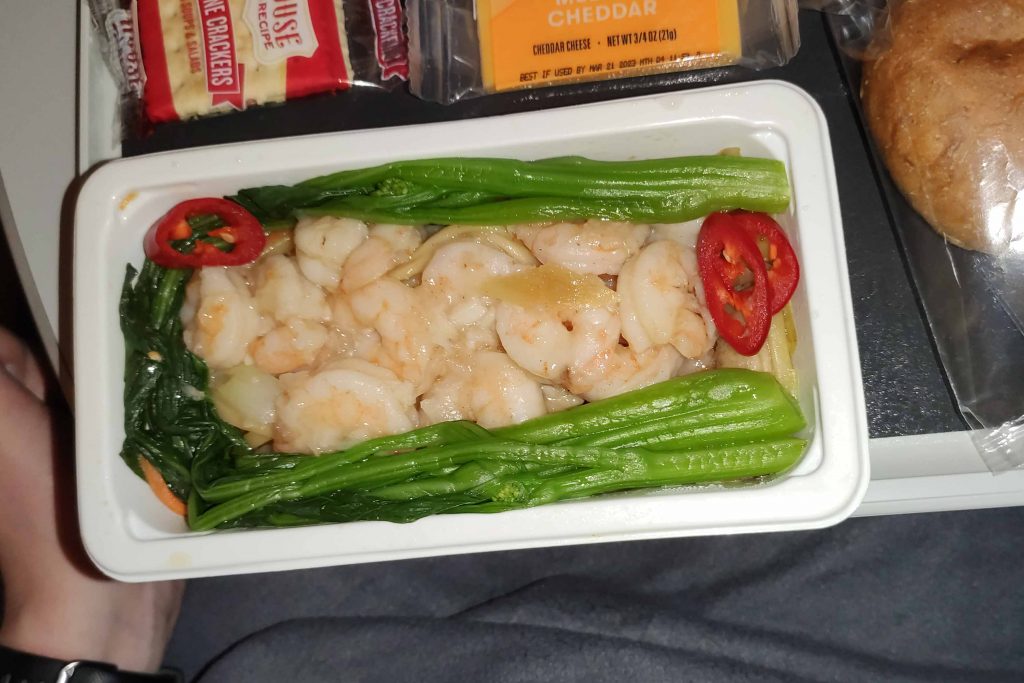 Food was… North American. This time, neither my wife or myself went for the third main course, which is only available to Premium Economy guests. I had a reasonable slow cooked beef ragout with vegetables and potatoes. My wife went for the stir fried prawn in garlic sauce, which was spicy, but overall quite nice. The salad was okay, the ice cream desert (not pictured) was okay – this time they served Hagn Dasz. Again, there was no vegetarian option by default – make sure that you pre-book.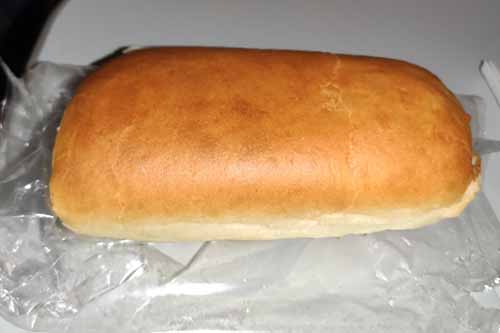 The "breakfast" service was ridiculous. I went for the chicken sandwich which honey mustard, which just had very little chicken. My wife had the vegetable "Focaccia", which finally looked the same and just was a bit more rich in filling. Again, I felt that a dish served did not really fit to the time of day.
11th November 2022, Iberia IB 3137, Dusseldorf (DUS) – Madrid (MAD), Business
There may quite some reasons not to fly Iberia, but food at the Spanish airline is typically excellent. They again underlined it on my Friday morning service to Madrid (MAD) in November 2022. It felt a bit weird that they served the strawberry preserve for the croissant after almost everyone was finished with it – but the quality of food was amazing. Two small packages of different cured meat, some Spanish crackers and a yogurt – what else do you need to have an Iberian smile in your face in the morning? The crew was very nice as well.
11th November 2022, Iberia IB 8326, operated by Air Nostrum, Madrid (MAD) – Andorra La Seu (LEU), Business
I have quite a lot of Air Nostrum Business Class experiences with Iberia's regional carrier, Air Nostrum. Most of them are related to former connections combined with the former LA 704/705 flight by LATAM. Thus, I expected a nice service on the short hop to Andorra La Seu (LEU) – and they did perform. Some nice cheese and salami as cold cuts, served with some bread sticks and nuts – absolutely fine for an ATR72 Business Class service. Very kind crew as well.
13th November 2022, Iberia IB 8327, operated by Air Nostrum, Andorra La Seu (LEU) – Madrid (MAD), Business
The return flight from Andorra had a good old friend on the meal side. The lovely bag of nuts was served later – and in addition to the cold cuts, the crew also gave me a croissant with a typical Spanish preserve. Again, a very welcome bite, served by very friendly staff.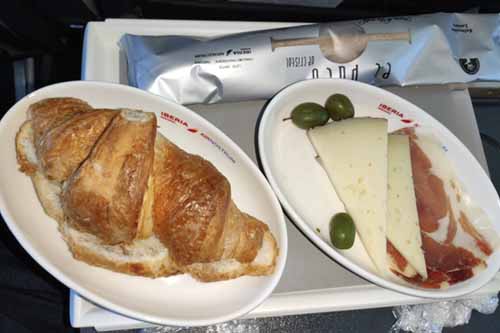 13th November 2022, Iberia IB 3134, Madrid (MAD) – Dusseldorf (DUS), Business Class
The evening flight back to Dusseldorf (DUS) came with a warm dish served in Business Class. The meal was a Do&Co provided one – which typically is already quite a statement of good quality. The starter was some Ensalada Rusa (potato salad). For the main dish you could opt between oxtail on pasta with own sauce and tomatoes or a spinach quiche. I went for the oxtail, which has been delicious. The desert was a lovely chocolate panna cotta. Again, the Iberia crew did a really good job in the cabin.
25th November 2022, British Airways Cityflyer BA 3272, Dusseldorf (DUS) – London City (LCY), Business Class
This Food I Had Onboard posting closes with a weekend trip I had with my wife to London. The outbound flight was to London City Airport (LCY). Unfortunately, they just had one type of snack for the 10:00 hrs flight in Business Class. The cold cut platter was really delicious, though. However, I missed some sort of bread to it. The dessert was nice as well. Good service, even though I had severe issues to understand the accent of the flight attendant.
27th November 2022, British Airways BA 946, London (LHR) – Dusseldorf (DUS), Business Class
The return flight to Dusseldorf (DUS) was from London Heathrow (LHR). I had a barley platter with some cheese and grilled vegetables. The meal was nice and there was good service. The chocolate crumble dessert was a treat as well. My wife had a cheese board, which reminded of a Ploughman's Platter. Very good service on this flight again.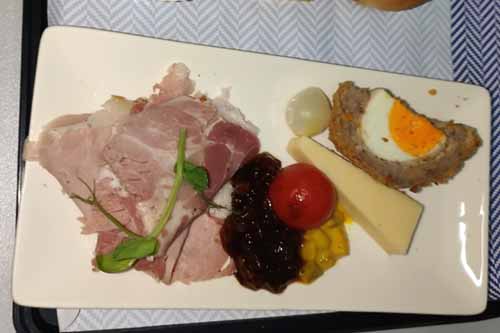 Travel Postings about London
Here are all travel related postings about London:
"Rides on Rail" Postings
Here is everything about trains, trams and other rail vehicles: