Another Rock of Ages musical trip took me to Inverness in the Scottish Highlands in August 2022. Due to the good location and proximity to the theater, I finally opted for the Premier Inn Inverness Centre River Ness. Here is my view on this Premier Inn location in Northern Scotland.
Premier Inn Inverness Centre – Location
The hotel is centrally located in the heart of Inverness, right at the West bank of River Ness. It is about a ten to fifteen minutes walk away from the central bus station and Inverness Rail Station. The shopping district, Inverness Castle and other city attractions are in short walking distance as well.
The hotel runs a few parking lots, but I did not arrive to the hotel by car. The King Street bus station is just a few steps away. It connects to several local buses (1, 1A, 2, 17, 28, 119), as well as regional connections to Portree and Fort William, from where I rode the Jacobite Train / Hogwarts Express in 2018. I took a taxi for the ride from Inverness Airport (INV), which was about 25 GBP in each direction.
Premier Inn Inverness Centre – Room
I had a two night stay at the Premier Inn Inverness Centre River Ness in August 2022, Friday to Sunday. The two night flexible rate was 256 GBP, excluding breakfast. I just had breakfast on one day, due to an early flight back home, which was an additional 9.50 GBP charge. The room was clean and fine. There were no special perks or thrills about it – compared to other Premier Inn locations, it might be slightly on the basic side. On the other hand, there was quite some space for luggage and a large enough work desk, which I really appreciated.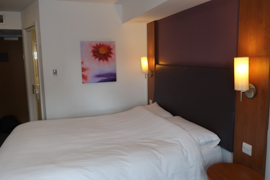 The bathroom had a combined bathtub and shower, which I really liked. It is Premier Inn standard that amenities are given by dispensers, which is handy – and that there is no toilet brush, which is less handy in my point of view.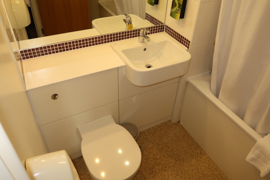 Premier Inn Inverness Centre – Breakfast
As said, I only had breakfast in the restaurant on Saturday morning. The Thyme restaurant had a nice and warm design and a beautiful view at the window over River Ness. There was some confusion at the check-in on Friday, so that me and some other hotel guests in fact arrived too early at breakfast – while they start at 6:30 hrs on weekdays, they do half an hour later on the weekend. It was especially weird, as the reception explicitly asked me to be early due to a high volume of guests the day before.
The buffet breakfast was nicely presented with the typical Premier Inn items. There were some items to order on the menu – I did not try if that in fact really worked out. Apart from the small issues mentioned already, it was a really good and friendly start of the day – Premier Inn breakfast is finally absolutely "reliable".
Premier Inn Inverness Centre – Service
The staff at the hotel was really nice. The check-in was efficient, friendly and welcoming. The hotel did also have check-in terminals, but they did not work properly. The free Premier Inn WiFi is always a bit of limited, so that I took a 24 hour package of very good premium speed for 5 GBP. The hotel has an Amazon locker in the lobby, in case you long to have something delivered.
,
Premier Inn Inverness Centre – My View
The Premier Inn Inverness Centre River Ness is a really good option if you visit the city. The location is excellent, you can easily walk everywhere you like to. The rooms are fine, the staff is very friendly, Like in all Inverness in Scotland, the prices are high, but that's a general thing. I would definitely book this place again.
Premier Inn Hotels at Flyctory.com
Here are all my postings related to Premier Inn hotels:
Spas & Health
Swimming pools, thermal pools and places to relax can be found under Spas & Health: