Are we really in the double digits now? I am really happy about my "new" category Food I had Onboard. Also, thanks to all your feedback on the previous nine editions! This time, there is quite a focus on SkyTeam, which is rather unusual on Flyctory.com. Hope you like my food and service reviews.
21st July 2023, Air France AF 1107 (operated by Hop!), Dusseldorf (DUS) – Paris (CDG), Business Class
In the end of July, I wanted to find out, whether KLM and Air France could be an alternative to Lufthansa for me. Based on a fare which no longer exists, I had the opportunity to check out their short haul business class as well as some of their lounges in Paris (CDG) and Amsterdam (AMS). The first flight was the short flight by Hop! from Dusseldorf (DUS) to the key hub of Air France. You know that I am not the biggest fan of inflight breakfast, as the dish is rarely creative. The more I loved that the French served (cold) pancakes with cheese, some fresh fruit, some veggies and even a croissant – not the standard stuff you typically get.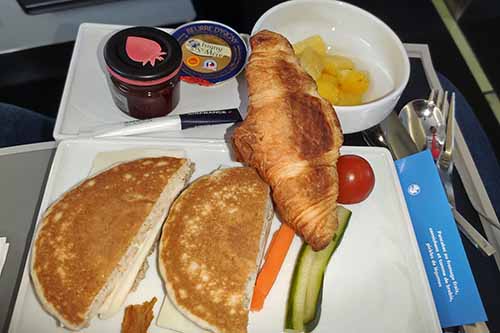 The crew has been lovely as well. A very effiicient and attentive service, their level of speaking English was also much better than I explored in previous services. Definitely, a really nice start into this mileage run.
21st July 2023, KLM KL1230, Paris (CDG) – Amsterdam (AMS), Business Class
Even though I am not sure if a 10:15 departure should still go for breakfast, but I simply loved that breakfast box on the flight from Paris (CDG) to the Dutch capital. You even received a small menu with the dishes explained and the list of wines they cater on this flight. The boxes contained creamy coco with fresh fruit and a coconut, almond and rosemary granola as well as chocolate chip pancakes with strawberry jam. A very nice and filling dish.
The service was mixed though. The two flight attendants for business class felt a bit of slow, also because one of then felt to have met a long-term friend in the cabin and chatted quite a lot with him. Nonetheless, a good experience.
21st July 2023, KLM KL1995 (operated by KLM Cityhopper), Amsterdam (AMS) – Krakow (KRK), Business Class
After this experience (my first KLM Business Class flight, by the way), I was already in love with the "KLM Bento Box" – and was glad that I got another one. This time, there was prawn salad, rice crackers and a forest frout mousse with lemon jelly. Even though my belly was too large to lower the table, I absolutely loved the food, balancing on my leg. The crew as awesome.
A really cool feature of this longer flight was that towards the landing, the crew also served a smoothie to the business class passengers. I really enjoyed the healthy strawberry shot.
23st July 2023, KLM KL1994 (operated by KLM Cityhopper), Krakow (KRK) – Amsterdam (AMS), Business Class
The flight back from Poland to Amsterdam (AMS) was like meeting a good, old friend – the breakfast box was equivalent to the one I had two days before. The crew was again very nice and I felt very welcome on the 1:30 hours flight. This time, the smoothy was a ginger one – and felt even more healthy than the one on the Paris (CDG) to Amsterdam (AMS) trip.
23st July 2023, KLM KL1243, Amsterdam (AMS) – Paris (CDG), Business Class
Thiis weekend really made me fall in love with KLM flight attendants. I again had a lovely crew – on top of that, I was sitting next to a very friendly (passive) KLM flight attendant on her way back to her residence in Southern France. Unfortunately, there was another constant on this trip: you know the food already. Just no smoothie, naturally, this time on the short trip from the Dutch to the French capital. And, hey, the prawn salad is really nice.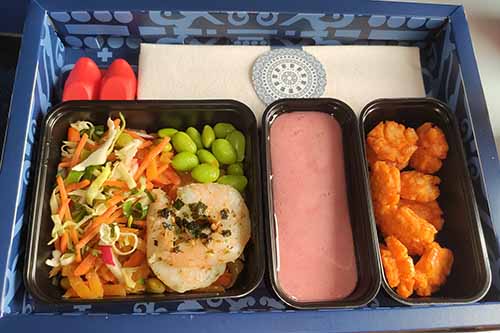 23st July 2023, Air France AF 1106 (operated by Hop!), Paris (CDG) – Dusseldorf (DUS), Business Class
Oh wow. The effective flight time of this flight was just 50 minutes – but I had one of the best European business class meals of my whole flying career. Hop! (which is somehow just the leisure carrier of Air France) served smoked trout with pasta salad, which was awesome. Additionally, the pastry with nut cream in it was lovely, even though it was a bit hard to eat. The cheese was nice as well, even though I liked the other two dishes more. Service on this flight was kind, but not as good as on the flight to Paris two days before. One rationale might be that the crew felt to be significantly weaker in speaking English (but it still worked out fine).
18th August 2023, Eurowings EW 9338, Dusseldorf (DUS) – Newcastle (NCL), Smart Class (Economy)
Despite sitting in the front row, I had a standard economy ticket on this Eurowings flight. In my Food I Had Onboard V posting, I already introduced you to the really nice Eurowings French fries, which I had on the same route in September 2022. Now I had the Currywurst (Grilled Sausage with spicy tomato-curry sauce) – and again, I was amazed how good this one is. Including a drink, the price for the meal was 9 EUR. The crew did their job, I would not rate them overwhelmingly high or low, though.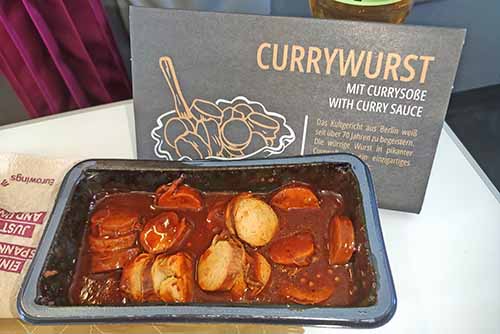 19th August 2023, British Airways BA 1327, Newcastle (NCL) – London (LHR), Business Class
If you need to name one key difference between Lufthansa and British Airways short-haul business class services – I feel it is their performance on rather short flights. This less than one hour hopper (which already had lunch service, despite the scheduled departure at 10:05) even came with a choice with two mains. I went for the vegetarian Celearic salad with minzed yoghurt and hazelnuts over the smoked chicken salad. I really liked it – and the passion fruit coconut crumble as a dessert was a nice one as well. Needless to say there was a heated bread roll, too. Great and friendly service by the crew (I still wonder how you pronounce the name of the flight attendant "Siobhan" correctly… 😉 ) – well done, BA!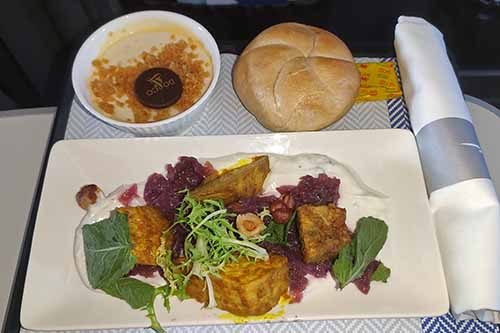 20th August 2023, British Airways BA 3277 (operated by BA Cityflyer), London City (LCY) – Dusseldorf (DUS), Business Class
The final leg of my weekend trip took me from London City Airport (LCY) to Dusseldorf (DUS). Again, British Airways offered two different meals for dinner (though there was no menu this time). I went for the so called pulled pork salad and thus favored it over the lentil salad offered. The dish was really nice, coming with a nice panna cotta as well. I unfortunately cannot really identify the salad served to it. It looked and felt like a coleslaw something, but had a slightly different taste. Nonetheless, I liked it. The crew was charming. Fun fact was that my tray initially did not feature cutlery. Shit happens.
1st September 2023, SAS SK 620 (operated by CityJet), Dusseldorf (DUS) – Copenhagen (CPH), SAS Plus
The SAS European somewhat-between-premium economy-and-business SAS Plus class brought me on the first leg of my trip to the Faroe Islands. It is the Food I Had Onboard post full of food boxes – so here is another one. The box was actually really nice. The bread roll was heated, there were two kinds of cheese, jam, yogurt with cereals and a lovely juice smoothie. The crew was very kind as well. As I was tired, I opted for a Coke Zero to start the day in the very early morning 6:10 departure flight.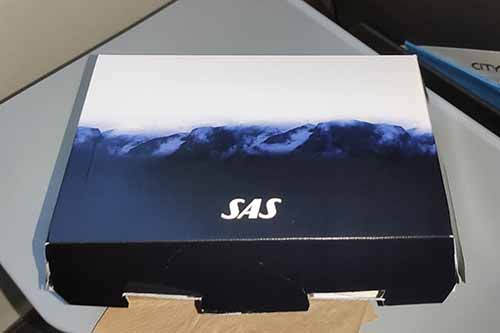 1st September 2023, Atlantic Airways RC 453, Copenhagen (CPH) – Vagar (FAE), Economy
There is no business class on Faroese airline, Atlantic Airways, and complimentary onboard catering is coffee, tea and water only. Thus, I decided to check out their pre-booked sandwiches on my flights in September 2023. For the flight to Vagar (FAE), I opted for the open sandwiches. The left one was a fried fish, he right one egg with shrimps, both on rye bread. The sandwiches were amazing. Even compared to Torshavn city prices, the 65 DKK (less than 9 EUR) for these two beauties was an absolutely great value for money. The crew was very friendly as well. Great experience!
4th September 2023, Atlantic Airways RC 456, Vagar (FAE) – Copenhagen (CPH), Economy
For the flight back from the Faroe Islands, I opted for the Sandwich of the Day in my pre-reserved meal (same price). I had the choice between a chicken and bacon and a ham and cheese one. The sandwich was nice, but it could not keep up with the amazing open sandwich of the first flight. The crew was really nice and I felt inspired by by neighbor adding a nice local rocky road chocolate bar to my Pepsi Max (total 55 DKK). The crew was really nice as well, so that my second Atlantic Airways experience in their core network has been a really nice one.
4th September 2023, SAS SK 629 (operated by CityJet), Copenhagen (CPH) – Dusseldorf (DUS), SAS Plus
The last experience in this posting was the flight home with SAS. I had the choice between a vegetarian sandwich and a chicken menu, which felt like the food served in SAS Lounges. Initially, I have been a bit of disappointed compared to the lovely breakfast service some days before. However, the crew also offered some snacks (I went for chips) for free and also had some nice chocolates after this dinner service. The CityJet crew was really friendly, so that I had a good time onboard.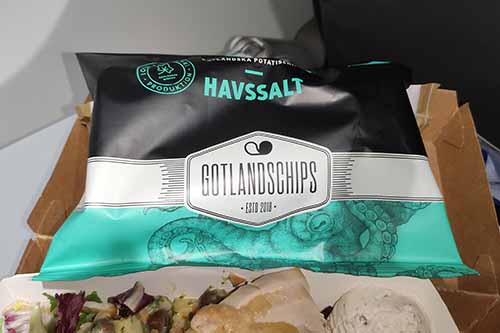 Food I Had Onboard
My bites and drinks on flights and trains are shown in Food I Had Onboard:
Air France & KLM on Flyctory.com
Here are postings related to the AIr France & KLM Group on Flyctory.com: