Already the fourth edition of my Food I Had Onboard category. Even though my Covid-19 infection changed quite a lot of my plans, there are still some interesting views on onboard services. Unfortunately, I had to skip my first Ryanair food review, but there are interesting train and plane connections in here.
6th May 2022, Eurowings EW 9468 (operated by Avion Express Malta), Dusseldorf (DUS) – London (LHR), BizClass
I was a bit skeptical about flying with Avion Express – and their rows 2 until Exit Row in the A320 do not match the amazing comfort of the Eurowings plane. But their service was very friendly and charming, really loved the crew. Additionally, I just like the concept of Eurowings BizClass catering: order from the onboard menu whatever you like (with some limitations). On this morning service, I had a really nice chicken sandwich, a Lemonaid drink and some nuts. Again, really nice quality.
8th May 2022, Eurowings EW 9465, London (LHR) – Dusseldorf (DUS), BizClass
Good old standard Eurowings plane again – and the nice staff at Heathrow even rebooked my to the two hour earlier EW9465 machine (instead of the 9463 originally booked). Thanks for that! I initially wanted to try out some of their hot food – but the flight is just too short for that. Thus, I went for the vegan sandwich, a smoothie and the good, old Snickers. Similar to the bread rolls I had with Eurowings in November 2021, I was amazed of the good taste and quality. Very kind service as well – loved it.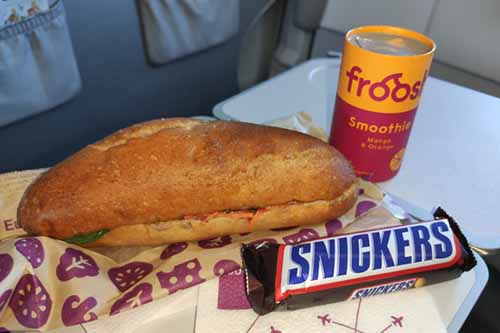 12th May 2022, Lufthansa LH 848, Frankfurt (FRA) – Helsinki (HEL), Business Class
On the some two hour service from Frankfurt (FRA) to Helsinki (HEL), you could even choose between two breakfast options, in addition to the cold cuts, cheese and yogurt with strawberry ragout. I went for the stuffed crepe with green bell pepper, parsley couscous, cream cheese and beef bacon. I am not sure why they called it a crepe – it rather felt like an ordinary omelette to me. But the food was quite tasty and it was a nice meal regarding the flight time. Later, they served the good, old Lufthansa apple.
My wife went for the alternative, the flamed semolina slice. The menu stated it was served with sour cherries, granola and vanilla pudding, but the majority of her dish finally was chocolate sauce, which has not been mentioned at all. Thus, she was not overwhelmingly happy with it. The breakfast came with bread rolls and croissants.
15th May 2022, Lufthansa LH 851, Helsinki (HEL) – Frankfurt (FRA), Business Class
Lufthansa at their very best. The dinner service on this evening flight from Helsinki (HEL) to Frankfurt was likely the best Tasting Heimat food I had so far. Hard to say why this is typical Dusseldorf food, but it was really nice. The starter was beef pastrami with sauce remoulade, artichokes, carrot and caper, which was really nice. There were two options for the main course. The last row of the business class had to go with the potato strudel with wild garlic, Swiss Chards and mushroom cream, as the alternative was too good. A typical German seasonal dish, white asparagus with Hollandaise Sauce, veal tenderloin and parsley potatoes. Amazing one. It was just a bit of difficult to cut the meat and the asparagus in the small bowl.
The dessert was yogurt and lime mousse with a compote of apple, pear and apricot. Nice finish – and good service, by the way.
23rd May 2022, Thalys THA9424, Cologne Main Station (QKL) – Paris Nord (XPG), Premium Class
It has been quite a long time since I had my last Thlays trip from Cologne to Paris. It is a typical business trip for me – and unfortunately, this time it was for work as well and not for the French Open in tennis, for example. Quite soon after Cologne, there was a breakfast service, which came with a bread roll, a croissant, some weird fruit compote and a side. For that one, you could either opt for a cream cheese filled crepe or a small salmon sandwich, which I went for (too much cream cheese or similar underneath in my point of the. You may choose between juices and water as a cold drink and tea or coffee. The service was really kind, the quality was okay..
On the section between Brussels and Paris, Thalys had another snack and drink service. There was the option between a mixture of an eclair and a macaroon and a spicy tofu slice. I went for the letter. Not really much, but actually quite nice.
25th May 2022, Thalys THA9471, Paris Nord (XPG) – Cologne Main Station (QKL), Premium Class
The return started a bit of chaotic in Paris Nord. The more, I was glad to leave the French capital with some one hour delay. The train attendant or however you name the train stewardess felt a bit of stressed, but was overall very kind. There were even three options for a (cold) dinner, vegetarian pasta, cod and pork. Pasta was out when I ordered (I was about the last one), so I went for the pork, which came with quinoa and rice as well as green asparagus. Just not really enough to beat the hunger, but a very nice meal – there are significantly worse bites on some European business class flights.
After Brussels, Thalys served a second bite. I this time had the macaroon and a potato salad. The first seats had the chance to go for the cod… Bad luck… But still nice food.
15th June 2022, Eurowings EW 9468 (operated by Air Baltic), Dusseldorf (DUS) – London (LHR), BizClass
After my trip to Nashville failed, I had to get to London somehow and went for a morning service from Dusseldorf (DUS) to Heathrow (LHR). My first flight with a lovely Air Baltic crew, who do operate some Eurowings flights with their A 220 fleet. The service was really good and another try of the vegan option sandwich was lovely again, accompanied with nuts and an apple spritzer (free choice from the menu).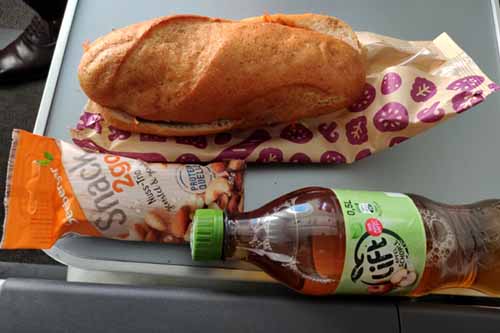 16th June 2022, Avanti West Coast VT7070, London-Euston – Manchester-Piccadilly, First Class
Checking out Avanti West Coast in their First Class from London to Manchester was definitely a very interesting experience for me. The catering was average, though. I had the choice from various meals from the breakfast menu and finally went for the scrambled eggs with Scottish salmon and bread. Other guests were offered additional bread and there was just one round of drinks – a bit too lousy if you look at the First Class surcharge. Even though I did not like the service and the attitude, food was fine.
19th June 2022, Eurowings EW 9465, London (LHR) – Dusseldorf (DUS), BizClass
Returning in the late afternoon from my Portsmouth trip watching Rock of Ages, I again flew Eurowings in their BizClass. This time, I went for the tapas plate with meat, accompanied by crisps and the good, old apple spritzer. Very kind and attentive service and overall nice food.
29th July 2022, British Airways BA 423, Amsterdam (AMS) – London (LHR), Business Class
End of July finally featured my "Replacement Trip" for the cancelled CMA Fest voyage. I am always amazed how well the crews manage to serve food on a that short flight like the hop from Amsterdam (AMS) to Heathrow (LHR) – this time, there was even hot food. The omelette was nice, I also loved to have some fruit, a croissant and a cereal bar.
29th July 2022, British Airways BA 295, London (LHR) – Chicago (ORD), Business Class
The longest leg of the trip was a 747 upper deck trip from Heathrow (LHR) to Chicago (ORD). For lunch service, I could opt between braised beef cheeks, British chicken with a leek and mushroom pie or a Vegetable Korma. I went for the vegetarian option. I would say it was rather reasonable. The cheese board and chocolate board was much better though, I also liked the bread selection. Lovely Besserat de Bellefon rose champagne. The service was nice as well, even though BA serves all dishes at once.

Before landing, I was looking forward to my first scone with clotted cream and preserve above the clouds. You could choose between two different sets of sandwiches (again, I went vegetarian and had egg with cress and cucumber mint) and there was a lovely carrot cake as well. The service was a bit of late in my point of view and also took quite a while to take away the tablet again.
29th July 2022, American Airlines AA 4813 (operated by Republic Airlines), Chicago (ORD) – Kansas City (MCI), Main Cabin
I did not take pictures of the catering here. You know it from my previous postings – this time I again just got a small drink, no cans and a biscuit.
1st August 2022, Southwest Airlines WN 2125, Kansas City (MCI) – Nashville (BNA), Standard Cabin
Not too much to much. Even though I had their highest tariff, I just got a small cup of soft drink, which majorly contained ice. Fun fact: my tariff included one alcoholic drink. If I went for a beer, I would have received multiples of my drink's volume – I just had to drive after the flight and thus did not want to consume alcoholics.
4th August 2022, Contour Airlines LF 3002/3003, Nashville (BNA) – Tupelo (TUP) – Nashville (BNA), Standard Cabin
I was very surprised by them serving a full drink and some salty snack on the rather short flight. The cabin was lovely – I really loved the flight attendant, who gave me a great flight experience.
5th August 2022, British Airways BA 222, Nashville (BNA) – London (LHR), Premium Economy
In contrast to my original booking, I flew back in World Traveler Plus / Premium Economy. There were three options. I again went for the Indian-style vegetarian meal and opted for palak paneer and cauliflower marsala. The curries were fine, the garlic bread okay as well. The red quinoa salad as a starter was below that. The sealed bread roll, was an absolute disaster, though – it felt like rubber to me.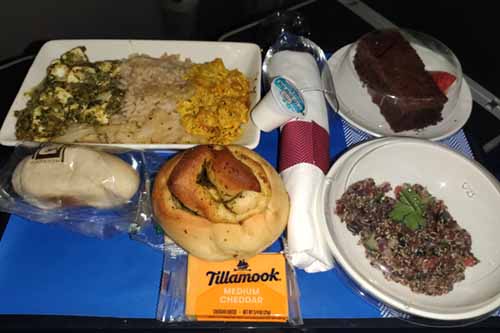 Right before landing… That's what you get when you fly Premium Economy. Honestly, British Airways does much better here than Lufthansa, for example. Thus, I was absolutely fine with the yoghurt and the breakfast croissant.
6th August 2022, British Airways BA 438, London (LHR) – Amsterdam (AMS), Economy
I did not expect much on the World Traveller flight back from London to Amsterdam, as I have been on Economy now. However, having some crisps and a small bottle of water was more than expected.
26th August 2022, British Airways BA 935, Dusseldorf (DUS) – London (LHR), Business Class
The first Rock of Ages show after the summer break took me to Inverness. The first leg from Dusseldorf (DUS) lead me to London on an early morning flight. I went for the classic and had a Full English Breakfast. Nice crew, great work, absolutely fine food… If only there was some brown sauce around…
26th August 2022, British Airways BA 1470, London (LHR) – Inverness (INV), Business Class
Let's make it short: the service on my flight to Inverness (INV) was absolute mess. The flight is not that short – despite that, the crew has simply been very lame. Serving food began some 40 minutes before landing – I was tempted to ask the purser if she is really fit to fly – I still doubt about that today. The poke plate, however, was a lovely meal. Glad that I sat in first row, so that I did not have to hurry while eating. If you miss a bread roll on the picture: they did not give me one – in contrast to other guests. I was finally glad to get out of that plane, as I did not feel safe.
28th August 2022, British Airways BA 1467, Inverness (INV) – London (LHR), Business Class
7:00 hrs in the morning, heading back to Germany on a Sunday morning. A tough situation to make me somehow happy with an early mean. However, it was the first time I had breakfast eating the vegetarian fritata – it is actually a nice option. The crew was much better than the outbound one as well, so that I had an enjoyable flight.
28th August 2022, British Airways BA 938, London (LHR) – Dusseldorf (DUS), Business Class
My last flight in August 2022 brought me back to Germany. There were two options, one was the poke plate (again)… Funnily, the dish was now called "salmon salad" by the crew. British Airways and their caterer, Do & Co, might improve communication there – but not the food quality. Good one!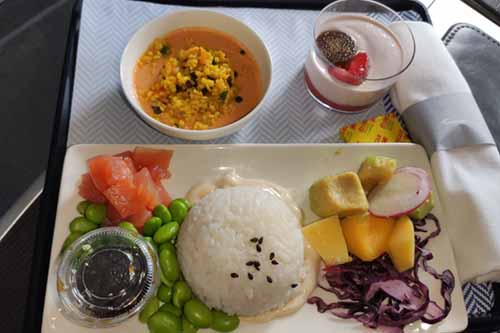 Flyctory.com on Eating & Drinking
Flyctory.com is not a culinary blog. Nevertheless, here are all posts dealing with Eating and Drinking:
Women Country in my Spotlight Interviews
Here are all Flyctory.com Spotlight interviews, in which I chat with female country artists: