I would say that the opening of the Hilton Garden Inn London Heathrow Terminal 2/3 has been one of the key additions of the Hilton Hotel Group to their European portfolio in the recent years. While Accor is driving the Sofitel right at Terminal 5, the Queens Terminal 2 got in July 2019 an accomodation, which can be reached within an easy walk. On a trip in October 2020, I made use of the low room pricing during Covid-19 and stayed a night in the HGI.
You should not mix up this place with the Hilton Garden Inn London Heathrow Airport, which I also reviewed in here (see link)
The hotel has been selected as my Favorite Airport Hotel during 2020.
Hilton Garden Inn Heathrow T2/3 – Location
The hotel states that they are located inside Terminal 2 – I would rather say right at Terminal 2, but that is maybe just a matter of marketing definition. From Arrivals level, you just pass a short-term parking garage and the signposted route directly leads to to a gangway to the hotel (and thus, right to the reception). In theory, you may also approach the hotel by car, which is very likely a very subordinate option in practice (if you are not taking a taxi or similar) – it took me quite a while to take pictures from outside – it is an airport hotel. I also met a smoker who struggle to find a place for an outdoors shot of nicotine.
The hotel offers a restaurant and a snack shop (see below) and of course you can use the landside facilities of Terminal 2. Majorly WH Smith, Boots and M&S Food are likely the interesting options for travellers, landside in-terminal restaurants are scarce. Transfers to the other terminals is free. You can go to T3 by the underground walkway (T3 was closed during my visit due to the pandemic) or the rail connections to T5 (which are free if you have an Oyster or grab a free transfer ticket for Heathrow Express). Terminal 4 is served with a Heathrow Express connection as well, but all operations in October 2020 were served by Terminals 2 and 5 anyway.
Hilton Garden Inn Heathrow T2/3 – Rooms
I booked a King room for a rate of 79.20 GBP. Typical rates for the Hilton Garden Inn (HGI) are some 40 to 50 GBP higher. The rate was a Dream Away rate, prepaid, but open to cancellation until the day before arrival. As a Hilton Honors Diamond member, my rate automatically included breakfast. I was hoping for an upgrade to a King Room with Runway View, which I finally received. The room was located on 13th floor, the highest one serving guest rooms.
The room was really beautiful – comparably large for a European HGI room, very modern and with a large TV set and work desk. I have been a bit surprised that the Star Alliance terminal hotel does neither feature European power plugs nor American ones at the desk area, though. The layout of the room was very functional and also included all necessary equipment, even including an ironing board and iron.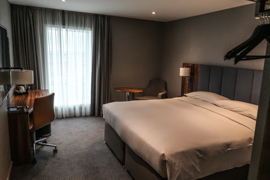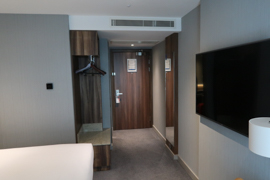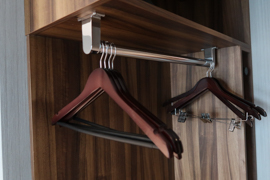 The shower bathroom was also very nice and spacious. The shower was huge, there were limited amenities. The room was overall very clean. Its key feature, however, was the view to a Terminal 3 satellite, the apron around and runway 9R/27L. I just put the small table right in fron of the window so that I could enjoy the view even while working. There was even some traffic in T3, even though it was closed – I guessed that they serviced some of the planes before they were pulled to T4 or T2. As there are two layers of glass windows, the room is absolutely quiet.
Hilton Garden Inn Heathrow T2/3 – Food / Breakfast
As I felt quite exhausted from the previous weeks, I arrived at the hotel comparably early (at around 16:00 hrs) and thus also went for dinner in the Apron Restaurant. The restaurant area is really large and even with social distancing measures featured more than sufficient space for dinner as well as for breakfast. Dinner was really nice. I had a parsnip soup, fish and chips and a soft drink for 28 GBP, including tax – which is just fine regarding the location, I feel. There was no menu, but QR code links stuck to each table.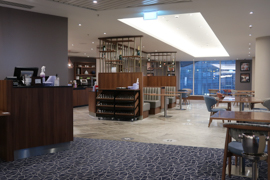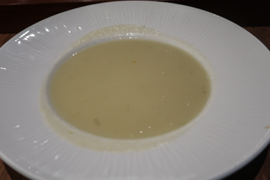 The same place also featured breakfast. The hotel typically offers a breakfast buffet, but the UK Covid-19 regulations made them alter to made-to-order dishes. The system worked very well, food was really nice – and, again, staff was very kind as well – so that I absolutely enjoyed the hotel's dining option. If you had an early flight (which might be one of the key reasons to opt for an airport hotel), the breakfast times may, however, be rather unhandy, as breakfast started at 6:00hrs (which is quite early for a Sunday hotel breakfast, but maybe rather late for an airport hotel one).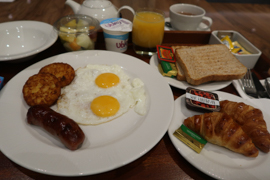 Right opposite to the Apron Restaurant on 1st floor (which is in fact one floor below reception level), there was also the Apron Bar, which I did not check out. Unfortunately, during my stay the Runway Bar on 14th floor was not in service. Through the glass part of the door, it really looked beautiful up there.
Hilton Garden Inn Heathrow T2/3 – Service
The "standard" internet connection in the hotel was absolutely fine and was fine for all my needs. The staff was very friendly. Check-in and check-out has been very efficient. The reception area also featured a small shop for snacks. I was quite amazed about the very fair pricing there. They also had some small breakfast boxes in case you have to catch an early flight. They even had a "meal deal" with a sandwich, chocolate, crisps and a drink.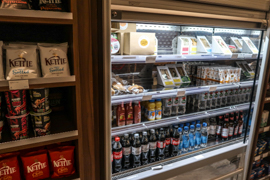 The hotel also offers a gym, which looked very nice. I just did some snaps through the opened door as stepping inside the gym might have required to disinfect the area – which I feel is not reasonable if you just want to take some pictures.
Hilton Garden Inn Heathrow T2/3 – My View
The Hilton Garden Inn Heathrow at Terminal 2 is indeed a lovely place. Bad luck that air traffic has been that limited during my stay – I could have watched the planes come and go for hours through my hotel window. The connection to Terminal 2 is very comfortable – but even my Terminal 5 flight on a Sunday morning was an easy and comparably quick transfer (some 15 minutes). The hotel did very well in hygienic measures, so that I overall really enjoyed my stay. Excellent performance!
Airport Hotels
Here are all hotels with a good airport connection:
Airports on Flyctory.com
Here are all other airport-related postings: