British Airways flight BA 1 has always been on my bucket list. The very special connection between London and New York departs at London City Airport and is serviced by an all-Business Class Airbus A318. As the outbound service is flying against the wind and in order to make use of the Irish US immigration facilities, the plane refuels at Shannon before it directly heads to JFK Airport. As you passed immigration in Shannon already, you definitely pass the immigration queues at JFK – you simply arrive like a domestic in the Big Apple! Here is a review how I traveled in style to the Tennis US Open.
BA 1 – At London City
London City is likely one of the most effective passenger handling airports in Europe. Thus, BA 1 can affort to have very short check-in times. The British Airways website states 20 minutes before departure if you just have hand luggage. As I transferred from Dusseldorf, I effectively were there about two hours too early. This allowed me to check out a very special BA 1 service: as there is no lounge in London City, you are invited to one of the airside restaurants. You may select from their full breakfast menu, accompanied by two drinks. I had a version of Eggs Benedict with smoked salmon, which was amazing. After enjoying the airport, I headed to gate 21, where the flight was departing from. There were only some 15 passengers for this service. The gate staff does not even use loudspeaker announcements for it, all the people were at gate anyway – most of felt to know this special flight quite well.
BA 1 – The Cabin
The flight is operated by the only Airbus A318 in the British Airways fleet, G-EUNA. In general, this A320 category plane is quite rare, but allows to do the steep approaches to London City. It suits 32 passengers, eight rows of 2-2 seats. The seats are lie-flat seats coming with full bedding (incl. mattress, as it is standard at BA). There are two power plugs by each seat, but neither USB ports nor fixed inflight entertainment. In order to distract yourself, you are given an iPad, similar to my Premium Rouge flight to Curacao.
Surprisingly to me, there is only OnAir service onboard meaning internet by GPRS (with quite massive costs), no other kind of WiFi. Overall, the seats are quite cozy, the lie-flat is maybe a bit short, but nice with the mattress added. Compared to other airlines, the lavatories do not hold any too special amenities. For example, there are no shavers available (which Lufthansa even has in Economy Class).
BA 1 – From London to Shannon
There are two reasons why you first head to Shannon: flying against the wind, the A318 needs to refuel anyway on its route to New York. Secondly, Shannon offers US immigration and custom clearance, which means that you arrive domestic in JFK. On in the inbound route overnight back to London City, there is no additional stop. The flight to Shannon is quite short, about an hour. Funnily, the meal service is split into two parts. The first course is served en route to Shannon. I went for vegetarian sushi, which was lovely to look at and very tasty. Arriving in Shannon was very quick.
BA 1 – US Immigration in Shannon
The procedure in Shannon is very well organized. The plane will already arrive at a US departure gate, but all passengers and the crew are brought back through some weird-feeling ways right to the security control, where you are given priority over the other passengers. It is an US-style control already meaning that you have to take your shoes off. After having passed the duty free, you aim towards the US Preclearance. If you travel with hand luggage only, you may proceed directly – for all other passengers, there is a small designated BA 1 waiting area. This allows US customs to check your luggage. The immigration was very friendly, so that I had the chance to take some more pictures around. Leaving the plane until being off-block again was slightly less than an hour – which is really great compared to average JFK immigration and customs queues.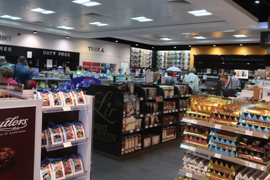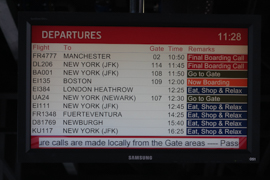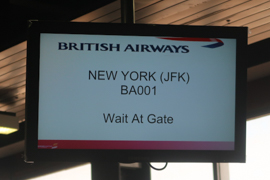 BA 1 – Shannon to JFK
Being airborne and on cruising altitude kicks off the "full" service of the three flight attendants onboard. You are served salad first, followed by a main dish (I had sea brass) and a desert. Overall, this took two hours after take-off, also influenced by some quite strong turbulences. Most dishes are served from the trolley, which might not be too top-notch. I also felt quite thirsty during the meal. This might be due to the fact that you receive your water bottle after the meal. Furthermore, you receive the iPad and noise-cancelling headphones during that time.
Before landing, there is an afternoon tea service. You may either go for a traditional Ploughman's lunch (bread with cheese and onion) or sandwiches, which I took. They are served with a macaroon and a small cake as well as scones and clotted cream, which is one of my favourite dishes.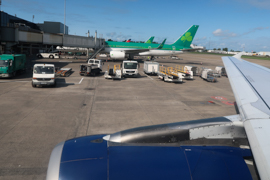 BA 1 – Arrival in New York
No queues! When you unboard the plane on Terminal 7, International area, and do not need to go straight to Immigration but take a turn and are suddenly in the ordinary gate area. You just cross Terminal 7, heading towards the baggage claim. There is just one luggage belt for domestically arriving flights. The room is not that beautiful, to be honest, but as you leave it after some 15 minutes, it finishes a very efficient travelling between Europe and the USA.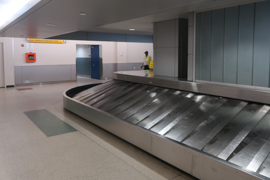 BA 1 – My View
I hate queuing for US immigration – and just for that, BA 1 has just been a like a dream to me. The procedures in Shannon are extremely well organized – and it is amazing that BA does that for such a small group of people. Yes, the marketing of this flight is right – you will likely not get closer to private aviation than doing BA 1. The cabin is very comfy, the Do&Co food is great, so it is absolutely enjoyable.
On the other hand, I felt that BA's service is just not that competitive. I love the mattresses – they are definitely a great upgrade to Business Class flying. But the service is much more neutral than for example at Lufthansa. The crew gives special attention to their BA 1 frequent travelers, though. Overall, this is just a small critics – if you happen to get a reasonable fare, you should definitely give this one a try!
Another very unique British Airways intercontinental flight experience I had was BA 105 operated by Air Belgium in February 2019.