It is still uncertain when there will be regular touristic travel between the United Kingdom or Europe and North America. During my last trip to the USA, which you can read in detail in my California With The Pittsburgh Penguins trip report, I had the opportunity to have a look into the SilverKris Business Class Lounge, operated by Singapore Airlines. I will increase my coverage of aviation reviews during the following weeks – finally, this is one of my key competencies. Here is my review of the lounge at London Heathrow Airport.
SilverKris Business Lounge – Location & Access
The lounge is located at the B Gates in Heathrow Terminal 2, which is majorly operating Star Alliance flights (during non-pandemic times). In general, you may use that lounge also if you are having flights from gates other than B area at this terminal, but it is quite some walking – so I would only recommend it in case you are really keen on visiting the lounge or have a comparably long connection time. The Singapore Airlines SilverKris Business Lounge is located at gate B36, the Air Canada Maple Leaf lounge is right next to it. Apart from these two lounges, the United Airlines lounge is located at the B Gates as well. Lufthansa, for example, is having its home base at the A Gates of the Queens Terminal.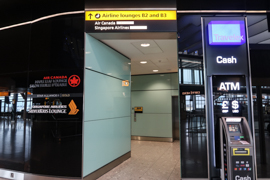 The lounge is open to Singapore Airlines and Star Alliance First and Business Class customers. I flew Air New Zealand Premium Economy from Heathrow to Los Angeles Airport, but qualified for the visit due to my Lufthansa Senator / Star Alliance Gold status. most visitors (apart from Business Class guests without Gold Status or equivalent) are entitled to be accompanied by a guest. Typically, the lounge opens daily, 5:30 to 22:00 hrs. Currently, the times are reduced to 6:00 to 21:00 hrs.
SilverKris Business Lounge – Atmosphere
The lounge does not feel to be overwhelmingly large – I read in another review that it has roughly 150 seats. What I did like about the atmosphere are the different areas you can choose. There is a lovely bar, a restaurant-style sitting around the table, individual seats and cozy work spaces with offer a surprisingly high level of privacy. The lounge is well-structured and did not feel packed at all during my visit in February 2020 – I guess that it is even more relaxed now under social distancing measures. The restaurant style area did not feel too posh, though – while the work desk reminded me of my Singapore Airlines First Class experience.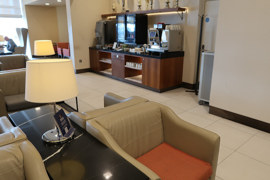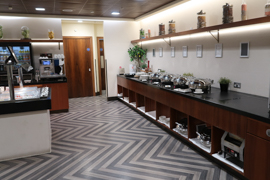 SilverKris Business Lounge – Eat & Drink
The food offered was very nice. I unfortunately missed the scones and clotted cream service, but there were some hot dishes, snacks, sandwiches as well as a wide variety of drinks. I would not call it signature dish, but I definitely loved that they also serve Singapore Sling ice cream.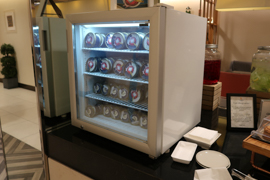 SilverKris Business Lounge – Services
The staff was very kind at check-in and was reasonably attentive during my visit. The WiFi was quite good, but the lounge was not too full during my visit. It may be very packed in peak times. The lounge also features showers in case you have long-haul transfers.
SilverKris Business Lounge – My View
I would say that the SilverKris Business Lounge is a solid representation of Singapore Airlines in London. Overall, it does not lead to any increased amazement when you visit it, but it is a good spot to prepare for the flight. The work desk area is definitely my favorite, some other areas rather feel a bit too cheap.
Lounge Reviews on Flyctory.com
Here are all Lounge Reviews on Flyctory.com:
Singapore – More Postings
Here are all postings which deal with Singapore: