In May 2019, I had another weekend trip to London. As my wife and I flew into London City Airport, we went for an hotel on the Eastern part of the city center and chose ibis London City – Shoreditch close to Aldgate East Underground Station. It was not the first time we stayed in that ibis, so I was looking forward to be in that place again. Here is a review of our stay.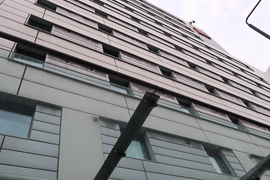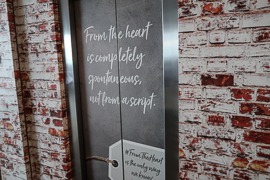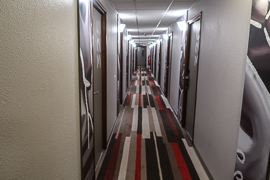 ibis London City Shoreditch – Location
The hotel is right around the corner from Aldgate East Underground station, which is served by the District and the Hammersmith & City line. We arrived from London City Airport, which was one transfer at West Ham. Like most of the London ones, Underground Station is not accessible.
Right next to the hotel is a Tesco Express. There are also some restaurants and bars, which we did not try. Some key London attractions like the Tower of London are in walking distance.
ibis London City Shoreditch – Rooms
We stayed one night in London City Shoreditch, the prepaid room rate for a Saturday to Sunday was was roughly 145 GBP. You may have better deals in London, but the price was definitely reasonable. The room was according to the new ibis room concept. It was clean and even featured an ironing board. The size of the room is sufficient – if you travel with a lot of luggage, it may become challenging.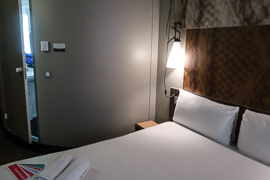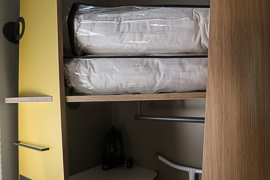 The bathroom a capsuled plastic cabin, as you might know them from ibis budget / Etap hotel stays. However, this ibis version is more spacious and comfortable.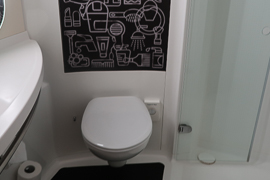 ibis London City Shoreditch – Breakfast
As the hotel is huge, the breakfast area may be a bit crowded during peak hours. The staff was very efficient, though, so that there were just few shortages on some items. The area is quite new – the renovation made it significantly more cozy and welcoming. There are quite a lot of breakfast items, so that the breakfast performance was definitely above our expectations.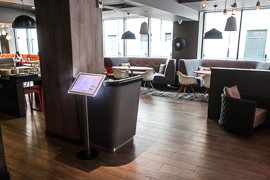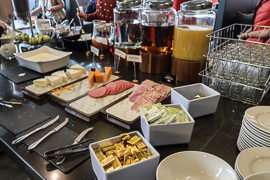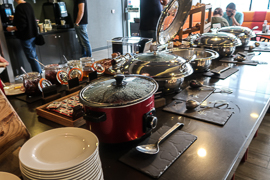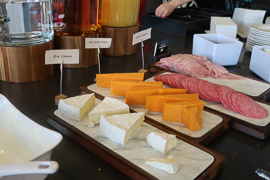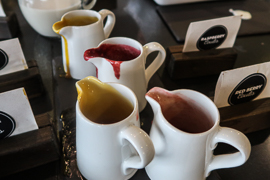 The breakfast area is also used as a bar and restaurant area. There is a reasonable menu with snacks and dishes.
ibis London City Shoreditch – Services
Similar to the ibis in London Canning Town I stayed in during the Country 2 Country 2019, there is no check-in or reception desk, but hotel staff at the lobby, who check you in with a mobile device. The staff was very friendly and the processing efficient, we could even chose a room by preference. Interestingly, there is no phone in the room, as this is regarded to be "old-fashioned". You contact the reception by Whatsapp.
WiFi was efficient and absolutely met my expectations.
ibis London City Shoreditch – My View
As I knew the place from a former stay, I was a bit afraid of staying there again. I feel, this time, the hotel made a much better job. They really improved a lot. The breakfast area is much better organized, the open reception concept suits the huge ibis hotel very well. The people were very friendly and efficient. Though Aldgate East might not be the best connection to the city, having an Underground just around the corner is a very nice plus as well. I had a really good stay in ibis London City Shoreditch this time – thank you!
Postings about London
Here are all postings related to the UK Capital:
Accor Hotels Reviews
Here are all postings related to Accor Hotels: