London's three major airports, Heathrow, Gatwick and Standsted, are all some sort of a mess, when you in fact want to travel into city center. Luton is even worse. But there is London City airport – just twenty minutes travel by DLR into the heart of the financial district and well connected to Europe. Is London City an alternative for travelling into Britain's capital? Here is a review.
This posting reflects London City as at the beginning of 2019. The airport is about to be upgraded within the next years.
London City Airport – Location and Access
London City Airport is located East of the city center. It is North of the River Thames, though not right next to it.
The key advantage of the airport is its proximity to city center. It is connected to the Financial district by its own DLR station. There are trains every couple of minutes (which may be quite crowded in peak times). Via Canning Town, Bank, and Tower Hill, you connect to the Underground services. Travel time to Bank is 22 minutes, to Oxford Circus roughly 35. There are a couple of hotels in proximity. I stayed at the
ibis Canning Town
in March 2019, which was a very good choice due to the great connections to London City Airport.
London City Airport – Destinations and Limitations
For many years, London City Airport was a minor destination, connecting to some UK destinations as well as European economic centers like Frankfurt. Nowadays, there are over 30 destinations with direct connections, including Skiathos, Keflavik (KEF) or Granada, which are destinations rather on the leisure side than on the business flyer one.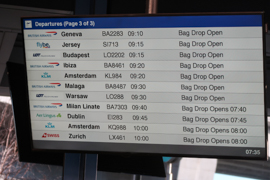 Due to noise reduction over the city causing the "steep approach" and the limited length of the runway, the kind of aircrafts operating at London City Airport. The largest plane operating is the Airbus A318 used for the BA 1 flight to New York via Shannon, the only intercontinental connection of the airport. Typical aircrafts, however, are turboprop or Embraer. Another flight review incepting from LCY was the Sun-Air of Scandinavia flight to Billund Airport and then to Dusseldorf, which is serviced by a Dornier / Fairchild 328 JET.
London City Airport – Check-In
Most likely, you arrive by DLR before you enter the airport. Right after the exit of the DLR station, there are self check-in machines. The typical procedure suggested is the self-checkin and baggage drop, though some airlines do have standard serviced check-in counters as well.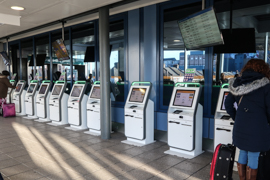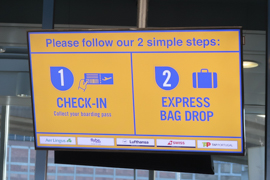 The airport follows a strict two hour check-in policy. If you just have hand luggage, you are not touched by it. However, if you have hold luggage, they won't accept it earlier than two hours before scheduled departure. This rule does not impact transfers – and I am not sure if they enforce it for the BA1 flight as well.
London City Airport – Departure Area
London City Airport has faced a massive increase of flights the last years. This does not have a too significant impact on the efficiency of security – which is one of the best I ever had. You will find restaurants, duty free stores and all other amenities airside. They are much smaller than in other locations, though. You typically have many people in the central area, but going a bit towards the gates gives you more relaxing places. There is sufficient supply of power plugs, so that you can also work or recharge your mobile.
The only amenity the airport does not have is a lounge. As I stated in my BA 1 London City – New York posting, the lounge experience is replaced by a restaurant voucher for this flight.
London City Airport – Arriving at LCY
A very special feature about London City is that planes are not pushed back at the gate. After landing, they circle at the parking position and park diagonal to the terminal, facing away from it. Due to the absense of jetways, you generally exit the plane via stairs and walk over the apron to one of the next entrance doors. Even in peak hours, the immigration facilities at London City are as efficient as the other services of the airport – a "bad" handling time might be ten minutes. Typically, I passed security very quick.
There is no transfer facility at the airport if you arrive international. You walk through the ordinary procedures, end up in the departure hall and go back through security to the gates.
London City Airport – My View
I love flying London City. The processes are very effective so that you just have a very limited stress level. The comfort due to the lacking lounge and the passenger area, which may be quite packed, is limited, though. It will be interesting to see how the airport will develop after expansion. If you arrive LCY in the morning hours, you may already struggle to get into the DLR. I am not sure if it can take even higher capacities, if necessary. There are of course fewer destinations than Heathrow, Gatwick or Stansted and the tickets may be slightly more expansive. Nevertheless, I would recommend to chose the airport, if possible.
Airports on Flyctory.com
Here are all other airport-related postings:
Postings about the United Kingdom
These are all postings dealing with United Kingdom topics: