While Air Belgium is doing their very own route from Brussels-Charleroi to Hong Kong, they are currently also supporting the British Airways services between Heathrow and the Middle East. Initially, there were scattered Air Belgium connections to Abu Dhabi, they are currently regularly connecting the UK capital with Dubai. I had the opportunity to test that connection in early February. Due to a lack of Premium Economy on that route (which I originally booked), I could check out the Business Class service.
Air Belgium – Fleet and Routes
Not too surprising, Air Belgium is based in Belgium. However, the basis is not Brussels' major airport Zaventem, but Charleroi, which is majorly known for Ryanair and low-cost flights. AIr Belgium started the service between Charleroi and Hong Kong in June 2018, which was already delayed as the airline forgot to apply for the permission to fly over Russia. Due to organisational problems with their Chinese partner, they had to withdraw from these flights again after a few months. Currently, you may book flights between the two destinations again, starting at 31st March 2019.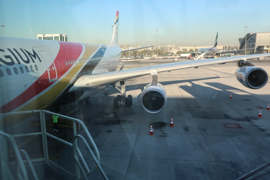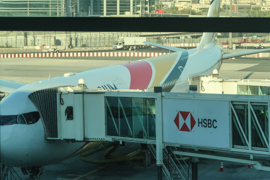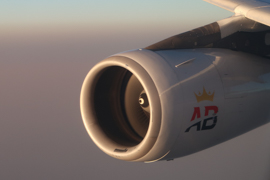 Air Belgium owns four A340-300. Two of them are currently grounded. The others are just used for wetlease flights, i.e. fully operating flights for other airlines (plane and crew). For example, Air Belgium connected Amsterdam and Paramaribo on behalf of Air Suriname. In later 2018, they also serviced some British Airways flights between Heathrow and Abu Dhabi. Currently, they service the following daily route between Heathrow and Dubai:
| | | |
| --- | --- | --- |
| BA 104 | Dubai DXB – London Heathrow LHR | 1400 – 1800 |
| BA 105 | London Heathrow LHR – Dubai DXB | 2040 – 0745+1 |
I flew BA 105 on 6th February 2019, arriving 7th February 2019. If I did not get that wrong, the same crew is doing the return service in the order given above.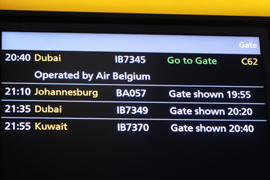 British Airways op by Air Belgium – At the Airport
There is no difference between Air Belgium-operated flight and an "ordinary" British Airways one before you board the plane. It uses the same check-ins, seat pre-booking rules, luggage allowances, lounge access etc. However, if you fly Air Belgium on their own services, their rules of course apply. If the website is not misleading, this means that for example even in business, you just have one piece of checked in luggage.
Air Belgium – The Cabin
I was very curious about the layout of the plane in business class (did not have a chance to have a look into Economy. There is a 2-2-1 configuration in the first (and every odd) row, followed by a 1-2-1 for the even ones. In practice, this means and on the left side, you have to adjacent seats followed by a single one, which is centered and reminded me of the configuration used by Swiss. The two seats in the middle as well as the single seats of the right hand side are staggered. I had seat 2L, which was a single seat on the right aisle, which is closer to the window. I loved the privacy of my seat.
As there are seven rows of business class, this leads to a total of 32 seats. The following section of the plane used to have three additional rows of business class as well, but they are going to be reconfigured to Premium Economy. I did not spot into OO-ABB, the plane I flew with. All A340 planes have been acquired by Finnair and use their former Business Class configuration, which has just been rebranded.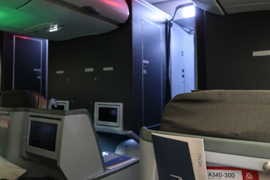 Seats and Functionality
The seats are quite comfortable. In recent past, I read a lot about having smaller footrest areas and thus more privacy or major ones leading to more comfort for your feet. I would say the Air Belgium solution is a compromise between both. I do love the open space solution as for example used by LATAM more, though. There is quite some storage, but there is no drawer or similar which you can lock. I don't bother too much about it, but you may. The seats are lie-flat, quite comfy and even have a massage function.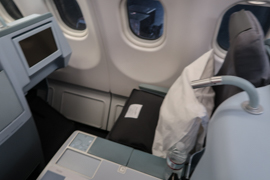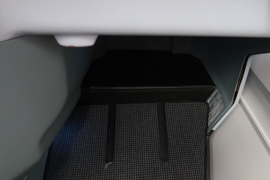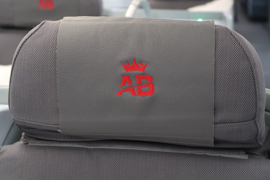 Power plugs and three-pin headphone plugs are located in one of the storage areas. The only feature which was really limited was the inflight entertainment, which just covered movies. The flight information map got stuck several times. There are no TV shows, documentaries or music available. It features English, French, Dutch and Mandarin. Air Belgium provides you with noise cancelling headphones.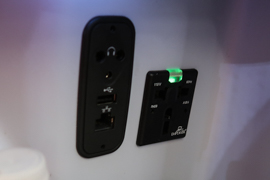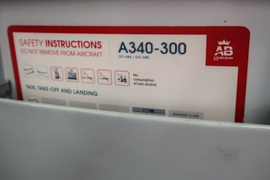 Air Belgium – Crew and Service
The crew was lovely, much more heartwarming than I felt this to be on the recent British Airways business class flights I had, not just the BA 1 service from London-City to New York JFK I wrote a posting about in here. I felt welcome all the time and the service was very efficient, which is very key to me on that not-that-long overnight flight.
Catering and service is fully in line with British Airways standards. Thus, Air Belgium also provides you with British Airways Amenity kits on this service. You also receive the British Airways mattress and blanket kit you are used to on BA flights. The only item branded by the operating airline are the headphones, which are likely not in line with British Airways plugs (two pin).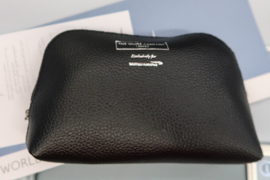 The menu was also given on British Airways design. I went for the express option for dinner, i.e. I skipped the main dish to have a quicker service. Thus, I had a lovely sleep with the smell of meat from some other seats around. The express dinner options, a shrimp salad and a raspberry cake, were both delicious. For breakfast, you can choose whether you just want a drink and a longer sleep or some breakfast service. I chose the latter, though I have to say I am not too much friend of these breakfast wrap things.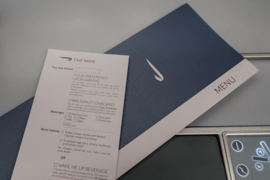 Air Belgium – My View
Sorry, British Airways! I feel that flying with Air Belgium was much more fun than my recent Business Class trip with you to Florida, where I visited some Tampa and Orlando sights. The key reason is that I do not like their original Business Class Layout in the B747, where you either have to climb over the feet of someone you do not know or have more or less no privacy. The second reason is that the BA Business Class service is not that charming any more. The Air Belgium Crew was awesome and I would love to see them again, maybe on one of their Hong Kong services. Regarding my experience, I would definitely recommend to do Air Belgium! They definitely did a better job on the Dubai route than my later Business Class experience with Swiss from Zurich to the same place.
Air Belgium – Some Dubai Approach Pictures
I loved the approach to Dubai that much that I just had to add these pictures to my posting. We crossed the Persian gulf and passed Dubai on the North, which gave us a lovely view of the city, before we took an U-turn towards Dubai Airport, Terminal 1.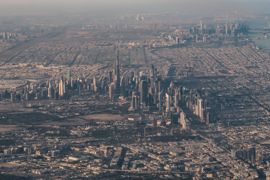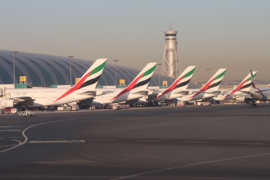 United Arab Emirates – More Postings
Here are all posting of related to the United Arab Emirates: