The Mithraeum in London is maybe one of the hidden gems of the British capital. During exvacation works in London in 1954, right on the last day scheduled during works in the current commercial center of the city, the marble head of a statue of Mithras has been uncovered. Even though that sounds quite unremarkable, this is one of the most significant archaeological findings in the country. Back then, Winston Churchill finally supported to continue the works in the area. You can now see the remains of the temple for free in very central London.
London Mithraeum – Location
The Mithraeum is located at Bloomberg Space in London's Financial District. The Bank Underground Station, is just a very short walk away. It connects to other London destinations via the Central, the Northern and the Waterloo & City Line.
Opening times at my times of visit were Tuesday to Saturday 10:00 to 18:00 hrs, Sundays 12:00 to 17:00. The entrance is free, but you have to register your time slot of visit online beforehand.
London Mithraeum – The Visit
A fun fact is that with the opening of the new Mithraeum exhibition in 2017, the Mithraeum is back at its original position. It has been moved for some decades closer to Victoria Street. At your assigned time slot, you are walking down the stairs to a first stage of the museum. You learn about the Roman culture and about some of the artifacts found during the excavation.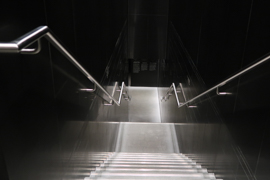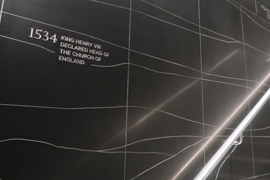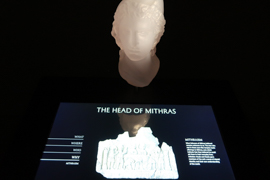 Thereafter, you see the real Mithraeum walls in the following room. In fact you do some sort of audiovisual tour, which is quite impressive. Light effects are combined with Latin voices and sound effects. You can walk around the temple structures and view it from different perspectives during your visit time. It feels to be a very modern way of presenting the exvacated grounds – not too surprisingly, the presentation lead to multiple awards.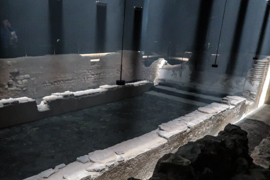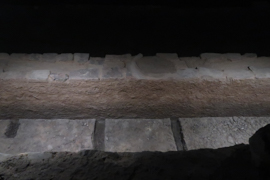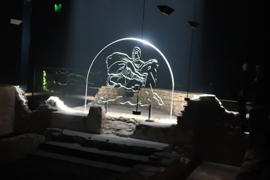 After your tour or while waiting, you can upstairs also look at some of the items which have been found during the excavation. tablets with augmented reality functionality give you information once you point their camera on the exhibit.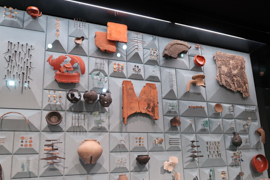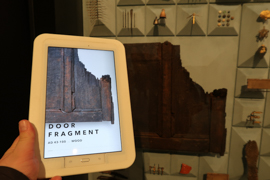 ,
London Mithraeum – My View
I love Roman and Greek Historic museums and strolling through old rotten temples. Historic cultures of all kinds fascinate me. I am sure: if you are really a deep history buff and archaeology lover, this will be one of the places to go – especially as it is quite unique in London and even features free entry. The London Mithraeum is not bad at all, I give in. But I have to admit that it did not touch me. The presentation has a lot of potential – but with some more effects, especially visual ones, it could illustrate the life in that temple that much better. Finally, the augmented reality part is well done as well – but overall, visiting the historic chamber under Bloomberg-Land is not too far away from average.
Postings about London
Here are all postings related to the UK Capital:
Historic Museums
Here are all other postings on Historic Museums: