After my second posting about Food I Had Onboard in mid March 2022, I had a couple of interesting flight experiences. This posting, however, concentrates on the culinary flight experience I had. Hope you enjoy me sharing a couple of mile-high bite experiences with you.
10th March 2022, Lufthansa LH 400, Frankfurt (FRA) – New York (JFK), Premium Economy
This leg from Frankfurt (FRA) to New York City (JFK) has in fact been the first flight of my Pittsburgh Penguins trip in March 2022. I really like Lufthansa and their service, but the lower classes catering is a thing I more and more struggle with. Nice to be welcomed with a pre-flight orange juice. Lunch was served some one hour after departure. The mixed salad with cherry tomato and Mozarella ball (singular, not more than one) was frozen. The chicken breast itself was good, the spinach rather in the average range, while the tomato rice was absolutely over-cooked. Alternative would have been a vegetarian lasagna. At least the chocolate and hazelnut brownie has been okay. Despite I had breakfast in the Lufthansa Senator Lounge, I felt hungry more or less right after the meal again.
Before landing, Lufthansa served a Pichelsteiner Style salad with beef pastrami and a fruit salad. That one was much better than the main meal – even though it sounds somehow strange: Pichelsteiner is a traditional German stew.
11th March 2022, American Airlines AA 4664 (op by Republic Airways), New York (LGA) – Pittsburgh (PIT), Domestic First
I really love the wide seats in the US Business Class / Domestic First services. It is a comfortable way of traveling. For most airlines, however, catering is definitely not a reason why you should opt for the front seats. That's all I got on a some one hour flight: one cup of Ginger Ale and and a cookie. The cookie was even "served" right before landing, not together with the drink. Fun fact: On my trip to Nashville thereafter, I just flew Main Cabin from Charlotte (CLT) to Nashville (BNA), which is a similar distance – and got a full can of a drink. Weird habits on this American Airlines-banded service.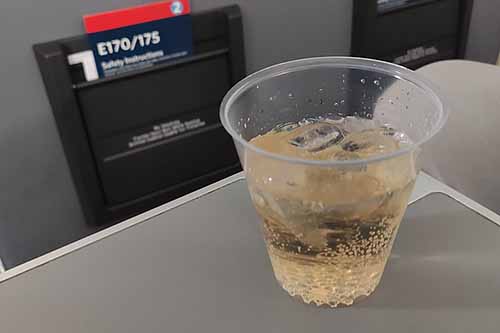 19th March 2022, Lufthansa LH 419, Washington-Dulles (IAD) – Frankfurt (FRA), Business Class
For the return from my Pittsburgh Penguins March 2022 trip, I opted for an upgrade voucher, which was absolutely nice, as it lead me to a the First Class cabin of a Lufthansa A340-600 (with Business Class service). I did struggle in the past not that rarely with North American catering – but this experience from Washington-Dulles (IAD) to Frankfurt (FRA) was great. You had a choice of three starters and mains each. I went for the pan-seared scallops and grilled shrimp on a papaya and cucumber salad, which was awesome. The grilled beef filet with Cabernet veal juice and vegetables was an absolute treat in comparison with some other Business Class food I had before. The Pot de Creme (I would rather call it chocolate mousse) with raspberry was lovely as well.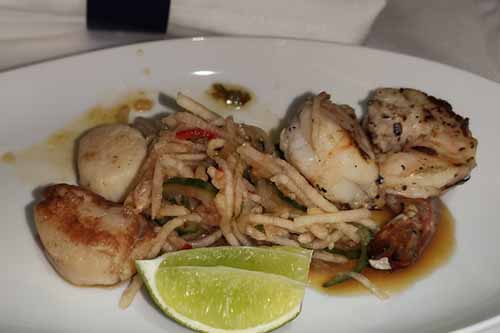 The breakfast service, coconut Chia pudding, did not really match what I would wish for breakfast – but again, the catering beat my expectations. Really nice service before landing, including some fresh fruit as well as a roll and a croissant.
9th April 2022, BA Cityflyer BA 3270 (op by German Airways), Dusseldorf (DUS) – London City (LCY), Business Class
BA Cityflyer outsourced some of their services to German Airways, so that I really was looking forward to the experience with them on my April trip to London City Airport (LCY). The flight has been a mixed experience: the Full English Breakfast (there is also a vegetarian option) was likely the best quality I ever had on a comparable flight. However, the service was terrible: I sat in row 1 and got my food while we were already descending towards London. The flight attendant almost felt untrained – likely, if there wasn't his colleague, who here and there helped out, I wouldn't have received food at all on this service.
11th April 2022, BA Cityflyer BA 3271 (op by German Airways), London City (LCY) – Dusseldorf (DUS), Business Class
I have originally been scheduled to fly back from London City on Sunday evening, but the flight was cancelled due to operational reasons. This lead to an additional night in London (on BA Cityflyer account, at the Courtyard by Marriott London City Airport) and an unexpected Monday morning service. This time, I opted for the vegetarian breakfast. I liked the Saturday morning breakfast slightly more – but again, BA Cityflyer (who is responsible for the catering) provided a really good meal. The German Airways crew was much better this time as well, so that they overall beat their Saturday morning colleagues.
14th April 2022, Lufthansa LH 2005 (op by Lufthansa Cityline), Dusseldorf (DUS) – Munich (LCY), Business Class
Tasting Heimat at this short, just about one hour flight (with a quite large number of Business Class passengers) again. This time, Lufthansa offered Berlin-branded food. I neither can say in how far the cold cuts had a special Berlin touch. Also, overnight oats with butter crumbles and pear don't feel too typical for the German capital to me – but I really liked it. They even did the the "apple service" after this breakfast – nice!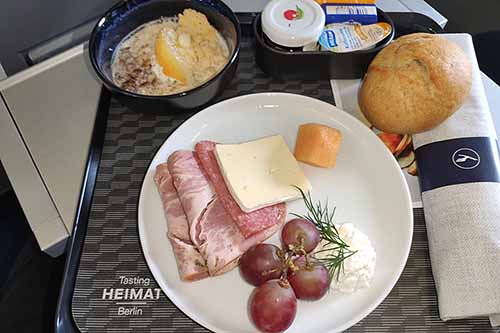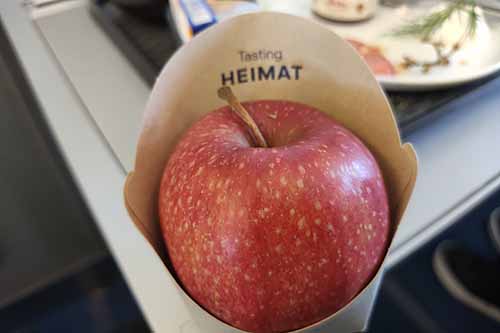 14th April 2022, Air Malta KM 307 (op by Smartlynx Estonia), Munich (MUC) – Malta (MLA), Business Class
What a shocker: just when we arrived at the gate in Munich, ready for boarding, the (Lufthansa) ground staff announced that this flight was not operated by Air Malta, but by Smartlynx Estonia. The crew was really weird (they did not even know that the second language of the plane's signs is Estonian), but friendly. My wife and I were so happy that we had a first row seat – the seat pitch from the second row onward is super-small at Smartlynx Estonia. Especially for the other passengers, who paid Business Class in this Airbus A320 service, this was an absolute imposition.
The food on the two hour service to the European island was fantastic, though. Even though it was "just" a cold lunch, I loved all the stuff they offered. The main dish was a smoked salmon quinoa salad with feta, roasted vegetables, almonds, tomatoes and spring onions. It was absolutely tasty, I loved it. I also fell in love with the three different kinds of small bread rolls. Fresh fruit and a tiramisu was a nice finish of the feast. Really good!
18th April 2022, Air Malta KM 490, Malta (MLA) – Zurich (ZRH), Business Class
Even though I definitely preferred the quinoa salad on the outbound, the chicken salad "Cesar Style" on our trip back home via Zurich (ZRH) has been another treat. I really fell in love with the bread rolls. The chocolate mousse also could not keep up with the quality of the tiramisu in on the first flight wit Air Malta in the Business product – but overall, Air Malta again did a really nice  job and had nice staff on their service.
18th April 2022, Swiss LX 1026, Zurich (ZRH) – Dusseldorf (DUS), Business Class
Swiss gave us a nice finish of our Malta trip on the one hour A220 Business Class service to Dusseldorf. Actually, this has been my very first Swiss A220 service – nice plane, good cabin and a nice catering. The bread and cheese had really good quality. I liked the salad as well as the dessert. Last, but not least: the good old Swiss chocolate.
21st April 2022, LOT LO 380, Frankfurt (FRA) – Warsaw (WAW), Economy Class
LOT surprised me on their service from Frankfurt (FRA) to Warsaw (WAW) with a selection of pastries. I typically only knew the Prince Polo chocolate bars, which they gave away in the rear of the cabin. This time, they had the choice of two pastries, sweet or savory. I went for the sweet option, which turned out to be a really nice apple pie. You could chose between tea, coffee or water (still/sparkling) as a drink. Later, there were also meals and more drinks for sale as well as a free bag of roasted peanuts.
23rd April 2022, LOT LO 381, Warsaw (WAW) – Frankfurt (FRA), Economy Class
On the return back to Frankfurt, I went for the savory option. A (cold) pie with spinach. Again, a nice economy class snack served with a basic drink. That's absolutely nice – if you want better, you need to pay. This time, there was roasted corn instead of peanuts. I unfortunately did not get that early enough so that I don't have a picture of that dish.
25th April 2022, British Airways BA 943, Dusseldorf (DUS) – London-Heathrow (LHR), Economy Class
On the very first leg of my 2022 Weird Al Yankovic Tour Kick-Off trip, British Airways surprised me with some water and crisps. I did not even recognize that they had gone back to at lease some limited catering in the Economy Class. You could additionally order more food and drinks at the flight attendants or using the onboard WiFi. Nice.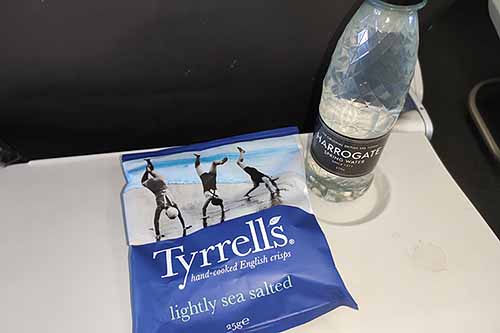 I got the same combination on the inbound flight on 1st May 2022, BA 938, London-Heathrow (LHR) – Dusseldorf (DUS), so that I don't explicitly mention this one in here.
25th April 2022, American Airlines AA 141, London (LHR) – New York (JFK), Premium Economy
No menus in the American Airlines A777-200 Premium Economy, but the flight attendant gave a good explanation of what is available on that flight. Interestingly, they rather quickly ran out of the vegetarian option I took as well. The vegetarian curry with some rice and spinach was actually quite nice. The salad was nothing special, but absolutely fine. The sealed, not warmed bread roll was at most average. I did like the chocolate brownie, but I was absolutely unable to eat it with cutlery. It was far too hard for it, so that I had to hold it and directly bite it.
Missing a picture? Me too! The flight did have some amazing tailwind – and as I wrote in my daily trip report entry, it just took some 6:30 hrs of flight time. Nonetheless, there should be a pre-landing snack and drink service. I have been waiting for that and thus also did not go for another drink from the galley, when the crew announced via the PA, some 50 minutes before landing, that they could not serve food another time. Far too late and a ridiculous argument. By the way, the same even applied for the Business Class passengers, who just received one meal. Good customer relationship management at least requires to be honest to your clients.
30th April 2022, American Airlines AA 106, New York (JFK) – London (LHR), Premium Economy
The "Premium" in Premium Economy did not relate to food at all in this overnight service. It starts – again – before you in fact got your munch served: there are no menus in American Airlines Premium Economy. This would not be bad at all and even somehow environmental friendly, if the flight crew at least knew what they are serving. The only information I got was "chicken or pasta" (what a classic…) with the remark that pasta is vegetarian – it was hard to guess that chicken is non-veggie.
The menu was a disaster. The worst thing was the sealed, cold-served bread roll, which was terribly dry and non-tasty. The salad was fine, nothing special. The chicken turned out to be a Chicken Teriyaki, at which the sauce dominated the whole dish. If you would serve the tiramisu cake in Italy, better run away before they shoot you. Even the cheese to the crackers felt cheap. The service also took very long. Getting rid of your plate some two hours after departure is just not acceptable in an overnight flight.
The breakfast service (oh, they can serve two meals on a 6:30 hours flight??? I would rather not have a bit here to have more sleep…) was such a difference. You may or may not like the cinnamon croissant, which felt like it should have been warm – but even though sitting in the first row of the premium cabin, it did not come with too much heat anymore. The fruits were really nice and there was even a small portion of granola to the yogurt, which overall lead to a really nice snack before landing in Heathrow.
Flyctory.com about the Pittsburgh Penguins
Here are all postings related to the Pittsburgh Penguins:
Lufthansa Group
Here are all my postings related to the Lufthansa Group: