Ever dreamed of becoming a fire fighter or a policeman? Maybe the National Emergency Services Museum in Sheffield is the inspiring place to be then. The museum hosts old fire brigade vehicles, police motorcycles, ambulance horse carriages and even a Search and Rescue ship. Here is my review.
There is a major size picture gallery for this article.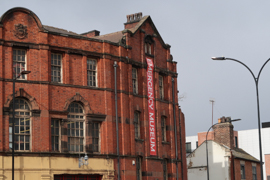 Emergency Services Museum – Location & Admission
The museum is located on the Northern edge of Sheffield City center, from which you have to take a some minutes downhill walk. The National Videogame Museum, for example, is a some seven minutes walk away. From Novotel Sheffield Centre, it took me roughly 15 minutes, walking not too quickly. The museum is located in a building which used to be a former police station and fire department.
You may visit the museum Wednesday to Sunday, 10:00 to 16:00hrs. The adult admission is 8 GBP. On the weekend, you may also take a ride around the museum in a historic fire engine, which is an additional one pound.
Emergency Services Museum – Old Police Station
The museum is divided in three major parts. When you leave the entrance area to the right, you enter the former Fire Department, which has three levels of exhibition. From there, you also reach the open-air exhibition, which is featuring quite some historic cars (see below). However, I first took a left turn from the entrance and thus first visited the former police station. After a general showcase, you enter the historic prison. Of course, you may also have a look inside the cells, but there are also historic work desks and other exhibition. One exhibition, for example, was about women working for the police over time.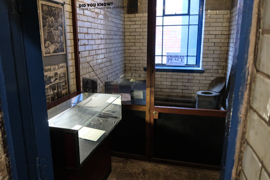 After you explored and passed this area, you enter a garage, which covers some more smaller exhibits. You may however rather focus on the historic police cars in display here. You may even enter a former prisoner transport car.
Emergency Services Museum – Fire Brigade Station
The first exhibits you visit in the Fire Brigade Station are about former ambulances. There are several cards where you can either have a look inside or even climb on the back of the carriage. The closeby gate is used as a starting point for the Fire Engine roundtrips (see above). There are also some interactive screens with interesting additional information. Before you leave this area and head on to Fire Brigade exhibits, you likely enter a narrow aisle outside for the outdoor exhibits (see above).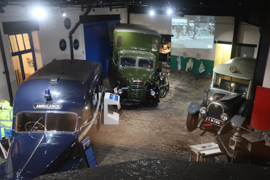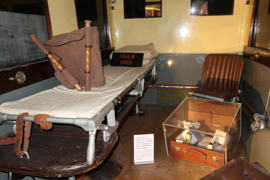 The shortest part of the exhibition here is about Sheffield under the German attacks in World War 2. There are some nice exhibits around here.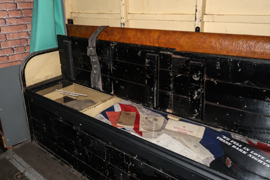 The most fascinating part of the historic Fire Brigade collection is the collection of historic Fire Engines. You are even able to sit in some of them. Most of the items are well-preserved. There are even rather old engines, one is even constructed in wood. Lovely to see these vehicles!
Emergency Services Museum – Outdoor Exhibits
The outdoor exhibits are easy to miss, as the route is not too well described. However, it would be a shame if you would not see the items in display here. The majority of vehicles are cars of all kind. From a German perspective, the former GDR product Trabant used for a Fire Brigade is the most interesting exhibit. You might rather like to climb on the SAR boat (unfortunately, you can just visit a small part of the deck). Alternatively, there are some ambulance cars which allow you to take a look inside.
Emergency Services Museum – Upper Floor Exhibitions
In the upstairs levels of the Fire Brigade Station area, there is a selection of individual items about the topic. On first floor, there are a lot of firemen helmets and uniforms as well as some equipment. The museum tries to be interactive here as well by providing items which kids may wear and play with.
On the top level, there are separate rooms with different topics. One is dealing with car accidents, other with the NHS (National Health Service) or special kinds of rescue works. This part of the museum also hosts a quite nice model train. Sometimes, the staff is also demonstrating a ride with the fireman's pole (which is not possible for visitors).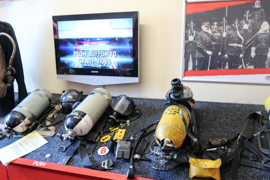 Emergency Services Museum – Services
The police station area covers a small cafe, where you can drink some tea or grab a sandwich. Apart from that, there are no special services to be mentioned. The souvenir store sells what you would expect him to do. The (men) toilets feel to be a bit too much on the historic side.
Emergency Services Museum – My View
This place is definitely magical. It does not look that huge from outside (and somehow, it is not amazing in size), but the collection is just awesome. Especially if you are in fire and rescue, you have to visit the Emergency Services Museum in Sheffield when you are around. Definitely a Top Pick, which also makes a great visit with children.
Emergency Services Museum
As I liked the place so much, I decided to add a full set of major size pictures to a designated gallery:
Technical Museums – Other Postings
Here are all other Flyctory.com postings dealing with technical museums and exhibitions:
Postings about the United Kingdom
These are all postings dealing with United Kingdom topics: