A Hilton Group Hotel located right inside a soccer stadium? When I watched my favorite musical Rock of Ages in September 2021 in Milton Keynes, I just had to opt for this very special stay in the English city Northwest of London.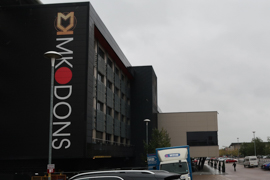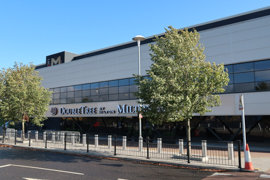 DoubleTree by Hilton Milton Keynes – Location
The hotel is located right inside Stadium MK, which is majorly used by the soccer club MC Dons. The stadium is located in the rather Southern part of Milton Keynes, not too far away from the A5 road. There is a bus connection to the area, but finally, you will rather arrive by car if you sleep at the DoubleTree.
Milton Keynes as a city is not what you call a key touristic destination, so that actually despite being quite outside city center, the location of DoubleTree by Hilton Milton Keynes is actually really nice. The reason is that you are located right inside a retail and entertainment park, which give you some good opportunities to go shopping (of all kind, from clothing to food) or grab a bite at one of the numerous restaurant. A quite short distance supermarket, Asda, also provides a fuel station. Some events take place in the neighboring Marshall Arena. On normal days, parking is very relaxed. I have been told that the have hotel guest lists on match days. Parking right in front of the hotel almost felt impossible, though – the parking lots were typically taken.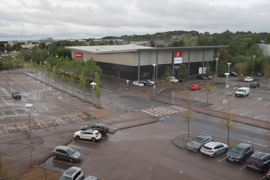 DoubleTree by Hilton Milton Keynes – Atmosphere
You could almost say that the DoubleTree is the stadium – and, vice versa, Stadium MK is the hotel. The hotel rooms are located around the whole stadium on four levels. Rooms, which face to the interior of the stadium, are used as business loges for soccer matches. On the fourth floor, where my room was located, I could have a full (of course: covered) walk once around the stadium, which was indeed very special. Many facilities are shared. For example, the restaurant is also part of the MK Dons hospitality on match days.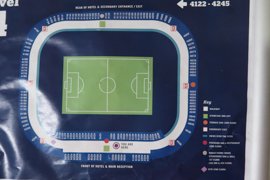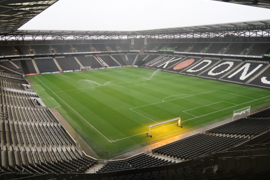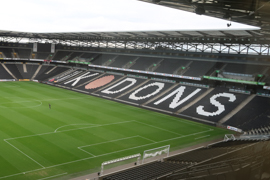 There is another (non-serviced) entry and exit to the hotel opposite the reception, but overall, this design also means that you typically have rather long walking routes from your car to your room or from your room to the restaurant. Especially on the evenings, you had quite long waiting times at the elevators to get to your room level. Finally, the hotel is some sort of compromise between hospitality, practical design and just being part of a soccer stadium.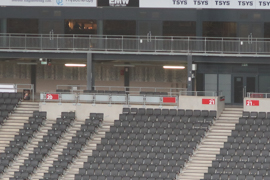 DoubleTree by Hilton Milton Keynes – The Room
I booked three nights end of September 2021 in a Twin Deluxe Room with pitch view. Of course, I was just too curious how that's gonna be. The price for the semi-flex rate was 185.54 GBP for three nights. Breakfast was not included in the rate, but has been granted to me due to my Hilton Honors Diamond status. The hotel called me a few days before my stay and asked me whether I would be fine to move into a corner room. They had a match day that weekend and needed the room for business loge use. Even though I said that I had looked forward to have a pitch view room, they insisted on that. The more, I have to say, I have been angry that there was no event in the stadium at all. Until now, I am not sure why they did not want me in these inside rooms. They did sell them to other guests, though.
The room was actually nice and spacious. The view was right to a supermarket (there is no really preferable outside view in this place anyway). I liked to have a rather large work desk and a nice freezer, so that I could stock up my food reservoir and have a bite after the musical shows.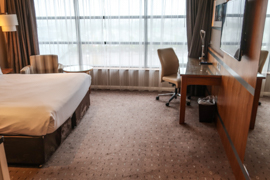 The bathroom with bathtub was actually very nice as well. It came with some nice amenities. I have been granted one free drink voucher per day of my stay due to the status.
DoubleTree by Hilton Milton Keynes – Breakfast
Breakfast was served in the Pitchside restaurant right on 1st floor level. The view of the stadium was great – and the breakfast performance by the DoubleTree by Hilton Milton Keynes was so as well. The range of hot breakfast items was really nice – but the hotel did even better in fruit and other healthy food options. I also liked the way the presented the food. However, I was missing cold cuts like ham or cheese. Even though there was no mask mandate during that time, I was surprised that the staff majorly did not wear masks – I did not explore that in other places like the theater. There was also a breakfast to go option.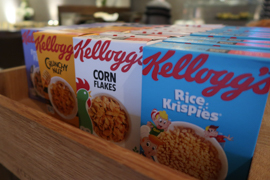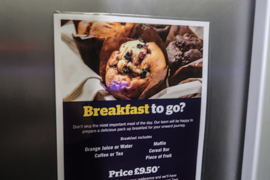 DoubleTree by Hilton Milton Keynes – Services
Check-in was effective. I also tried to ask at check-in why they moved me away from a pitch side room, but the staff just did not want me to give an honest answer. Also in later requests, I felt that the reception staff was rather limited in willing to assist. Check-out and WiFi was good, thought. Not too surprisingly for a place like that, the gym of the hotel was really good and large. The hotel does not feature any other sports facilities like a swimming pool.
DoubleTree by Hilton Milton Keynes – My View
The DoubleTree is such a cool place and the price was really good – nonetheless, there is this bad feeling when people just don't want to tell you what is going on. This finally significantly reduces my rating of the hotel, which has a quite nice location at the stadium, the Marshall Arena venue and all the shopping facilities. If you want to have a look at Milton Keynes city center, you either need a car and commute – or opt for another place. The long distances to and from the room are a bit of annoying, but of course they are expected in that kind of architecture.
Uncommon Stays
Castles, planes, great locations – I just call these very special Hotel & Accommodation postings as Uncommon Stays:
Soccer-related articles
Here are all soccer-related postings on flyctory.com: