I chose the ibis Canning Town just North of the River Thames as my stay for the Country 2 Country 2019 in the London O2 Arena. Due to the high attendance of the event, there were just few reasonably priced options in the area. Here is my review.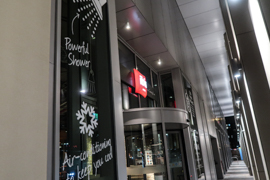 Ibis Canning Town – Location
ibis Canning Town is located right across the street from the Jubilee and DLR station Canning Town. You just need to cross the traffic lights and arrive at the entrance door. The connection to the O2 Arena is just one station by Jubilee Line. Westfield Stratford, UK's most visited shopping center, is two stops Northbound. I also marked the hotel as airport hotel. It is not advertised as such, but just three DLR stops from London City Airport.
There are some other hotels in the area. However, there are no 24 hours stores like Tesco metro around. I thus bought some food and drinks for the room at Stratford Center.
Ibis Canning Town – Rooms
My three night stay including breakfast was 302 GBP, using the ibis Business Card. I got a corner room, which is likely a bit larger than the standard rooms. For me it was quite ideal, travelling with two suitcases. The room was clean and featured all standard ibis amenities. I liked the large workdesk. The bathroom was ibis standard as well, clean and functional.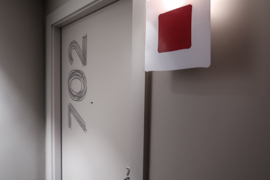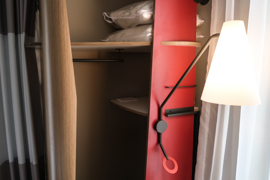 Ibis Canning Town – Breakfast / Food
The lobby of ibis Canning Town is maybe the most beautiful I have seen at an ibis hotel. It is just beautiful with several ways to sit down and a nice bar. In peak hours it may be quite small for an eight-level hotel, though. The area is also popular among the locals during daytime.
The breakfast buffet is located in an aisle behind the bar. The quality of the items presented is good. However, the selection is very limited. On one day, there wasn't even bacon for the Full English breakfast. Bread items are baguette, toast, croissant, pain au chocolat and pastry only. Fruit salad and yogurt are served in small glass bowls. If your room rate does not include the breakfast anyway, you are charged 10.95 GBP per person.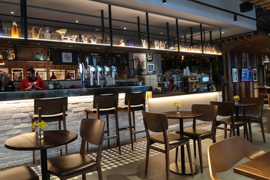 Ibis Canning Town – Services
The staff at ibis Canning Town was really friendly. The WiFi connection was overall good. The hotel does not feature any special amenities like a gym.
Ibis Canning Town – My View
ibis Canning Town has a lot of potential for a great stay. The location is awesome, especially of you fly City Airport or even Stansted (due to its Stratford connection). The lobby is lovely. However, the opportunities around the hotel itself are limited, the breakfast looks nice, but is overpriced. To me, it was a great stay as I was aiming for good O2 Arena connections. You may have a really good time there, especially if you are fine to either spending your evenings at the bar or not around the hotel at all.
Accor Hotels Reviews
Here are all postings related to Accor Hotels:
Postings about London
Here are all postings related to the UK Capital: