The grand final of the Rock of Ages 2018/19 tour through Great Britain, Ireland and Berlin was a bit of strange. Sunderland was named to be the final stage of the tour originally, but in early 2019, Leeds was added to the end of the tour plan. Thus, staying in Premier Inn Sunderland City Center turned not to be my very last nights with that musical. After my recent review of the Premier Inn outlet at London-Stratford, I was curious, how another booking at the UK budget hotel brand will be like.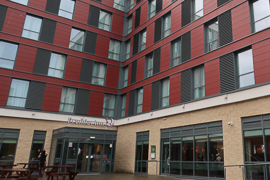 Premier Inn Sunderland – Location
The hotel is located close to city center, just a walk across a major traffic road. The Sunderland Empire, where the musical was played, is less than five minutes walk away. In five to ten minutes, you reach the Metro station University, which gives a direct link to Newcastle Airport.
Apart from the facilities offered by the hotel itself, there are a couple of pubs and restaurants around. Close to the hotel, there is also the Bridges shopping center, which offers a decent selection of shops. However, you should be aware that on all days apart from Thursdays, the shopping centre already closes at 17:30.
Premier Inn Sunderland – Rooms
The room price was really cheap, I paid 62.50 GBP for two nights. I like the size of the Premier Inn rooms – they are more than sufficient, even if you travel with one or two major pieces of luggage. The room was overall clean and very practical. I think that the Premier Inn design concept is also quite nice. The workdesk was very good.
The bathroom was also better than the one in London. Especially the drainage of water worked out well. There was also sufficent space to leave your toiletteries.
Premier Inn Sunderland – Breakfast
I pre-booked breakfast, which was 9.50 GBP per day and person. Premier Inn breakfast is quite standardized, so that Sunderland served exactly the items I expected. The breakfast area and buffet is comparably small, though – I wondered if they are able to manage to serve all people in peak times. On both days, I was rather early and had an enjoyable time.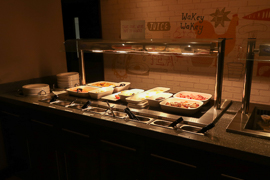 While I liked my Saturday morning experience, Sunday was just bad. In order to catch my metro train to Newcastle, I reached the restaurant at opening, 7:00hrs. There were no warm items in the buffet, you could order your breakfast instead. I went for an omelette. At 7:20, I had to leave, no warm dish served so far and no information by the waiter, how long it takes. I generally feel that the hotel behavior is good and prevents spoiling food unnecessarily. However, if you do go for made-to-order breakfast, you do have to meet a certain speed in serving people. Somebody arriving at the breakfast on a Sunday at 7:00 either had a terrible night or is in a hurry. Thus, I finally just had a continental selection.
Premier Inn Sunderland – Services
After my negative experience with the WiFi, I was curious how the internet speed will be in this stay. Again, there is a free internet and a premium one, charging 5 GBP for 24 hours (packages available). The free internet was not really fast, but reasonable for basic internet operations. I invested 5 GBP for a 24 hour block of premium time. The internet speed was not really fast, but very convenient to work with. Thus, I feel that the policy here is reasonable. If you need to order something, the lobby features an Amazon Locker.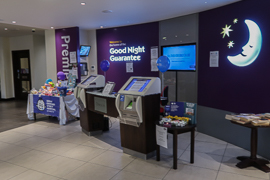 Overall, the staff was really nice. In contrast to the London stay, there was very often nobody at the reception desk, though. However, when I arrived from Newcastle Airport by taxi, we stopped at the car park. The hotel has an upper entrance with a door bell. Ringing it in the pouring rain did not lead to any reaction. A guest after me made the same experience.
Premier Inn Sunderland – My View
This is one of these reviews I hate. In general, I feel, Premier Inn Sunderland did a good job, a really great value for money. If you keep that in mind, the Premier Inn is likely a Top Pick! location. But keeping guests outside a door in the rain and the breakfast processes are just too strong on the negative side. The two recent Premier Inn stays I had both felt like better processes and good management would turn the hotels into great budget stays. I do love good processes and respectful behavior towards the guest, so that I have to go for a lower rating than I would like to assign to this place.
All Hotel Reviews
Here are all postings about hotels and other accomondation:
Postings about the United Kingdom
These are all postings dealing with United Kingdom topics: