I personally love mini golf. For me, it is a great way to relax while trying to identify the right route for the small ball to reach the target in as few as possible shots. Nonetheless, I was very surprised when my wife and I prepared for a London trip in late November 2022 and we saw that the sports is trending in the British capital in a very new way: multiple locations (of different brands) combine a few lanes of mini golf or adventure golf with eating, drinking, socializing and even partying. We just had to give it a try – and visited Swingers Crazy Golf Bar West End, right in the very heart of the city. Here is our review.
Swingers West End – Location & Admission
Swingers West End is just a block away from Oxford Circus, so that it is really an a few minutes detour from your Oxford Street or Regent Street shopping trip. Accordingly, you can easily reach it by the London Underground or – if you really want to do so on Oxford Stree – by multiple bus lines. Needless to say, likely, that the place is located in the London Congestion Charge Zone in case you do travel by car there.
From Monday to Thursday, Swingers West End opens from noon to midnight. Friday and Saturday, there is a prolonged opening until 1:00 hrs, with a Saturday opening time at 10:30 hrs. Sunday opening is noon to 23:00 hrs. One round of mini golf is 11 GBP to 13.50 GBP, depending on the time of day. During the Christmas period in 2022, they generally charged 14 GBP. There are also several packages. If you for example have a round of crazy golf, as they call it, two house drinks, 12 GBP of street food and a dessert, you pay 43.50 GBP on a Saturday in January 2023.
Swingers West End – Atmosphere
Swingers West End is an impressing place, if you visit it the first time. You walk up one level to the bar and playing area. The two mini golf courses, Big Wheel and Helter Skelter, are integrated into the relaxed seating concept. There is also a large bar right at the entrance. Food is provided by several booths with different kinds of cuisines, which is brought to your table. It is a place to socialize – so there is music running in the background at all times. In order to clearly state that, the Swingers is not too much of a kids/family place, at least not on weekends or evenings when it is getting crowded.
Swingers West End – The Course – Big Wheel
My wife and I have been assigned to the Big Wheel course. You clearly have to say that both courses at the Swingers West End (as well as in their other place) are nine hole only. The courses are played on artificial turf. They typically do not come with the complexity of adventure golf lanes, so that I would rather translate their "crazy golf" to long mini golf lanes.
Each player has an own putter, but one party just receives one ball. On the ninth hole, there is a member of staff which is collecting the items. Scoring is by pen and paper, which I highly prefer over apps. In general, the lanes feel a bit narrow – this is likely because of the location of the place. The first course is a quite nice one, already. There are three funnel-alike holes on a hill – the higher the ball is getting, the better is your position for an easy second putt.
The following courses were not too special to me – the fourth one with the ramp was even rather confusing. The last lanes of Big Wheel, however, were cool. Lane 5 makes you play the play through a carousel-alike construction. Thereafter, you have to tee off into a large looping. The eighth lane comes with a nice complex landscape structure, which is quite a challenge. The king of the courses is the final whole, where you need to make the ball pass in between the cabins of a Ferris wheel. Nice fun fair-themed courses. Overall, the game was rather short, of course. There are some rather difficult lanes, but finally, you don't go to the Swingers for a serious game of mini golf, but to hang out with (adult) friends and have fun.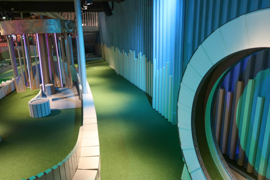 Swingers West End – Food and Drink
Finally, it is part of the concept that eating and drinking is an integral part of the concept of Swingers. Already when we have been at the second course of the Big Wheel, we have been asked by a waitress whether we want to have a drink during our play. Honestly, this also slows down the mini golf play and sometimes makes it hard to stay in the right order of parties.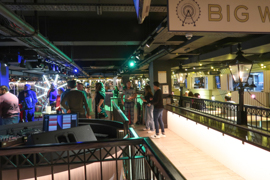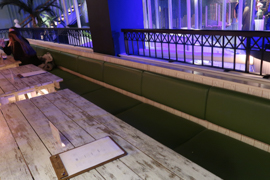 Once you settled down for a seat, the food is street food style – burgers, pizza slices, tacos and similar. You order them by an app, which unfortunately an absolute pain in the ass. The WiFi provided is hardly working at all (and the staff confirmed it) – and roaming with an abroad cell phone in a building some five weeks before Christmas in the heart of London is no fun at all when the corresponding website is also not really working well. Finally, we could not order a desert online. There are waiters who take your orders as well – but they just do it if you really ask them to do. Bad luck, the food we had, see pictures below, was really lovely and also a nice value for money.
Swingers West End – Services
As said, regarding that the Swingers has a concept which is so closely bound to connectivity, the WiFi and the whole ordering system inside the building is way below expectation. Apart from that, the staff was very friendly, though. I was a bit of confused hat when we booked our round of mini golf, we haven't even been asked which course we want to play. A nice feature is the cloak room on ground level, so that you don't have to care about your jackets and bags before you swing the putter. Overall, the staff was very friendly.
Swingers – My View
Even though the Big Wheel course as such might be a reason to come back to Swingers West End, I really love the place and its concept. Unfortunately, they just did not do all of their work to turn it into a great experience. They need to invest into the WiFi and the connectivity, maybe change the food ordering platform to an internal solution rather than an internet based one. And the lanes are a bit too narrow in my point of view. I will definitely have a look into their other location in London and their peers when I am back in the city.
Postings about London
Here are all postings related to the UK Capital:
Aviation in the United Kingdom
Here are all my Airports & Airlines postings related to the United Kingdom: