For just one month, Nintendo installed a Pokemon Center pop-up store in London, the so-called Pokemon Center London. I have been able to visit it on the very last day of opening – so the bad news is that this is the first review on Flyctory.com about something which is closed at the time of publishing already. I thought it might be interesting content nevertheless and thus share it with you.
Pokemon Center London – Location
Pokemon Center London was located in Westfield London at Shepherd's Bush, one of London's key shopping destinations. You most easily access the mall by Underground, Central Line.
The pop up store was only opened on 18th October and closed down on 15th November 2019. There were huge queues at the stores, which closed – in contrast to the normal mall hours at 18:00 hrs already. One factor for this was also that – despite of daily re-delivery – the store sold out before the end of the day in the first days of opening. We were very lucky to "just" wait some 45 minutes to get in on final closing day – the lines which were in place easily had the capacity for a three to four hour waiting time. There were limitations on the number of items you could buy during the most days of opening, but not on final days.
Pokemon Center London – Atmosphere & Shopping
The shop did not have too much of a pop up store feeling, maybe apart from that some of the store equipment was rather basic. There were a lot of Pokemon illustrations on the walls – of course, mainly with the most prominent one, Pikachu.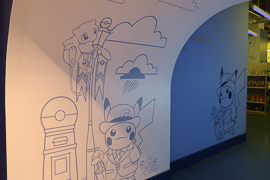 Of course, the key shopping items available were plush pokemons. The giant Detective Pikachu was 40 GBP, his smaller plushy size brothers between 14 and 20 GBP.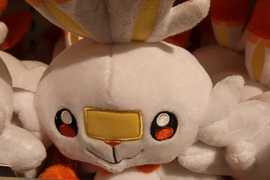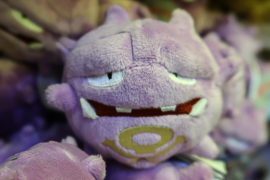 There were also posters, mugs, bags, backpacks and other apparel items. The selection of items was rather limited and concentrated, though. You could also buy Nintendo Switch consoles and video games. However, the pricing at the HMV on the opposite side was more competitive for these items. You could also upgrade your collection of trading cards. Last, but not least, there were a couple of shirts and a lovely Pikachu christmas sweater.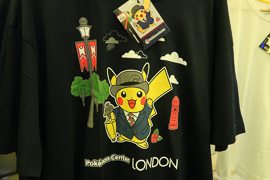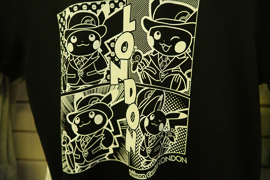 Pokemon Center London – Gaming
The upper floor of the pop up store was just used to play a demo of the two new Pokemon editions, Sword and Shield. You could either use the Switch as a handheld console or at a TV screen.
Pokemon Center London – My View
Nintendo created a magical place in London – just for four weeks. It was amazing to see that people queue there for hours (the center even had to official forbid that you sleep in the mall) just to spent hundreds of pounds for Pokemon items. Even though they needed a major number of security people to drive this store, it was fascinating to have visited it. And yes, my wife and I could not stand to increase Nintendo's earning by a triple-digit amount of pounds.
Gaming & Arcades on Flyctory.com
Video Games and Arcades used to be my passion – and I still like them. Here are all related postings:
Postings about London
Here are all postings related to the UK Capital: