Terminal 3 of Heathrow Airport (LHR) is something like the safe haven for British Airways Executive Club (BAEC) status customers. There is likely no place where you have so many different – and good – lounge options as a BAEC Gold (or: oneworld Emerald) member like this place. Arriving in early November with American Airlines from New York (JFK) and heading on to Budapest gave a Terminal 3 transfer and thus the perfect opportunity to visit the London place, which is regarded to be one of the nicest options world wide. In this posting, I take you to the Cathay Pacific First Class Lounge at London Heathrow Airport (LHR), Terminal 3.
Cathay Pacific First Class Lounge LHR – Location & Access
Both Cathay Pacific lounges are at the Lounge C area of London Heathrow (LHR) Terminal 3. The lounges are all given letters, which might make it a bit of unhandy to find them if you are not familiar with the terminal. The elevator up to the lounges is close to Gate 11.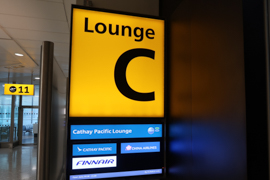 Primarily, of course, the Lounge envisages serving Cathay Pacific First Class guests. These are also entitled being joined by a companion. Similarly, you may use the lounge for any oneworld First Class ticket operating from Terminal 3, which is mainly American Airlines and British Airways. Cathay Pacific Diamond members are also allowed to use the lounge, including two guests, if they are on a oneworld flight. Any other oneworld Emerald status flyers flying on a oneworld flight may also use the Cathay Pacific First Class Lounge, including one guest. There is no access by lounge passes.
Cathay Pacific First Class Lounge LHR – Atmosphere
You take the elevator up to the Cathay Pacific Lounges. The reception desk is shared for both, the Vusiness Class and the First Class Lounge. The first class lounge is smaller and closer to the reception. Due to a rather narrow aisle leading into the lounge, it has a lot of privacy. There are lovely seating options, many of them very relaxing and cozy. At the rear of the lounge, there is the made to order dining area (see below). The lounge is definitely more crowded before the airline's flights to Hong Kong, but it is a very popular option for other travelers nowadays as well. A very nice feature is that power outlets feel to be everywhere you need them, as they are "hidden" like drawers in the table and cupboards. A very fancy option.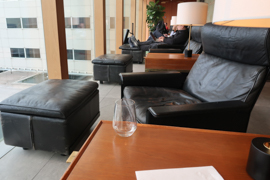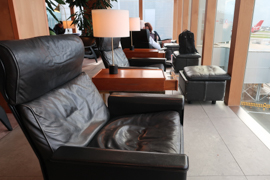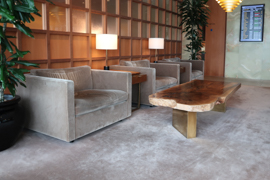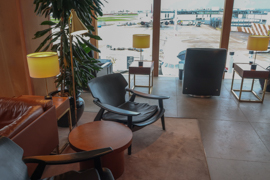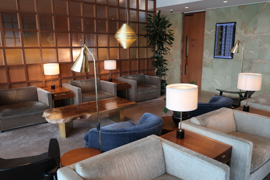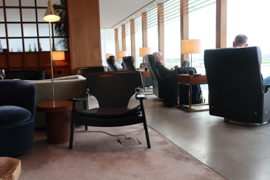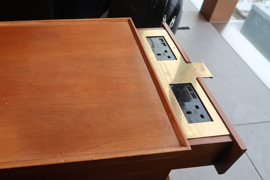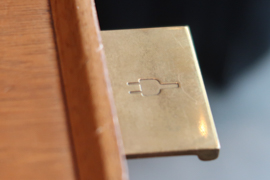 Cathay Pacific First Class Lounge LHR – Food & Drink
I left the lounge not too long after noon – thus, I enjoyed the Cathay Pacific breakfast service during my visit. There are three key areas for food and drinks. The first one (called Pantry or something) is a buffet style arrangement with coffee and basic snacks. The fridge also holds juices, milk and similar items. "Basic" thereby does not reflect the quality there at all – I absolutely loved the items I tried there. Rather in the rear of the lounge is the bar. The Hong Kong airline offers a nice selection of drinks, international, local and Asian favorites. For example, there is a Brewdog beer as well as Asian options. The range of spirits is very nice.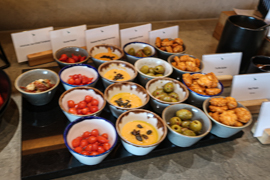 The "prayer room" of the Cathay Pacific First Class Lounge, however, is the dining room. It is not overwhelmingly large, but gets its job well done. As said, I still could order from the breakfast menu and finally went for a noodle soup and some dim sum. Both dishes were very lovely – and the rose champagne I had to it felt to be the perfect companion for these finest calories. The service in the dining room was very attentive, so that you really like being in a posh restaurant.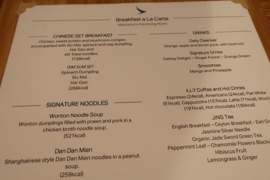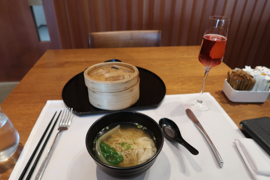 Cathay Pacific First Class Lounge LHR – Services
The staff was very friendly. The lounge used to be much smaller, but somehow Cathay Pacific understood to make some additional money, especially from British Airways and American Airlines status clients, who are not too fond of "their" lounges (which is especially understandable for the American Airline option there). WiFi was working very well. I did, however, have issues uploading a major block of pictures to a Google drive, which felt strange.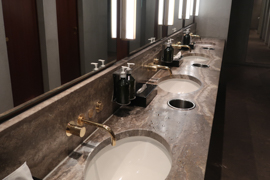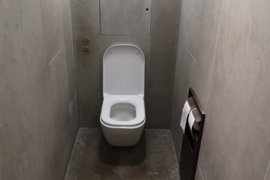 The lounge does have showers. Toilets are shared with the Business Class Lounge and offer some nice amenities, including hand lotion. The lounge and the bathrooms are very well maintained and thus feel very welcoming.
Cathay Pacific First Class Lounge LHR – My View
The Cathay Pacific First Class Lounge at London Heathrow has a great reputation. And, during my visit, I just have to say that it absolutely deserves it. I loved the relaxed and cozy, not at all stiff atmosphere in the lounge. People who are in this place enjoy it – and that's what you feel. The views of the runway are really nice. The food options might not feel like a paradise of selection, but they are on point and great in quality. I really enjoyed this visit.
Lounge Reviews on Flyctory.com
Here are all Lounge Reviews on Flyctory.com:
2023 Travel Top Pick!s
Here are my Travel reviews published in 2023 leading to a Top Pick! rating.