Time for Rock of Ages again. The 2023 season of my favorite musical was about to start in early February 2023 – and it took me to a city I likely wouldn't have visited without it. Peterborough in Cambridgeshire is about a one hour train ride away from London Kings Cross Station. The Peterborough Cathedral is amazing, the rest of the city feels to be under development and currently does a lot of improvement. Thus, the Premier Inn brand hotel I stayed in was a rather new one as well. Here is my review of the Premier Inn Peterborough City Centre.
Premier Inn Peterborough City Centre – Location
I zoomed in the map below quite much as the location of the hotel is quite unique: it is located in the middle of a major roundabout. Unfortunately, that causes some issues. The (too small) car park is not too easy to reach and from there, crossing the road is dangerous (you may more or less just cross though the hotel or walk over the lawn). Some doors also just open by key card, which makes it a bit of weird. Parking is 12 GBP per day. Your plate is registered, you pay every time you leave at a machine – this also means that there are no in/out privileges or similar. Another parking lot is on the other side of the roundabout – but getting from there to the hotel with luggage is at least challenging.
On the other hand, the hotel is located very centrally, which is very nice. On the main entrance facing the city, there is an ASDA supermarket, but many other shops and restaurants are in short distance. The Domino's Pizza, which is open until midnight, across the road is a lifesaver, as many stores and restaurants close surprisingly early in Peterborough. The touristic sites, including the cathedral already mentioned or the Nene Valley Historic Railway, are in walking distance.
Premier Inn Peterborough City Centre – Room
A had a three night stay in February 2023. The non-refundable rate for the room was 117.50 GBP. On top of that, three times breakfast at 9.50 GBP each summed up the total stay to 146 GBP. The room was in fact really large, there would have been even a lot of space if you traveled with more luggage. The aisles to the rooms are very narrow, though – don't want to have an emergency situation in there with housekeeping carts out. Cupboards and other storage stuff is – as always – rather limited, but overall the room was really nice. You also felt that it was rather new and did not have too many marks or scratches. The large desk with quite some power supply is a nice plus as well.
The bathroom in my second floor room came with a bathtub, which was a nice way to relax after tour-chasing and exploring the city. Overall, the place again had a really good size and sufficient space for storage. I don't like the individual toilet paper sheet dispensers so much, but that's a personal thing rather than it would influence my rating.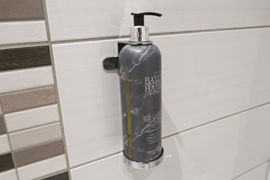 Premier Inn Peterborough City Centre – Breakfast
Premier Inn are like a good old friend with some weird habits: you know what you get and you know what you dislike. That's about the breakfast at the Premier Inn Peterborough City Centre as well. It might become a bit of boring if you stay there for longer, but they finally give you what you need. Quite a lot of the egg dishes were made to order as the hotel was not too crowded during my stay. The breakfast staff, however, was absolutely lovely. Great plus at this place.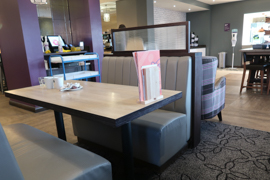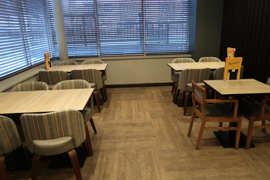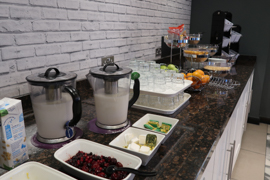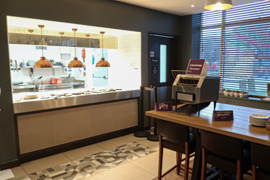 Premier Inn Peterborough City Centre – Service
I'm not really sure how to rate the reception services. At some points, they were really friendly – in other situations I felt them to be rather rude. The weirdest situation was likely when they explained my friend Adrian, who happened to stay at the same place, that they would typically charge him to store his minor backpack. But there were also situations like having a sign at the restaurant stating it is closed, but people dining in one corner of the room. Premier Inn WiFi in Peterborough has been like in any other United Kingdom location: the free one is fine for a quick look in your mails or limited browsing – if you like more, mentally add 5 GBP per night for the Ultimate WiFi to the hotel bill.
Premier Inn Peterborough City Centre – My View
The Premier Inn Peterborough City Centre offered me three good nights to a really good price. Some service issues and the weird traffic situation, however, lead to some downgrades. Leaving the parking lot without crossing the lawn or the hotel is simply not possible, which is one of my biggest critics in here.
Premier Inn Hotels at Flyctory.com
Here are all my postings related to Premier Inn hotels:
"Rides on Rail" Postings
Here is everything about trains, trams and other rail vehicles: