While Day 1 has been a "transfer day" with the flight from Cologne to Tangier after work, Day 2 was meant to combine Tangier sightseeing with the shortest intercontinental scheduled flight worldwide – so it felt to be quite an interesting one.
Morning at the Grand Hotel
After I had the impression at the previous evening, that this Grand Hotel place is a nice one, I could check it out a bit at the morning. I started quite lazy after a too-short sleep (If I was fitter the evening before, I would have understood that there are three different pillows per person on my bed…) and then explored breakfast and the hotel. The breakfast buffet had quite a nice variety of Western and North African-Arabian dishes, a lot of fruit an a really amazing orange juice, so I really liked it. Before I packed my stuff and checked out, I took some views of the amazing hotel site.
#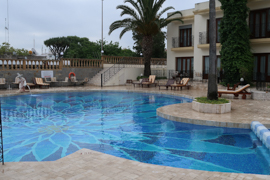 Tangier – Gateway to Africa – Old Town
After I got some money from the cash machine, I headed towards old town. The first stop I did was the Tangier American Legation Museum. Morocco has been the first country to acknowlege the US American independence in the 18th century – thus, there have been some close connections and friendships between the country. The rooms of the legation, some sort of "light embassy" had some beautiful exhibits – and finally you cannot do too much wrong for an entrance fee of 20 Dirham, some 1.50 Euro.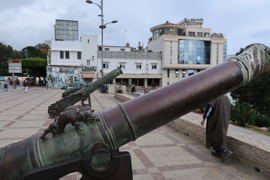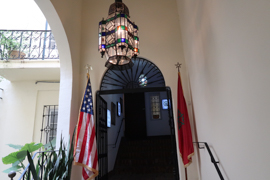 From there, I headed through the narrow streets of the Medina district. At the latest if you reach the Place April 9, 1947, you will immediately turn you have an incredible bunch of Moroccan friends – who all are in fact people who have at least one of two motivations: offer you a tour through the Medina or guide you to a shop they are working for. While I first withstood the strenous offers, I finally gave in to a nice guy. Doing this has pros and cons: the con is that you will see some souvenir shops and that – of course – that person will expect some tip from you (even if he swore before that he is not working for money). On the positive side, the Medina is really a labyrinth of narrow alleys – as a stranger you will likely fail to at least find all sights. Within 90 minutes, I saw quite a lot of stuff including the Kasbah castle and the magnificent view from there – and bought some souvenir in a governmental driven handcraft store (which I am sure this guys got some provision for as well). The not-to-neglect effect of having a local guide: the other people who try to get you into a store or a restaurant will no longer care about you – you thus finally end up in a much more relaxing time.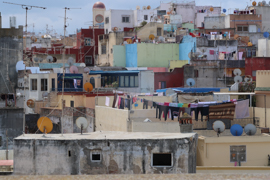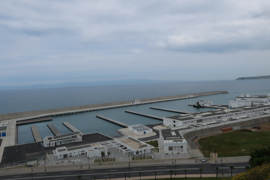 Tangier on the more modern side
After visiting the old town and tipping my guide, I strolled along the coast, the harbour area and Tangier beach, which is in fact quite a nice place. Of course, you can do some tourist stuff there as well like camel riding. I once did that in Emirates Palace and like to keep it a once-in-a-lifetime experience – not (only) because it broke one of my pants. I had a short look into a modern mall as well before I headed back towards the hotel.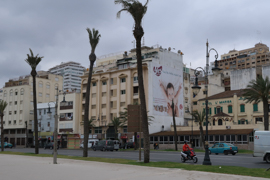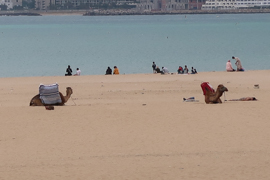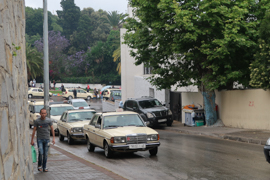 Overall, I felt that Tangier is a very nice place. The Moroccan culture of just insisting to chat with you is however a bit difficult to take. As you see on some of the pictures, parts of the city are really run down as well. Nevertheless, it has been an interesting dip into Moroccan culture and history and a nice start of my trip.
Tangier – Ibn Battuta Airport
I had the same driver as the day before to the airport. Just was very sleepy of the interesting day and somehow slept a bit on the way to the airport. Royal Air Maroc tells you to be three hours ahead of departure at the airport – I have been 2:30hrs and had a lot of time to prepare this posting and other articles before getting rid of my luggage and passing security. The airport itself is a nice, clean, small place, with one landside cafe. Similar to India, you have to show your ticket or boarding pass and your passport to get inside the airport – one may say that a ticket is not that hard to imitate… But okay… Another family was argueing on the phone with someone to bring the ticket to the airport… So they seem to be rather strict in that 😉
Flight was scheduled for 18:05 with a boarding time of 17:25 given. Check-In opened at some 16:15 and the security and border control at about 16:30. The Duty Free lady has been a bit nervous that I took some pictures of the terminal – but that has been the most thrilling even of all. Three gates, a couple of shops, most somehow closed… If Tangier really becomes one of the cities hosting the Soccer Africa Cup in 2026, it is hard to believe that the airport is standing the needs – for normal use, though, everything is really easy with three gates being available for flights.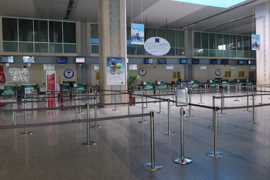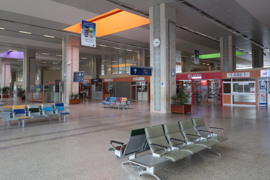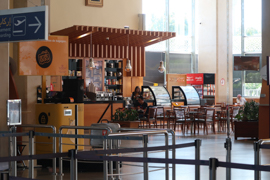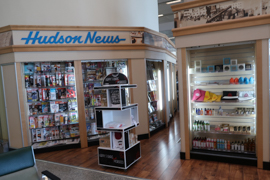 From Tangier to Gibraltar – World's shortest Intercontinental Flight
Finally, the flight from Tangier to Gibraltar, serviced by Royal Air Maroc Express, is where the trip is really starting – the map gives you an overview, one colour is one flight (Malaga – Mellila is a return flight, so that they are both blue):
Thereby, the 43 miles / 70 kilometres AT 990 service between Tangier and Gibraltar is the world shortest intercontinental (scheduled) commercial flight. For that one, I decided to go for a window seat, despite I usually love to sit in the aisle. The flight is serviced by an ATR 72, so that I was quite confident that we will be able to land in Gibraltar airport – what I did not manage to do with my British Airways service from Heathrow about
a year ago when I visited the British exclave
.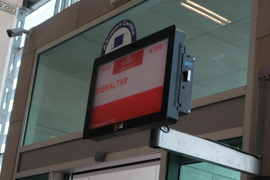 The flight was exactly 22:30 minutes from take-off to touch down. The plane was quite run down, especially regarding that is was less than seven years old. I unfortunately took the wrong side of the plane (left one would have been better) to see the Gibraltar rock before landing – but there were some nice views on that trip instead. Happy to checked that one on my list!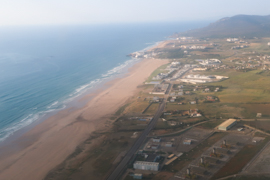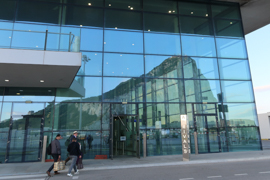 Some Minutes in the United Kingdom
After arriving in Gibraltar, the waiting time for the suitcases felt quite long – but at least, you could easily do some shopping in the tiny, but very attractively-priced arrival duty free. The remaining trip to Algeciras was really easy: apart from the automated passport control at the border, which does not seem to be designed for the format of the old German passport, there were no delays or proper custom controls. Right behind the border, I boarded a taxi, which brought me to my hotel: the very modern AC Hotel in Algeciras, where I spent the next night.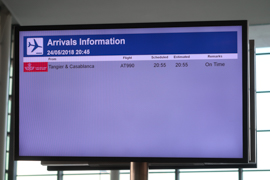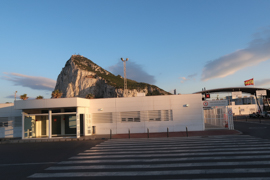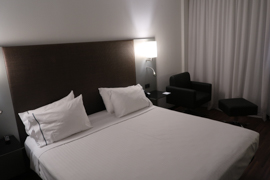 Six Intercontinental Flight Weekend Gallery
Six Intercontinental Flights in 72 Hours
Here are the other postings of this Trip Report
Day 2, 24rd May 2018: Tangier and the shortest scheduled intercontinental flight