For my trip from Manchester Airport (MAN) to Blackpool in February 2023, I was able to explore a new rail company for me, Northern Trains. Unfortunately, I had to take the coach service for the return trip from my Rock of Ages musical shows due to maintenance works at a rail station. Nonetheless, a good opportunity to look into Northern Trains and their 331/0 Class model.
Northern – the Network
Northern is one of the major British rail companies. They majorly operate in the North East and North West as well as Yorkshire. They followed Aviva Rail North in 2020. Major cities operated by the company are Liverpool, Manchester, Leeds, Preston, York, Sheffield or Newcastle. In Manchester, they also operate connections from Manchester Airport (MAN) station, from which I departed. I took the full route of their service to Blackpool North. According to Wikipedia, Northern Trains in total calls at 474 stations.
Northern – Class 331/0 – Rolling Stock
Northern has a quite diverse range of rolling stock. My trip took place with the 331/0, which is a three carriage electrical multiple unit. The middle car is not powered. Overall one unit is having a length of 71.40 meters and a capacity of 203 seats (incl. 19 tip-up ones). However, Northern typically links several units together. They are based on the CAF Civity platform, like the TransPennine Express Nova 2 I recently introduced to you. the high speed of the 1,760 kW train is 100mph (161 km/h). Northern Trains is operating 31 of these units.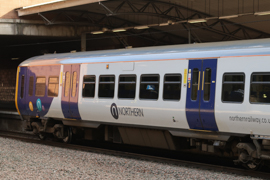 Northern – Class 331/0 – Interior
Northern operates the Manchester Airport (MAN) to Blackpool North connection in a second class only configuration. The seats are in a 2-2 configuration, many of the seats arranged around a table with four seats situated around a table. The seats are rather comfy, but felt a bit of narrow. They are fixed and cannot recline. Power sockets are provided between the seats. There were no luggage racks in the train, but overhead racks, which at least worked quite well will small and medium sized luggage. The train is prepared for seat reservations, which were not available on the connection I used. The status screens close to the doors of the carriages did not work as well on my trip.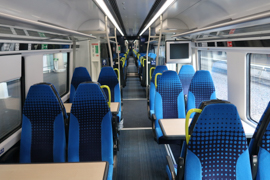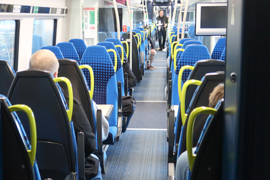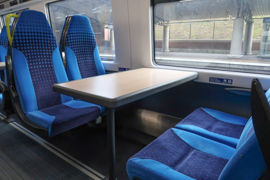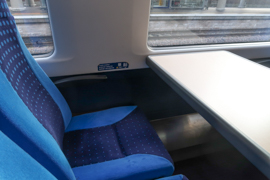 The carriage also comes with an accessible bathroom. The design is in line with the Nova 2 already mentioned above.
Northern – Class 331/0 – Service
The Northern Trains connection between Manchester Airport (MAN) and Blackpool North does not have any in-train service like snacks or drinks. The company offers WiFi, which was slightly better than TransPennine (might also be due to the routing…), but a mess compared to connection stability and speed I am used from Germany or other European countries.
Northern – Class 331/0 – My View
The connection from the airport to the seaside resort had a total travel time of 90 minutes. Regarding that, the price of 12 GBP and the service given was reasonable. The 331/0 is not as comfortable as the Avanti West Coast Railways Pendolinos, for example, but you typically also spend less time in them. The poor WiFi quality is a general issue in U.K. trains, unfortunately.
Rides on Rail in the United Kingdom
Here are all my Rides on Rail postings related to the United Kingdom:
Flyctory.com in Blackpool
Here are all my postings regarding Blackpool: