People always feel surprised when I state that I am not just a passionate frequent flyer, but that I also love train rides (sometimes, even more than flying). While I really appreciate the comfort of most modern European trains, the British rail network does not really have the reputation to be comfortable and efficient. The more, I was looking forward to a day trip, which I was taking from London Euston to Manchester Piccadilly with Aventi West Coast, a rail company, which is operating as a successor on the InterCity West Coast services (formerly Virgin Trains). Thereby I have been able to check out their two premium cabins, the First and the Premium Class, traveling in their Pendolino trains. Here is my review, based on a same-day return in mid June 2022.
The review box above is based on my First Class experience.
Avanti West Coast – Network
Avanti West Coast is a joined venture of leading company FirstGroup and the Italian rail service Trenitalia. The main travel hub of the company is London Euston. They operate a couple of routes along West Coast. Apart from Manchester Piccadilly, they connect London with Liverpool Lime, Birmingham (incl. Airport), Blackpool North, Holyhead or also Edinburgh and Glasgow. My outbound First Class ticket was roughly 120 GBP, the inbound (Standard Premier) 65 GBP. I booked both tickets well in advance at a non-refundable rate.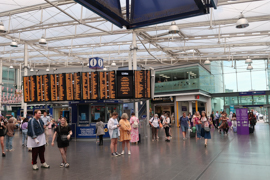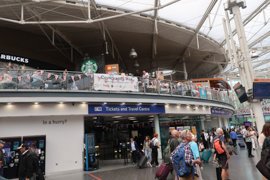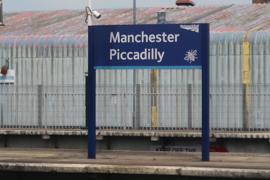 Avanti West Coast – Rolling Stock
Avanti West Coast operates two classes of trains. There are still 18 Class 221 Super Voyager Class trains built by Bombardier in Bruges, Belgium. These trains do not operate the Manchester route, though. The Manchester route is generally operated by the Class 390 Pendolino trains, which is also the dominating rolling stock of Avanti West Coast (56 units). The trains are built by Alstom, using the Fiat Ferrovia's Pendolino tilting technology. Interestingly, Avanti West Coast is leasing the train lease company Angel Trains. There are two versions, the 390/0 with nine carriages (train length: 217.5 meters) and 390/1 with eleven carriages and a length of 265.3 meters. In service, the trains operate at a maximum speed of 200 km/h at a power of 5,100 / 5,900 kW. The operate in a three-class configuration, Standard Class, Standard Premium and First Class.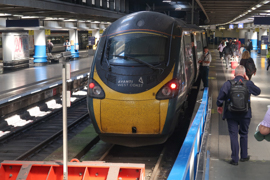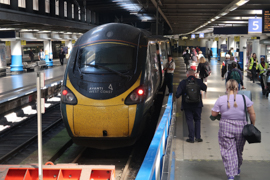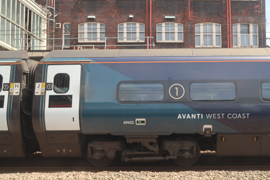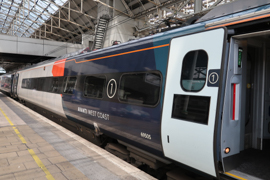 Avanti West Coast is expected to upgrade their fleet with Hitachi AT300 class 805 and 807 trains. From 2029, Avanti is also expected to run the HS2 high speed services starting from 2029. For these services, a joined venture of Hitachi and Alstrom is expected to deliver the trains, which will travel at a speed of up to 360 km/h.
Avanti West Coast – First Class Cabin
Avanti West Coast drives the First Class Cabin in a 2-1 configuration, i.e. there are two seats on one side of the aisle and one on the other. Quite a lot of the seats have tables in between (so that you have a block of two or four seats facing each other). Some  tables are foldable, there are interestingly different mechanisms, depending on the table. You have luggage storage at the ends of the cabin, the luggage compartment above the seat is quite spacious as well. There is a galley in the First Class coach, which is not used any more. Reservations are given with electronic signs. The train featured radio players, which are no longer active. There is a power outlet at each seat in First Class.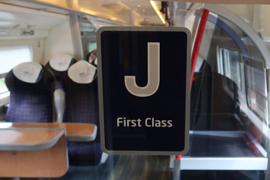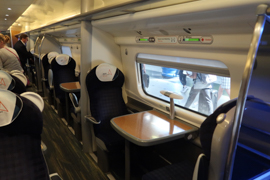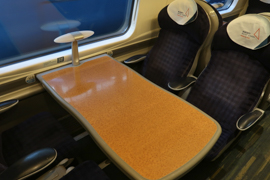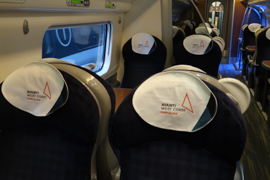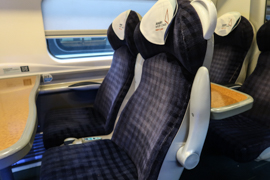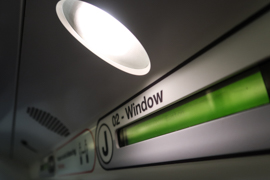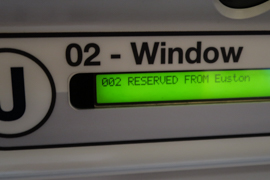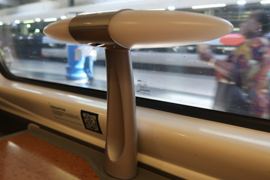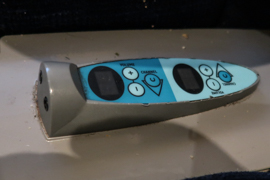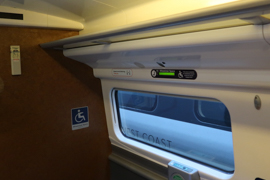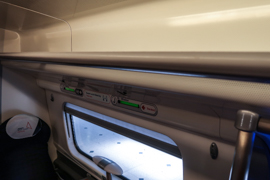 Avanti West Coast – First Class Service
Travelling Avanti West Coast First Class comes with two key amenities, regarding the service: there is a meal and a drink onboard the train and you have access to the rail lounge. I reviewed the Avanti West Coast Rail Lounge at London Euston recently, which is definitely not competitve against the modern German rail lounges, e.g. at Frankfurt Airport. I traveled to Manchester at breakfast times, the scrambled egg and the orange juice have actually been quite nice. You can choose between different dishes from a menu. Regarding the trip time, I was a bit of shocked that you don't at least get a second round of drinks at that service. Overall, the staff did also not make me feel like like a valued First Class customer on board the train.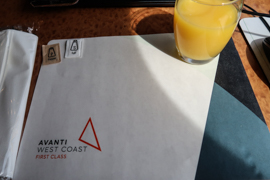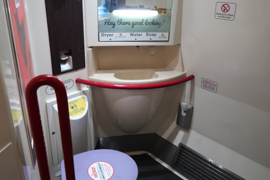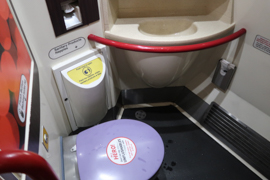 Avanti West Coast – Standard Premium Class
Below, you see pictures of the Standard Premium Class cabin by Avanti West Coast Rail. Already spotted the difference? Yeah, there is exactly one, the print on the sheets on the top of the rail seats. The premium class product has exactly the same interior as First Class – the only difference is that you don't have lounge access and catering on board. Easy task for the travel blogger in here – you know everything already.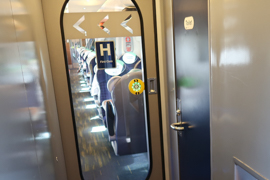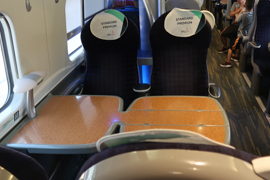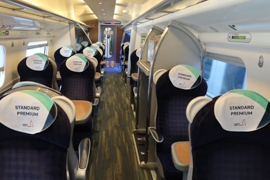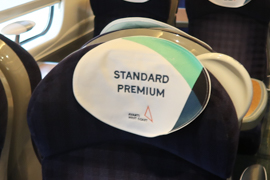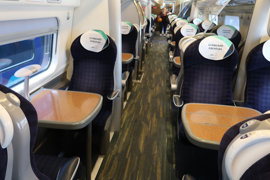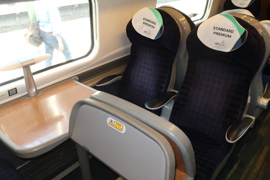 Avanti West Coast – Standard Class
I took the opportunity to also have a look into the Standard Class cabins of Avanti West Coast rail after the arrival of the trains. The two biggest differences in the cabin design is that these carriages follow a 2-2 seating design with two seats on each side of the aisle. The seat pitch is also significantly more narrow as well. Only the table seats are having power outlets, which may be rather bothering.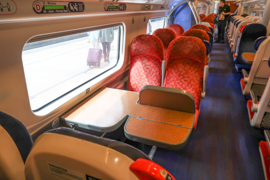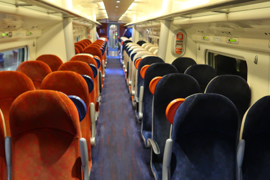 Avanti West Coast – My View
The Avanti West Coast train rides have been enjoyable, but not overwhelmingly memorable. I would definitely recommend to go for Premium Class rather than First Class. The snack was really nice, but overall, the service has been very stiff and not customer friendly. The lounge at London Euston is also rather poor, in addition to the fact that you may only enter it an hour before your train ride. The price gap between the two classes is just too large compared to the service offered.
"Rides on Rail" Postings
Here is everything about trains, trams and other rail vehicles:
Flyctory.com in Manchester
Here are all postings about Greater Manchester: