For a Saturday evening show at The O2 in London, I have been looking for a reasonably priced hotel with good connections to London's largest indoor arena. I finally opted for a place, which I had once stayed in a bunch of years before already – the Epsilon Hotel in London-Stratford. The hotel still had the OYO branding over its main entrance – they however have left the Indian hotel chain already. Here is my review of my stay.
Epsilon Hotel – Location
The Epsilon Hotel is located at Romford Road, East of London-Stratford station. You either have a ten minute walk there or take a bus. Multiple lines (25, 86, 308, 435, N25, N86) arriving right in front of the hotel or depart a few steps away. Stratford station also connects you to TfL Rail and to the Stansted Express as well as to Underground Lines and the DLR. There are some car parks around, but I would generally not go to this area by car – just avoiding parking hassle.
There are a lot of other hotels, restaurants and shopping opportunities around. The most famous one is Westfield Stratford, which is located behind Stratford Station and is one of Britain's most-visited shopping mall. One of the routes from the station to the hotel also crosses the Stratford Centre Mall, which is more basic, but also offers some nice (and cheap) opportunities. Other important places around are the Queen Elizabeth Olympic Park or the University of East London.
Epsilon Hotels – Room
My booking was a single standard room, refundable, including continental breakfast, for 50.20 GBP. This is an absolute bargain for a Saturday night stay in London City. The room was, of course, very compact, but not too bad at all. I liked the comparably large desk, the rack for my suitcase (even a second case would fit) and that the room was absolutely clean. Not a luxury stay, but an absolute solid basis to explore the city. The only thing which was a bit of weird is having two of the rather rare power plugs behind the pillow of the bed. You do hear the sound of the other rooms here and there, though.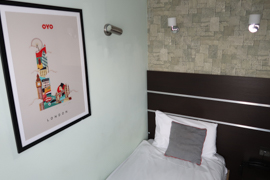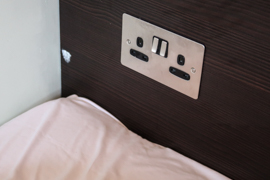 The sleeping room made very good use of the limited space – and so did the bathroom. Again, I liked the cleanliness of the room. Amenities are provided in dispensers and the place was compact, but not narrow. Even with my rather large body size, I had no issues to use the toilet of shower.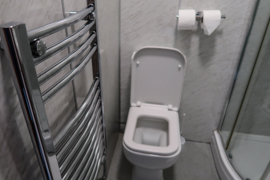 Epsilon Hotels – Breakfast
The hotel has a quite nice cafe place on ground floor (which felt to have been a sandwich one in the past). The breakfast provided there for free was basic: toast, yogurt, some fruit, tea (coffee for an extra charge only), juice, some cereals and preserves. However, you could upgrade to a Full English Breakfast, which was a 5.50 GBP fee. No overwhelming food, but a good start of the day in a relaxed and friendly atmosphere.
Epsilon Hotel – Service
The hotel staff was absolutely friendly, I really enjoyed my stay there. WiFi worked out fine as well.
Epsilon Hotel – My View
There are a lot of tourist scam rip-off places in London, which feel like a budget place, but finally just don't give you a good stay. The Epsilon is different to me. Of course, you don't get luxury, but you also don't pay luxury. The value for money is great and the place is friendly, safe and clean. Stratford is not in the very heart of London, but not too bad at all – so I definitely recommend to have a look if they are free if you need a low priced night in London.
London Hotels at Flyctory.com:
Here are more hotels I reviewed in London:
Stadiums & Arenas
Here are all reviews and reports about (sports) Stadiums & Arenas: