With British Airways' decision to move all short-distance connections including the one to Cologne/Bonn airport to Heathrow, I unfortunately will not happen to be in London-Gatwick Airport too frequently any more. Bad luck, as their First Class Lounge there always served me well and was a lovely place to relax before a flight. Here are my thoughts about it.
At the time of publishing, all Gatwick operations were taken from North Terminal, so that the lounge was not in operation. British Airways lounge access was replaced by the Aspire Lounge.
BA First Class Lounge LGW – Location & Access
In line with the current British Airways operations, the lounge is located in South Terminal (after security), which is the terminal, which is closer to the infrastructure facilities like the train and bus terminal. There is only a landside connection of both terminals. Access to the British Airways Lounges is on the upper level alongside with lounges by other operators and is well sign-posted. There is one shared reception desk, which is then splitting into the "ordinary" Business Lounge and the First Class Lounge.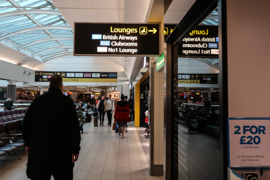 In contrast to Lufthansa / Star Alliance, the First Class Lounge is majorly a lounge for British Airways Gold customers. As there is no Concorde Room, which would be the right choice of lounge for First Class passengers, First Class passengers from Gatwick would use that lounge as well. Of course, the lounge is also open to other oneworld Emerald status members flying with a oneworld ticket from South Terminal.
BA First Class Lounge LGW – Atmosphere
Even though the lounge is not super-sized like its Heathrow equivalent, it offers quite a nice variety of different seating / atmospheric options. There are areas to have a chat or an informal meeting, a dining area, seats which offer you a lovely view of the airport operations and a working area. Overall, even if crowded, I felt that the lounge had a comparably quiet and relaxed atmosphere.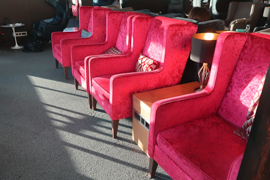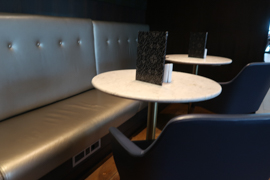 The lounge has large glass windows facing to two directions. I love to sit in front of the windows and watch the air traffic – also a lovely place at sunrises.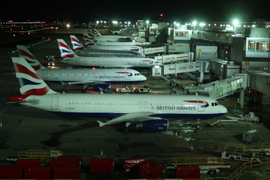 BA First Class Lounge LGW – Eat & Drink
The variety of food offered to refresh yourself is quite nice. There is a coffee and snack area as well as warm snacks and a bar. Like at Heathrow, you may also order food from a menu, including the quite famous (for no special reason…) British Airways Burger. The pictures below reflect configurations at different times of the day (breakfast / afternoon tea / dining).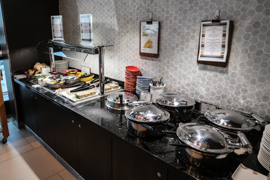 BA First Class Lounge LGW – Services
The staff at the lounge was always very attentive and friendly during my stays there. The more intimate atmosphere / smaller size also makes it easier to ask for assistance if you need something. The lounge certainly covers sanitary facilities, which I always felt to be well-maintained. The internet connection is working very fine, so that you can also work very well. At least in the working zone, they offer differently shaped international power plugs.
BA First Class Lounge LGW – My View
I really enjoyed being at the British Airways First Class Lounge in Gatwick multiple times – bad luck that I will now likely not have that comfort any more too often with Cologne flights moved to Heathrow. I feel it is a very good and solid lounge. The most posh features are the dining menu and the lovely views of the airport. And it is quite relaxed. Good hospitality by British Airways, indeed.
Lounge Reviews on Flyctory.com
Here are all Lounge Reviews on Flyctory.com:
Postings about London
Here are all postings related to the UK Capital: